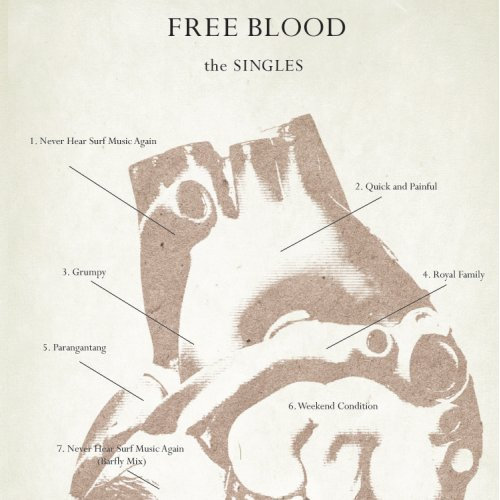 Free Blood was born in a concrete room with no windows in the sweltering summer of 2003.
The concept was simple: A soundtrack for parties gone awry.
Music to fuel awkward sexual dalliances, desperate yelled misunderstandings on the dance floor, toilets over-flowing with the night's collective regurgitation, lonesome midnight ramblings, hair-brained (possibly illegal) parlor games, stereo components fried by heat and moisture, backyard furniture bonfires, power outages, mass hallucination, etc.
The instrumentation was kept to a minimum intentionally (two microphones, bass guitar, and mechanical drums) so that the group could fit into any cramped corner, with an easy getaway in case the authorities (or audience, even) took issue with the noise. Free Blood began playing smaller venues and house parties around the Brooklyn and Manhattan boroughs, usually lugging their own PA to the gig so that the ear-splitting volume they were accustomed to in the practice space could be replicated. These performances were designed to leave the audience deaf, dumb, and blind…and perhaps with smiles on their faces.
Since their inception they have shared the stage (and floor) with a variety of groups (Melt Banana, Suicide, Jamie Lidell, TV On The Radio), only leaving the State of New York once for a brief four-day tour in Japan. The first three years saw Free Blood as strictly a live phenomenon whose appearances were erratic and ridden with chaos. They have numerous singles and a singles collection out now on DFA.