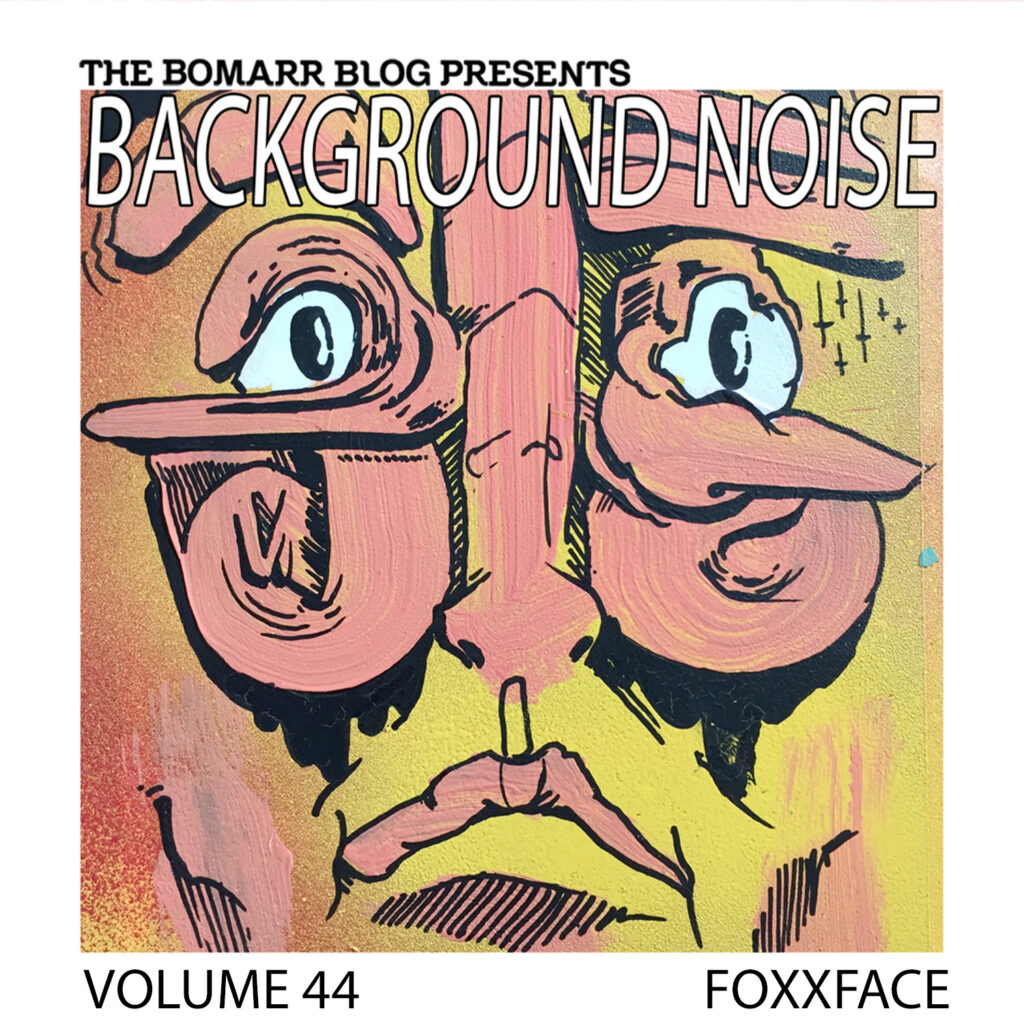 The art of Foxxface has evolved exponentially since I first saw one of his stickers in Chelsea a couple of years back. I'm not sure why this sticker (pictured left) caught me, but it did. Maybe it was the bright orange background that drew my eye to it, but something told me to keep an eye out for more.
His work has since morphed into much more intricate, much more colorful pieces since then, often featuring his signature faces (dubbed "Foxx Faces), which tend to feature characters with very pronounced cheekbones and lips. His style is undeniably his.
Like his sometimes partner-in-crime CB23, Foxxface relocated to NY from the dirty south, to really pursue his art. It's been there where he's found lots of inspiration and new mediums to work with. In addition to being involved in Hanksy's Surplus Candy, he's worked with Wayne Rada for New York's L.I.S.A. Project, doing a series of very impressive bolt-ups on wood, scattered throughout Little Italy. Each one is impressive in its own right. He also just participated in a recent "cycle" of the Lower East Side's Centrefuge Public Art Project, painting an abandoned trailer on E 1st St and 1st Ave alongside many other artists.
As I predicted, he's turning into an artist to really keep an eye on. You can check out more of his work on his Instagram, where he posts lots of images of his work.
What was your first concert?
My first concert was Incubus in Atlanta during their Make Yourself tour.
Last concert/show?
I think my last show was Ty Segall.
First album, tape, or cd you bought?
The first CD I owned was the Lion King Soundtrack.
Last album you bought?
The last album I actually purchased was You Can't Take It With You by As Tall As Lions. Yeah, that was a while ago.
Was there any album that made a significant impression on you?
There was a period in my childhood when I enjoyed progressively complicated guitars and rhythms accompanied by high-pitched vocals. After discovering Coheed and Cambria's "The Second Stage Turbine Blade" and then immediately following up with "In Keeping Secrets of Silent Earth: 3" I was obsessed. These two albums inspired me to write music and focus on playing shows. Loved it!
Who is your musical hero?
I'd have to say, Claudio Sanchez. Super geeky sci-fi nerd that's got a very creative approach to writing music. Not to mention the impressive technicality that shines through his guitar.
How important do you think music is to your creative process?
Extremely important. It's very rare for me to work on art or filmmaking with the absence of music.
1. Hundred Waters – Murmurs
2. TOPS – Way to be Loved
3. Hiatus Kaiyote – The World It Softly Lulls
4. Cashmere Cat – Wedding Bells
5. Dibia$e – Living My Life
6. Flying Lotus – Never Catch Me (feat. Kendrick Lamar)
7. The Octopus Project – The Mythical E.L.C.
8. Paul White – One of Life's Pleasures (feat. Danny Brown)
9. Ariel Pink – White Freckles
10. Peaking Lights – Infinite Trips
11. Joywave, KOPPS – Tongues
12. St. Vincent – Regret
13. Haim – The Wire
14. Buke and Gase – Hard Times
15. Tobacco – Streaker (feat. Notrabel)
16. Lapalux – There Are Monsters in This Bed
17. TOPS – Blind Faze
18. FKA twigs – Pendulum
19. Dilated Peoples – Worst Comes To Worst
20. Jogger – Nephicide
Check out Foxxface's playlist below on Spotify. Be sure to like Background Noise on Facebook for updates on future episodes. You can browse ALL the Background Noise episodes right here.