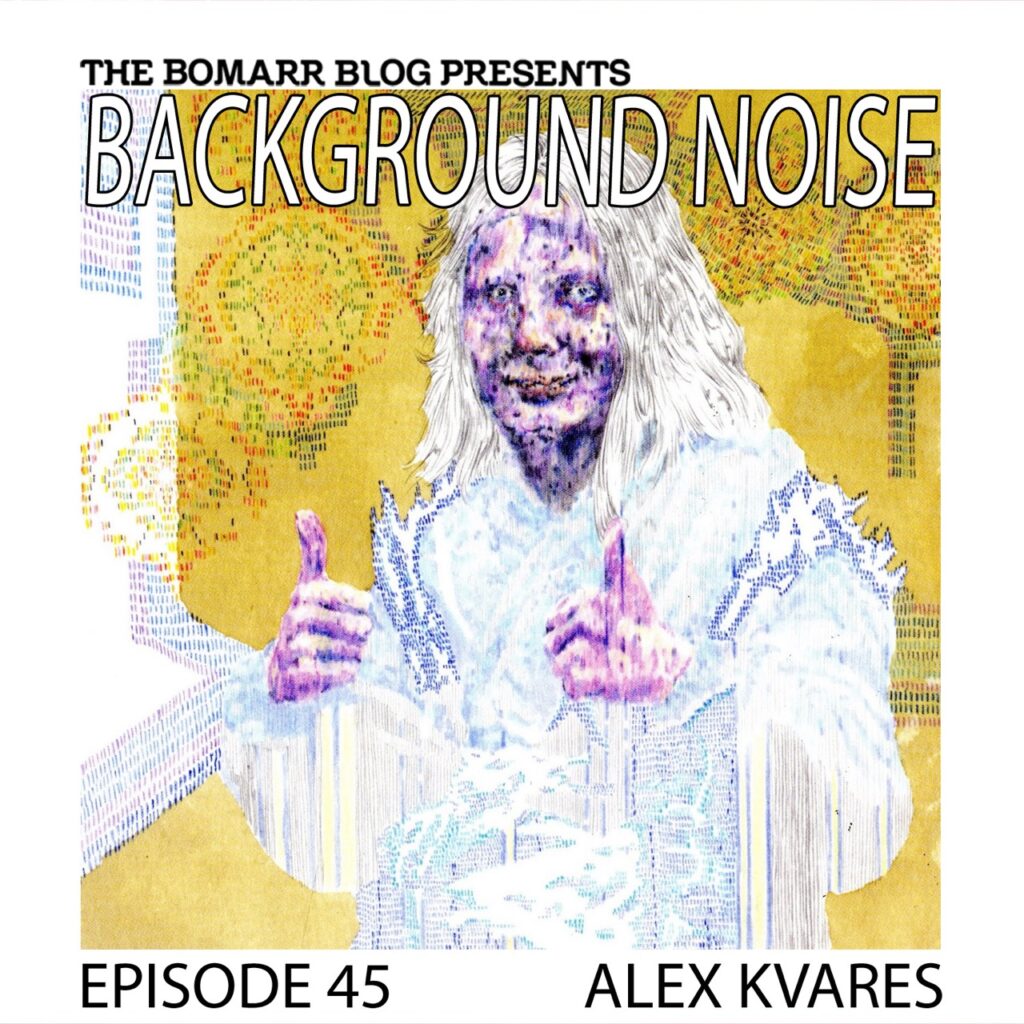 I've only seen Alex Kvares' work once, but I loved it. I stumbled on it while paying a visit to the Mulherin + Pollard gallery on New York's Lower East Side last year. It was the insane amount of detail in each of his images that really got me. Many pieces were done on graph paper, and it looked like each square had been meticulously filled, mosaic style, according to how the completed image was supposed to look. The images themselves resembled something out of a psychedelic fairytale, and take inspiration from films like The Holy Mountain and Caligula, as well as abandoned Cold War bunkers and classrooms. That, mixed with the massive number of colored pencil lines, enthralled me so much that I found myself completely sucked in, just staring into it, amazed at how much went into creating just ONE of these pieces. You really need to see it to believe it.
Alex was born in Ukraine but has studied art in Texas and Kansas. After a decade-long stint in Atlanta, he moved to Brooklyn. He now teaches in the fine arts department at Pratt Institute. 
What was your first concert?
I have a vague memory of going to some local metal show in Kiev when I was 11 or 12. but all I remember is smoke machines and some dude in red leather pants.
My first concert stateside was Frank Black opening for They Might be Giants in '93. I was obsessively listening to the Pixies at the time.
All I remember is Frank with three guitars hanging on him and some frantic accordion playing by one of the Johns.
Last concert/show?
I have a two-year-old son so not much concert going lately. I think the last one was Tiger Lilies playing in Prospect park or maybe Pauline Oliveros at MoMa. Ive seen both multiple times and probably will again, especially Oliveros. Every time I see her play it's a completely different but equally amazing experience. 
First album, tape or cd you bought?
Growing up it was mostly a tape-trade network. Everything was dubbed a hundred times before you got it. I. First LP I ever bought was by this band "Alisa" when I was 12. Every once in a while I would buy bootleg tapes at the flea market, usually Russian new wave or folk bands Stateside it was probably something like the Scorpions or some other hair metal, not sure now.
Last album you bought?
I haven't been music shopping much lately either. If you don't count kid music, the last thing I bought was "Colour Green" by Sibylle Baier. It's been in pretty heavy evening rotation.
Was there any album that made a significant impression on you?
There were many over the years:
Tom Waits' Black Rider was a big one, Mountain Goats' All Hail West Texas, Momus' Forbidden Software Time Machine. I don't know, that's a tough one to narrow down and I'm not even going into Russian stuff growing up.
Who is your musical hero?
Not to be redundant but it's hard to pick just one. I think lyrics have always had a big impact on me, especially depressing or strange ones.
So if I did a short list in no particular order:
Townes Van Zandt
John Darnielle (the Mountain Goats)
Nicholas Currie (Momus)
Tom Waits
Leonard Cohen
How important do you think music is to your creative process?
Very.
I don't work to music that often but music has always been a big part of my life, forming my tastes and lifestyle, and even personality. When in my twenties, I would often go to shows three, or four times a week. It was just part of my diet.
It's still as important to me, just hard to make time for.
1. Night Moves Gold – Townie Lover
2. Pete Seeger and the Weavers – Ramblin Boy
3. Momus – Bishonen
4. Open Mike Eagle – Rappers Will Die of Natural Causes
5. Black Lips – Veni Vidi Vici
6. Ghedalia Tazartes – Voyage A L'ombre 6
7. James Irwin – Everything Passed Me By
8. Fatlip – What's Up Fatlip?
9. Timber Timbre – Too Old To Die Young
10. Bobby Brown – Steamboat Mama
11. Phosphorescent – The Mermaid Parade
12. Sibylle Baier – Tonight
13. Arthur Russell – This Is How We Walk on the Moon
14. Cat Stevens – Trouble
15. Bonnie 'Prince' Billy – Another Day Full of Dread
16. Knight Bros – Love (Can't You Hear Me)
Check out Alex's mix below, download it directly here, or subscribe to the Background Noise podcast on iTunes. Be sure to like Background Noise on Facebook for updates on future episodes. You can browse ALL the Background Noise episodes here. And be sure to check out Alex's site for even more amazing work.
The Bomarr Blog Presents: The Background Noise Podcast Series, Episode 45: Alex Kvares by Bomarr on Mixcloud