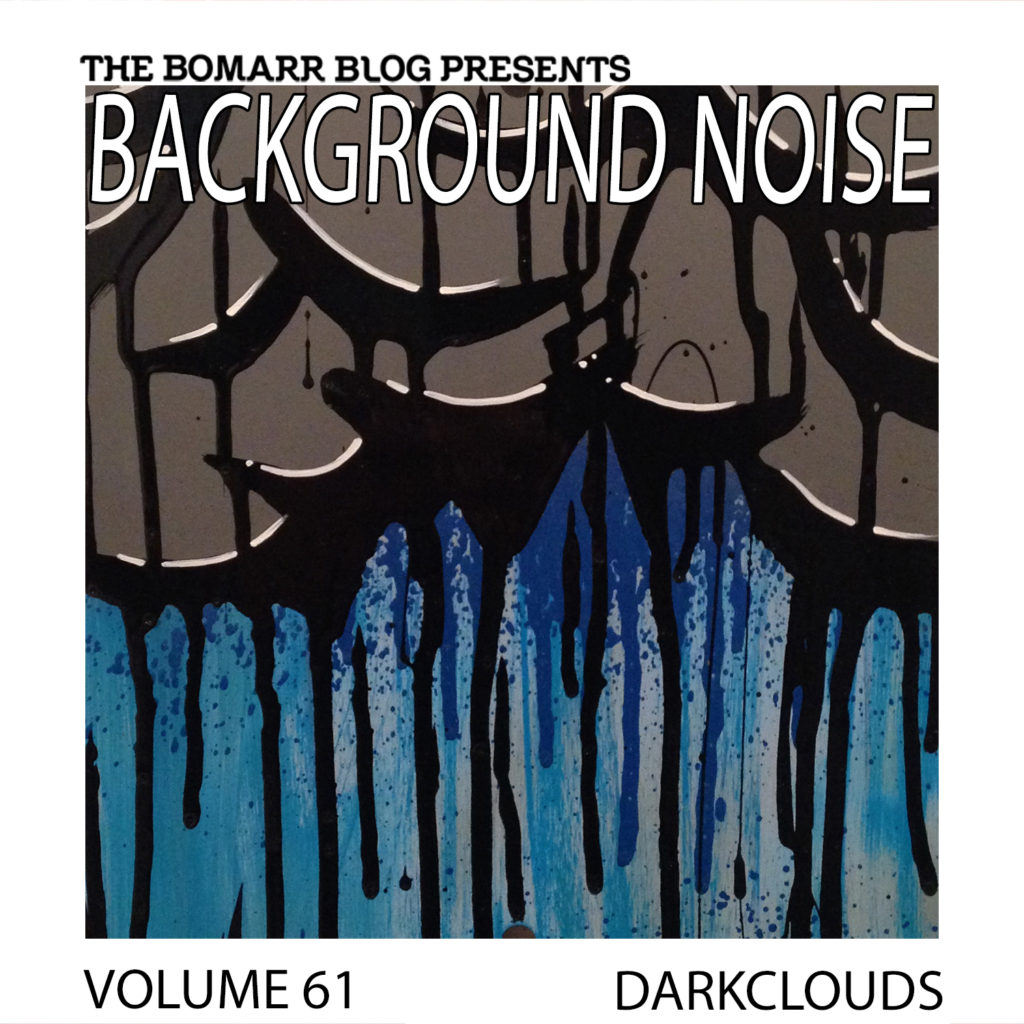 Darkclouds is another one of those artists who is so anonymous, there's really not a whole lot of information readily available about them. He started doing his trademark cloud paintings in Boston around 2003 and then migrated to NY, where his obsession with painting all sorts of variations of said imagery started to take off.
His pieces stay true to his name. Even when he's using bright, eye-catching colors, there's still a sense of ominousness to the clouds themselves that hover overhead. Always a sense of impending doom, often even looking like dripping brains.
Darkclouds' description himself:
It was initially painted as an image representing the angst and general downtrodden shit that one goes through, trying to figure out the point of themselves… or something of that nature… didn't really know that at the time. The concept was formed and became clear over time as more clouds were produced. Overall, they were a byproduct of a pissed-off friend, an angst-ridden individual, hellbent on pain and suffering… but an inspiring one.
See his work all throughout NY, on stickers, walls, sign posts…..he's everywhere.
What was your first concert?
Nirvana / The Breeders / Half Japanese… I was 14, and my Dad drove
Last concert/show?
Fake Hooker / Tight Chocolate / and some other Brooklyn punk bands whose names I can't remember
First album, tape, or cd you bought?
I think it was a Beatles CD, revolver maybe… and Classic Queen, by Queen the same day… I do remember CDs were the new thing at that time.
Last album you bought?
DJ QBERT, Extraterrestria
Was there any album that made a significant impression on you?
Mellow Gold by BECK changed the entire way I thought about music and still one of my favorite records of all time
Who is your musical hero?
My Brother, who plays bluegrass like no one I know and introduced me to that whole genre.
How important do you think music is to your creative process?
I feel it is important to have music playing loudly and as constantly as possible at most times, especially while painting or creating artwork… It helps with concentration, creativity and lets your brain relax when it is stressed out.
High on Fire – Snakes For the Divine
Against Me! – Mediocrity Gets You Pears (The Shaker)
Doc Watson – The Cuckoo Bird
The Holy Modal Rounders – Bound to Lose
Misfits – Hybrid Moments
At the Gates – World of Lies
The Devil Makes Three – St. James
NOFX – Linoleum
The Queers – Wimpy Drives Through Harlem
Old Crow Medicine Show – James River Blues
Black Lips – Cold Hands
The Ramones – My Brain Is Hanging Upside Down (Bonzo Goes to Bitburg)
John Hartford – Natural To Be Gone
Masters of Illusion – Back Up Kid
Nirvana – Scentless Apprentice (Rehearsal)
Check out Darkclouds' playlist below on Spotify. Be sure to like Background Noise on Facebook for updates on future episodes. You can browse ALL the Background Noise episodes right here.