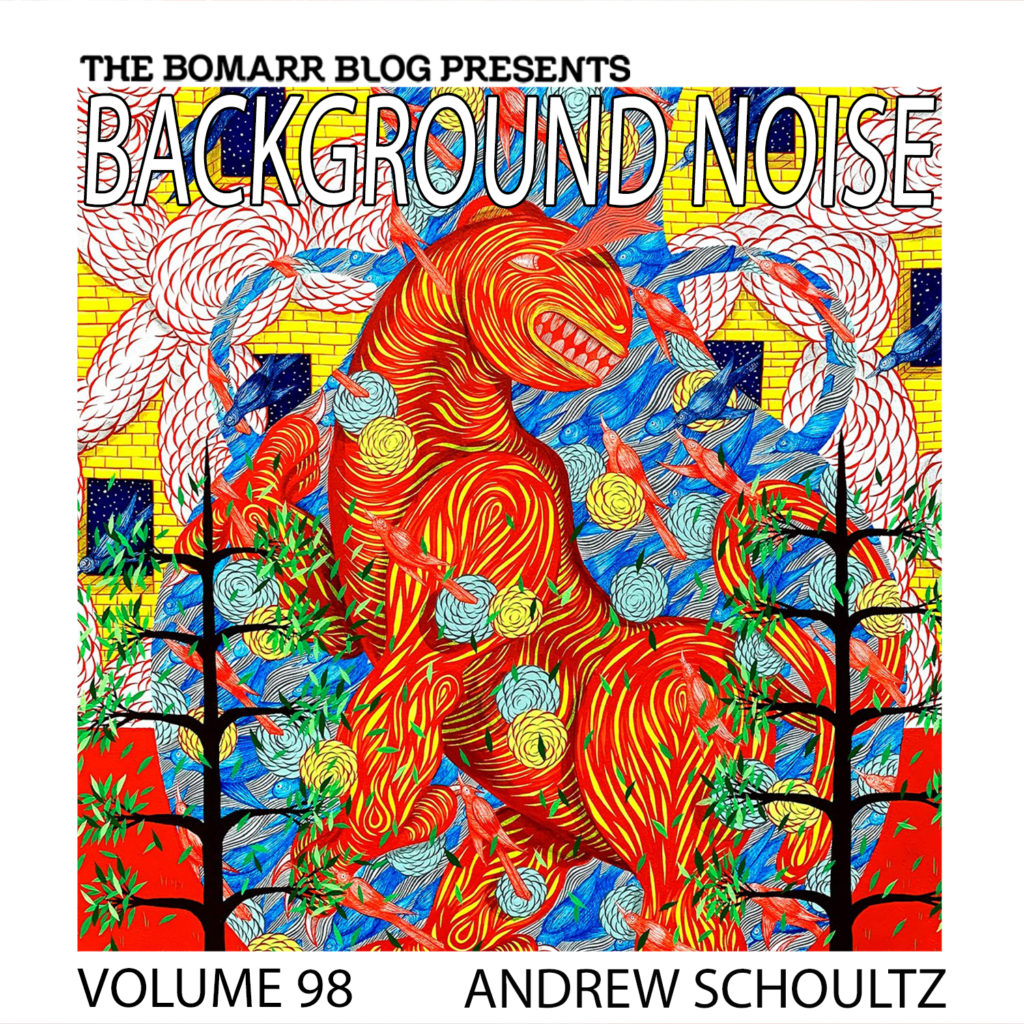 Andrew Schoultz has been in my orbit for years now. Not only have I followed his art for a while, but it turns out we have a few mutual friends. That being said, Andrew and I still have never crossed paths in person.
I've been known to drag friends who aren't familiar with his work to his solo shows, whether they're in LA or NY, and I've often stumbled on his work in group shows I didn't even know he was a part of, which is always a nice surprise. His painstakingly detailed murals can be spotted all over the place as well. He's got one that takes up a multi-story building here in Long Beach, there's a beautiful one right outside Fabien Castanier Gallery in Culver City, and I took my daughter to see one in Lancaster, CA this summer. They're always a sight to behold.
Between fatherhood, skateboarding, and a full-time job as an artist, I'm amazed that Andrew finds time to sleep.
I was incredibly impressed with his diverse 30-song playlist, which includes some of my personal favorites like Brian Eno, Slint, Eric B and Rakim, and Public Enemy. The mix drifts through genres in a well thought out way. I appreciate the attention that was put into the sequencing of this. I suppose attention to detail should not come as a surprise though when it's Andrew Schoultz you're dealing with.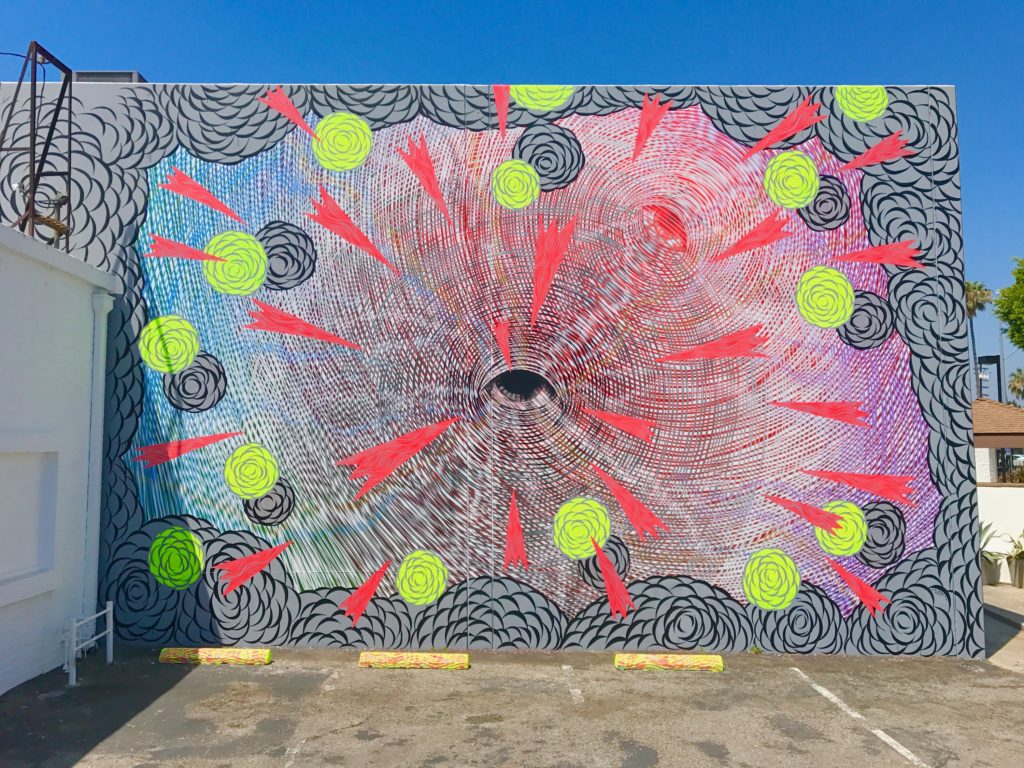 What was the first album you bought?
If by first album you mean vinyl – the first vinyl album I bought was ICE- T "Rhyme Pays" (His first LP), in the 7th grade. Around then, I had aspirations to be a DJ- so I started buying mostly vinyl. If you mean tapes, etc., the first one I bought was – Tommy Boy Mega Mix, which was a mix of their artists- which included Afrika Bambaataa and the Soulsonic Force, Grandmaster Flash, and G.L.O.B.E. to name a few. This was around the 3rd grade, which was 1983. Early on I was into the breakdancing thing… Like 2nd grade even.
What was the last album you bought?
Last album I bought was – Alex Cameron "Live in San Francisco"
First concert?
The first concert I ever went to was in 1987 at The Mecca Auditorium in Milwaukee, Wisconsin. It was an amazing lineup. Public Enemy headlined, with ICE T, Big Daddy Kane, EPMD, and Stetsasonic. I wore a black Suede British Knights jumpsuit that I borrowed from my childhood friend Stoney Craig (RIP).
Last concert?
The last actual concert I saw here in LA, and actually pretty much the only concert I have seen since living in LA, the past 6 years was SHOW ME THE BODY at Zebulon. It was such a crazy show. I love this band. Having a kid changed everything… It's rare that I stay out past 10 o'clock unless I am traveling… Which pretty much eliminates live concerts. Before having a kid, I was out at a show once a week or more….. I also saw The Heavy Twelves at an after-party this past January, for The I Dabble skate video premiere, that I had a part in. They killed it. Now with COVID, there isn't much of any live shows going on period.
Was there one album that made a significant impression on you?
The album that changed my life and opened my eyes and provided a gateway to everything I listen to now was Dinosaur Jr. "You're Living All Over Me"
Who is your musical hero?
Musical hero is a tough question to answer because it kind of changes from time to time for different reasons, and in different moods. Generally speaking, and off the top of my head- it would have to be a cross between J. Mascis, KRS-ONE, and Tim Kinsella.
How important is music to your creative process?
Music, has at a majority of times, been very important and a crucial part of my creative process. There are also times when it hasn't been so much. Whenever I find something new to listen to that I am super psyched on, it tends to give me new energy that definitely gets directed into the work I am making. The times when I am excited about what I am listening to (music-wise) are some of the easiest and most pleasant times to be working. When I say "find something new to listen to" I do not exactly mean "New" music, I mean music that is new to me… which could be anything. I love Tommy Guerrero's music. I was super into it, in the late 90s, and early 2000s. But, for whatever reason, I kind of just fell out of touch for the past 15 years and wasn't paying attention… And then BOOM, I come back to it, and there are like 8 full-length records to just melt into. What a treat. That was the studio and mural soundtrack for months. I love it when this happens or maybe when you discover a band late, and then there is just tons of material to check out… The beauty with good music is that it is never too late to discover it… Heck, I recently sort of rediscovered Steely Dan, and holy crap- Amazing.
BONUS: Is there any music, in particular, getting you through this strange time we're living through?
Music that has been getting me through this strange time- would definitely be SHOW ME THE BODY "Dog Whistle" record. This band and record never get old to me. I love everything about it. And among other things- it is incredibly relevant lyrically. For people who have not heard this band – I describe it as Operation Ivy, meets Fugazi, meets Dark Throne, meets Kendrick Lamar, with a strange twist of "Twin Peaks" era David Lynch in there for an extra twist…. But a very original sound, and the most sincere vibes. SHOW ME THE BODY and their whole community of bands and people which is called CORPUS, in my humble opinion, have blown a huge, extremely needed, fresh breath into underground hardcore music. They are not only artists but community activists as well, on a grassroots level. Inspirational, to say the least.
BONUS #2: Any visual artist(s) you'd like to see answer these questions?
I would love to hear Wendell Gladstone, Asad Faulwell, and Frohawk Two Feathers answer these questions.
Brian Eno- "1/1"
My Bloody Valentine – "I Only Said"
Morrissey – "Speedway"
Echo and the Bunnymen – "Ocean Rain"
Steely Dan- "Dirty Work"
J. Mascis- "The Boy with the Thorn in His side" (acoustic)
Dinosaur Jr. -"The Lung"
Alex Cameron – "Happy Ending" (live)
Beach Slang – "Punks in a Disco Bar"
Jaw Breaker – "Busy"
Operation Ivy – "Take Warning"
Show Me The Body – "Arcanum"
Kaos Pilot – "Akathasia"
Dark Throne- "In the Shadow of the Horns"
Enablers- "Glimpses, Audio: Driving Late"
Slint- "Glenn"
Battles – "Atlas"
Tortoise- "Seneca"
Cap N' Jazz – "Oh Messy Life"
Wu Lyf – "Concrete Gold"
Explosions in the Sky- "Look into the Air"
TV on the Radio- "I Was a Lover"
Tommy Guerrero "Thank You MK"
Eric B. and Rakim – "Follow the Leader"
KRS- ONE- "Blowe"
Public Enemy – "Black Steel in the Hour of Chaos"
Slick Rick – "The Moment I Feared"
Casual – "That's How It Is"
Saafir – "Light Sleeper"
Kendrick Lamar- "Humble"
Check out Andrew's playlist below on Spotify. Be sure to like Background Noise on Facebook for updates on future episodes. You can browse ALL the Background Noise episodes right here.