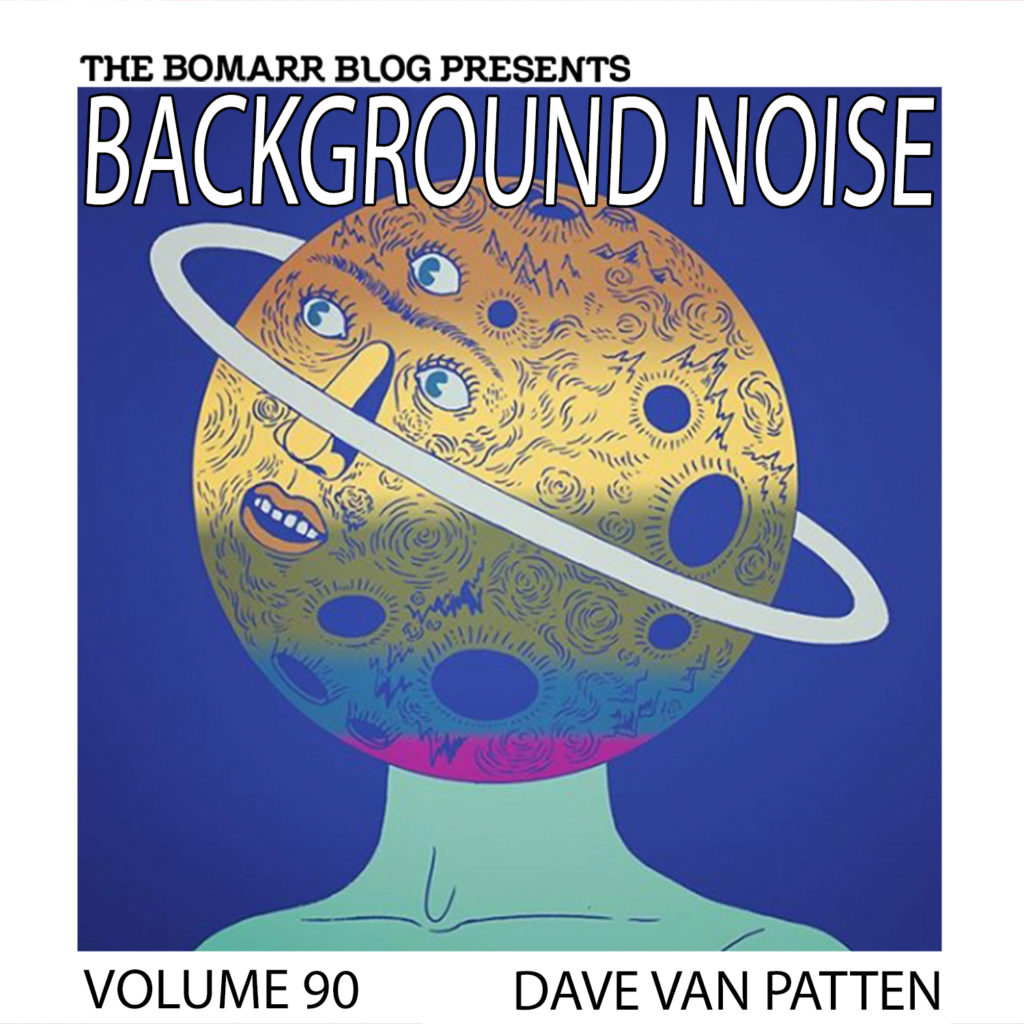 The name Dave Van Patten is pretty much synonymous with Long Beach. Almost as much as Snoop Dogg's is. Well, ok, maybe not as big as Snoop, but you can't live in Long Beach without having at least SEEN Dave's work. Seriously. It's everywhere.
Primarily, his murals. They're hard to miss. His often colorful, and often quite large murals grace the outside walls of Long Beach establishments like the famous Alex's Bar, or walls on 4th Street's Retro Row. He's even managed to bring a few custom hometown feelings to some of the local Whole Foods and Starbucks locations.
Dave was a natural fit for this project because he puts his music fandom front and center in a lot of his work. He's done album art and posters for many bands, created a series of fantastic fake album covers for bands performing at the Music Tastes Good Festival, and makes music himself under the name Free Tree. Check out his answers to my questions, plus an excellent playlist of music he likes down below.
First album you bought?
"Metallica: Ride the Lightning." Bought in 4th grade. I was a young metalhead.

Last album you bought?
"Chrissy Zebby Tembo: My Ancestors." He's a psych rocker from Zambia in the '70s. They called the genre Zamrock.

First concert?
Weezer (blue album era)
Last concert?
Ty Segall and White Fence (big concert) / Locally: Take Pictures (Long Beach shoegaze band)

Was there one album that made a significant impression on you?
It's impossible to name one album that had the greatest significance to me.

In middle school, NWA "Straight Outta Compton" and Snoop "Doggystyle."
In high school, it was Sgt Pepper's. That's not even my favorite Beatles album now. Revolver is.
In early, early college it was Le Shok's "we are electrocution" and Velvet Underground's "Andy Warhol"
In early mid-college, it was Elliott Smith's "Either/or" and Nick Drake's "Pink Moon". I waited in line for 4 hours to see Elliott perform at a Mexican dive bar in Silverlake a year before he died.
In mid-college, it was Woody Guthrie's "Asch Recordings". I ate up everything Woody said.
Late college, I'd have said Daniel Johnston "Hi How Are you? " or The Clean "Anthology."
Post college I would have said MBV "Loveless" one year, or Jesus and Mary Chain "Psychocandy" another year. Animal Collective "Feels" another year.
Punk house days, Tijuana Panthers "Max Baker"
Early art career, I'd say Amnion "Amenamo" (Aaron Embry's old band)
Mid-art career, First Demo album by Rufrano (called Rainman at the time- recorded by Avi Buffalo)
Mid-late art career, White Fence, "growing faith." This album was a huge landmark and changed everything for me. For the first time, I heard something that had the pop sensibility of the Beatles, the garage surf punk fusion of Ty Segall, the experimental nature of VU, and the lo-fi home recording mentality of Daniel Johnston. I hadn't recorded music in years, but after hearing this, I was inspired to start recording again.
And then there was the angry, depressed, wild, belligerent 2-year drunk phase where I drove around drinking road sodas and blasting early Stones so loud that I blew out my truck speakers eventually, but the buzz only made it better. I LOVE the Stones, but they kinda just make me wanna be a bad person. Like drive around and drink, and yell at slow people and fight with my girlfriend. Don't worry, I'm over that, and thank God no one's dead and I'm not in jail. I was really depressed and expressed it through self-destruction.
Transformation to Good period, Spacemen 3- changed my world. I started to enjoy peaceful music again. "Forged Prescription" is their best album. They are pioneers of shoegaze, space rock, and Neo-psych, and they were doing it all in the early 80's at least 5 years before anyone else was doing it. Their early stuff is LOUD drone-y psych-fuzz, which I love, but they really dug into me deep when I heard their spiritual, mellow psych hymnals.
Recent year, the Lentils' "Brattleboro is Flooding"- This is a near-perfect album.
Who are your musical heroes?
Lou Reed, John Lennon, Daniel Johnston, Brian Jones, Woody Guthrie, Tim Presley, Cate Le Bon, Elliott Smith, Aaron Embry, Kember/Pierce, Todd Jacobs.

How important is music to your creative process?
Music is as important to my art process as the art itself. Sometimes I don't even like art anymore. It depends on my mood. But I am damn good at it and it's my job. But music is the only thing that gets me through. I don't know much about obscure visual artists because I don't really give a shit. But I know everything about music- because searching for new music is all that I do. Like a crackhead digging through a deep well, picking out little nuggets as I dig deeper and deeper. And I hate 95% of what I find because I'm picky. But the 5% is worth it.

BONUS: Is there any music, in particular, getting through this strange time we're living through?
In this strange time, I cling to more peaceful music. My favorite song which I put on repeat is from Mulatu Astake, "Tezeta (nostalgia)"

And there's Spacemen 3. They're not on Spotify, but I bought all their albums and made a best-of playlist:
Come Down Softly to My Soul
I Believe It
So Hot (Wash Away All of My Tears)
Lord, Can You Hear Me?
Walking With Jesus
Come Down Easy (demo version)
Transparent Radiation
Call the Doctor
Feel So Good
Feel So Sad (reprise)
Hypnotized
Sometimes
http://www.davevanpattenart.com/
---
Studio Work Playlist:
"Feeling Good" – Chrissy Zebby Tembo
"Gentleman in Black" – Tav Falco
"Alabama Wax Habit" – Honey Radar
"Poem Party" – The Strange Boys
"Evil Thing" – Thee Headcoatees
"Wipe it Off" – The Beets
"Early Blue" – F. J. McMahon
"Hey Brother" – Savants
"Pumpkin Crème" – White Mystery
"IDGAF" – Sam Evian
"Brattleboro Is Flooding" – The Lentils
"Allison Road" – White Fence
"A Sea of Suckers" – Greg Ashley
"The Days Are Too Long And The Nights Are Too Short" – Black Time
"Dying For It" – The Vaselines
"Trouble Every Day" – Frank Zappa, The Mothers Of Invention
"Ease Yourself And Glide" – Parsley Sound
"Sweet Thing – 2015 Remaster" – Van Morrison
"Love Kills" – Radio Birdman
"Forget Marie" – Lee Hazlewood
"Sunday's Jammers" – The Lentils
"Waving My Arms in the Air" – Syd Barrett
"Like Janis" – Rodríguez
"Song of the Highest Tower" – Cut Worms
"Fog City (Outro)" – Tim Presley, White Fence
"Tezeta (Nostalgia)" – Mulatu Astatke
"Fire By The River" – Harumi
Check out Dave's playlist below on Spotify. Be sure to like Background Noise on Facebook for updates on future episodes. You can browse ALL the Background Noise episodes right here.