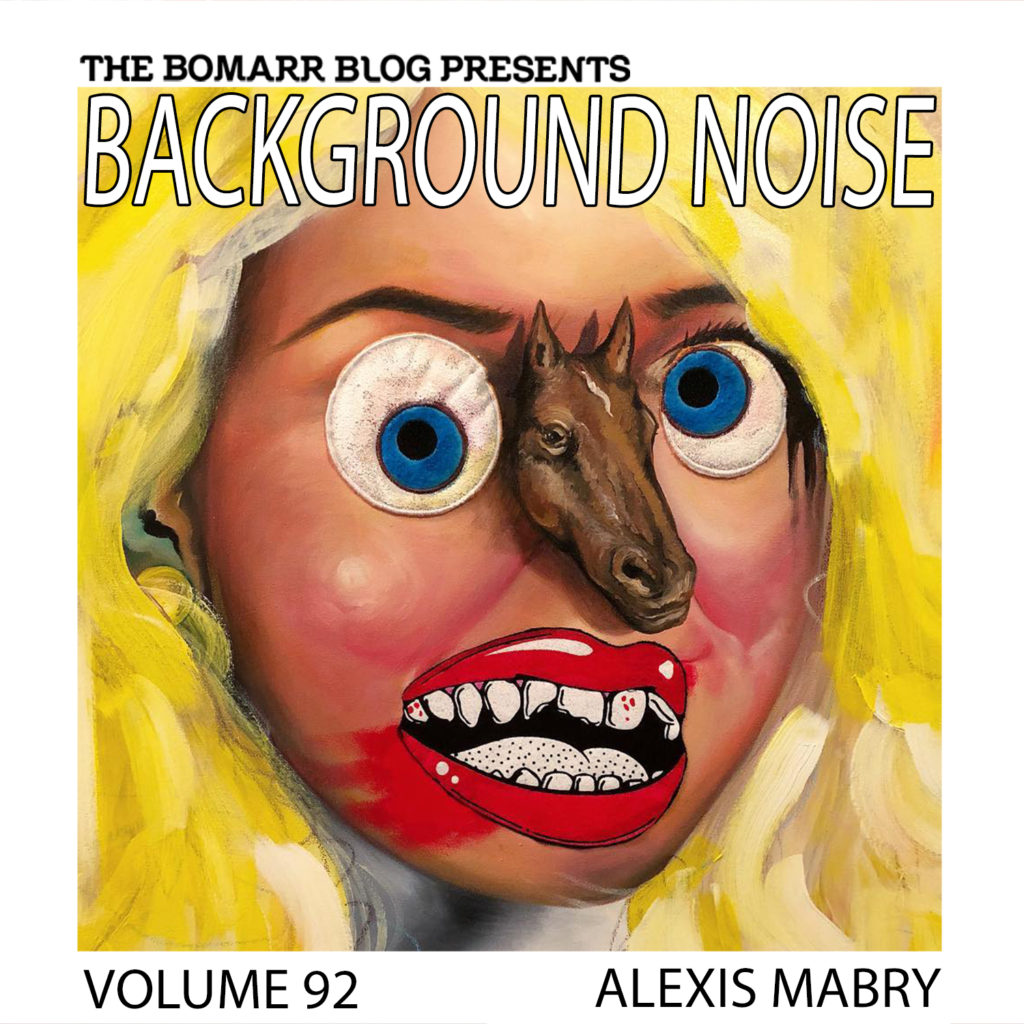 I've always been a fan of art made from found materials. For many years, I've dug through the bins at thrift stores trying to find things that inspire me to create something new. Collage materials, frames to repurpose, old art supplies, whatever strikes me. I think that's a huge part of what appeals to me about the art of Alexis Mabry. A large percentage of her artwork is made with (and on) discarded materials. The fabric she finds at thrift stores herself is repurposed and used as a canvas. Sometimes she even sculpts things out of them.
What's great is that Alexis's style is hard to pinpoint, which I truly appreciate. One of the things that first caught my eye about her work was some of her mixed media pieces, which took 50s-looking Americana imagery and gave it a gruesome twist. (See some examples below). The contrast of that innocent, wholesome feel with the colorful macabre bloodbaths was hard to look away from.
From there, I went on to discover that, in addition to these crazy mixed media pieces and fabric sculptures, she's done a whole bunch of surreal, somewhat indescribable paintings of various characters, including Glenn Danzig (this one has my favorite title of a painting ever, "Glenn Danzig walking his dog on the Beach, from memory.")
Strangely enough, not a single Danzig song made it onto her playlist, but there's a ton of other great stuff on it. Check it out below, and check out more of her amazing artwork over on her website.
First album you bought?
I bought a CD package from an ad in SPIN magazine that you had to mail off to get it! I got an Alanis Morissette CD and a Bush CD.
Last album you bought?
I can't remember the last album I bought, but the last album I downloaded was Heart – Barracuda/Cry to Me
First Concert?
Edge Fest 96' – Dallas local rock radio station's annual music fest
Last Concert?
I work with an artist who puts on a huge Halloween show every year, so the last concert I went to was Hallowolfbat 2019 in Chicago, the bands were Lightning Born, Doomriders, and The Hu. I was working/helping set up the event, but I still count it as a sick show I got to see!
Was there one album that made a significant impression on you?
There's probably been a few throughout my whole life, but one that sticks out is Queens of the Stone Age …Like Clockwork album. It came out during a time that my life did a complete 180, for the better, and this album always reminds me of that transition. That was an awesome summer.
Who's your musical hero?
Thom Yorke
How important is music to your creative process?
Music really sets the tone for what I want to work on. If I am working on something that takes me back in time, I'll listen to something I listened to back then. If I'm working on something with a Texas flavor, I'll listen to some old country. When I need to get in the studio and just get shit done I'll listen to some metal to get the juices flowin'. And in those cool-down periods ill listen to Radiohead or Talking Heads, something nice and light to just bring it all back down. Music isn't only important to my process, it's an essential part of the process.
BONUS: Is there any music, in particular, getting you through this strange time we're living through?
This whole pandemic just happened to start around the same time all the wildflowers blossom in Texas, and since there are less and less workers around to mow and landscape, the flowers went extremely wild this year. Buildings and schools and sidewalks have been super overgrown, and there's something about that that is comforting. I like the idea that if people just disappeared off the planet that all the plants would go nuts and cover everything up, and we get to actually watch that happen right now. All that reminds me of one of my favorite Talking Head songs, 'Nothing but Flowers'. It's a song that is kind of set in the future where people are living in a place where nature has taken over and how the people long for the days when it was "normal" with all the parking lots and buildings and whatnot. It's an ironic anecdotal story about humans and nature already, but right now, it makes so much sense it's scary! So I have been listening to that particular song a lot. It's my pandemic theme song.
Burn the Witch – Radiohead
Black Soul Choir – 16 Horse Power
Catch a Bad One – Del the Funky Homosapien
Blue Flowers – Dr. Octagon
Never Gonna Die – The Pine Hill Haints
Hallowed Be Thy Name – Iron Maiden
Under the Sun – Black Sabbath
My Journey to the Stars – Burzum
Renegade – Styx
Momma had a baby and his head popped off – Atmosphere
Sick Sick Sick – Queens of The Stone Age
Rapping 4 Money – Themselves
Cowboys – Portishead
Sign of an Open Eye – Gorgoroth
Road to Nowhere – Talking Heads
Check out Alexis' playlist below on Spotify. Be sure to like Background Noise on Facebook for updates on future episodes. You can browse ALL the Background Noise episodes right here.