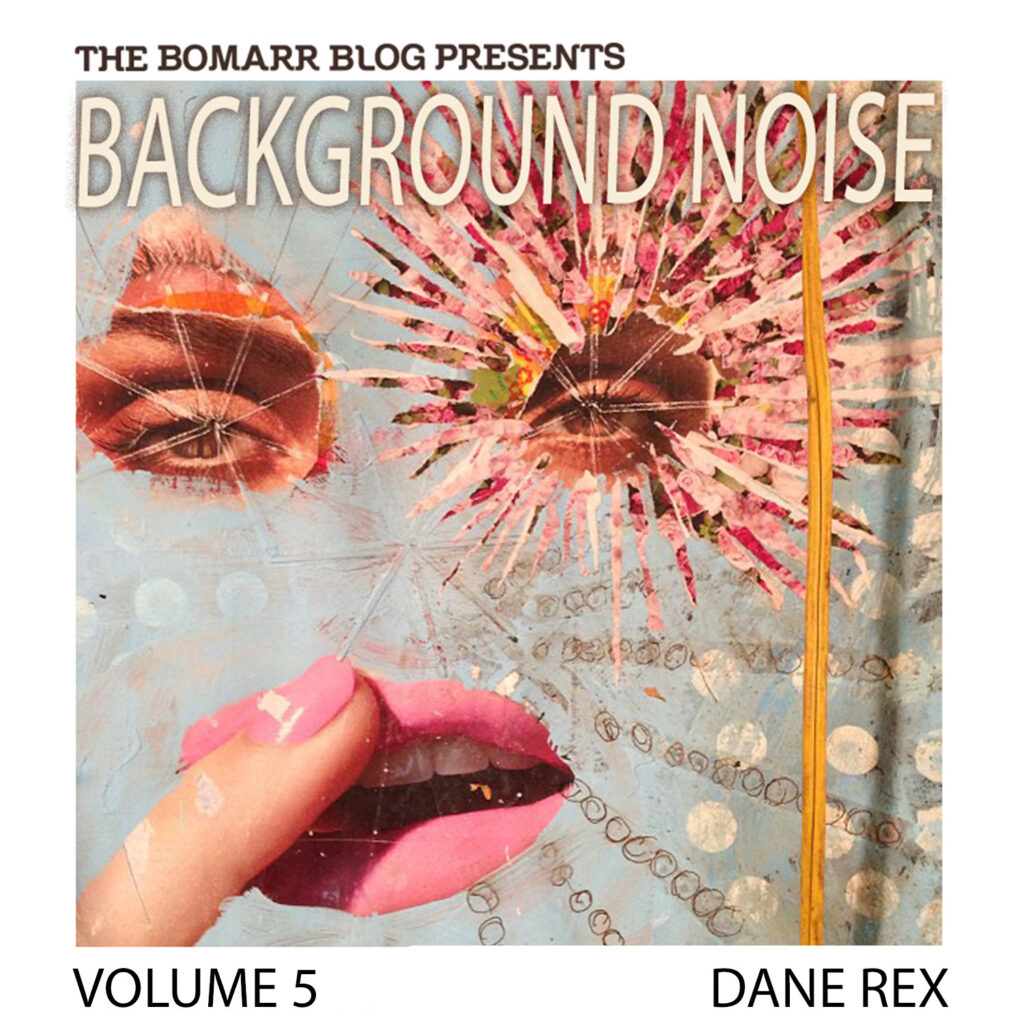 My new "Background Noise" podcast series focuses on the music that artists listen to when they work, what music inspires them, or just music they like. This week, in Episode 5, the focus is on Dane Rex.
I first noticed Dane Rex back when he was calling himself Memo (he's also been known to go by Nonesuch and Milo). This guy would hit my street in the East Village HARD with stickers. As in, every day there were new stickers of his on my street. Often, they were just a sticker with his name written on them, but then I started noticing some really interesting little collages, usually fairly colorful ones that really stood out to me.
I forget the chain of events, but somehow I found him on Flickr and reached out about getting some art from him. He ended up sending me a padded envelope FILLED with stickers and mini collages. So much, that I invited a couple of friends over and let them pick some of their favorites. This guy is quite prolific. He invited me to a show of his in Brooklyn. Unfortunately, it was only open to the public for one night and I couldn't make it in time, but Dane agreed to meet me at his studio and give me a personal tour of the exhibit. I showed up on a Saturday and he let me in and led me to the studio. I was blown away. So many great pieces all over the place. Lots of little collages similar to the ones I'd see on my street, the types of collages I've always loved. Some reminded me of the early Guided By Voices album covers that originally got me started on doing my own collage work. He also had large paintings that looked like they were taken straight out of children's books, very colorful as well, and done on rice paper. 
I'm very much looking forward to seeing what Dane does next. He's a very talented artist and you should keep an eye out for him.
What was your first concert?
The first real show was Slaughter and the Dogs at CBGB's.
First LP/CD/Cassette?
First tape was a Stiff Little Fingers mix tape my grade school French teacher gave me. She told me that the new green day dookie album I was listening to in class was inappropriate. The next day she gave me the tape.
Last album you bought?
The last album I bought was Yeezus.
For the past few years, I have been listening to old jazz bebop albums pretty regularly. Thelonious Monk, Miles Davis, Charlie Parker, and John Coltrane are really fantastic. Hopefully, you all enjoy these songs as much as I do.
Ramones – "Rockaway Beach"
New York Dolls – "Personality Crisis"
The Rezillos – "Top of the Pops"
Blitz – "Warriors"
DISCHARGE – "You Deserve Me"
The Damned – "Neat Neat Neat"
The Damned – "Jet Boy, Jet Girl"
Cock Sparrer – "Because You're Young"
Cock Sparrer – "Working"
Cock Sparrer – "We're Coming Back"
The Germs – "American Leather"
Fear – "New York's Alright If You Like Saxophones"
Fear – "Fuck Christmas"
Choking Victim – "5 Finger Discount"
Choking Victim – "500 Channels"
GG Allin – "Outskirts of Life"
GG Allin – "Carmelita"
Bad Brains – "Attitude"
Bad Brains – "I against i"
The Germs – "Lexicon Devil"
Ramones – "Chinese Rock"
Johnny Thunders – "You Can't Put Your Arms Around A Memory"
Misfits – "Last Caress"
Misfits – "Attitude"
New York Dolls – "Puss 'n Boots"
Stiff Little Fingers – "Barbed Wire Love"
Anti-Nowhere League – "I Hate People"
Anti-Nowhere League – "Let's Break The Law"
Stiff Little Fingers – "Suspect Device"
The Stooges – "Little Doll"
Check out Dane's playlist below on Spotify. Be sure to like Background Noise on Facebook for updates on future episodes. You can browse ALL the Background Noise episodes right here.