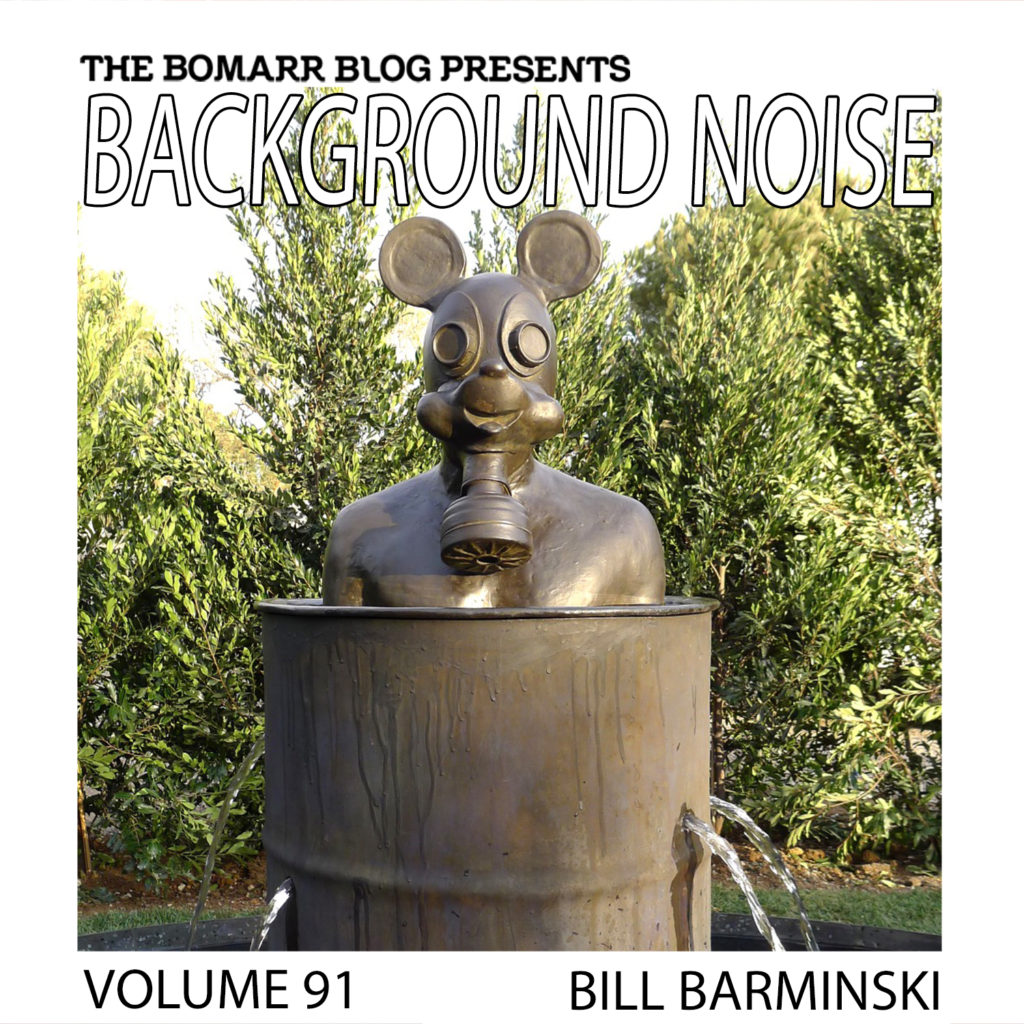 Bill Barminski is a legend. Plain and simple. He's been doing art for over 30 years, and even if you're not familiar with his name, you've most likely seen his work somewhere. People in my age bracket will surely remember the work he did on the video for the 90s Baz Luhrmann hit "Everybody's Free (To Wear Sunscreen)". Younger folks may recognize his work from the music videos of Gnarls Barkley, Death Cab For Cutie, or Modest Mouse (he's pretty much the star of said Modest Mouse video).
Oh, and he also created the incredibly surreal foyer/security checkpoint of Banksy's Dismaland "theme park" in 2015. (Watch a clip here). It was something that, with real live humans playing the part of monotone security guards, seemed to be straight out of a post-9/11 version of Who Framed Roger Rabbit?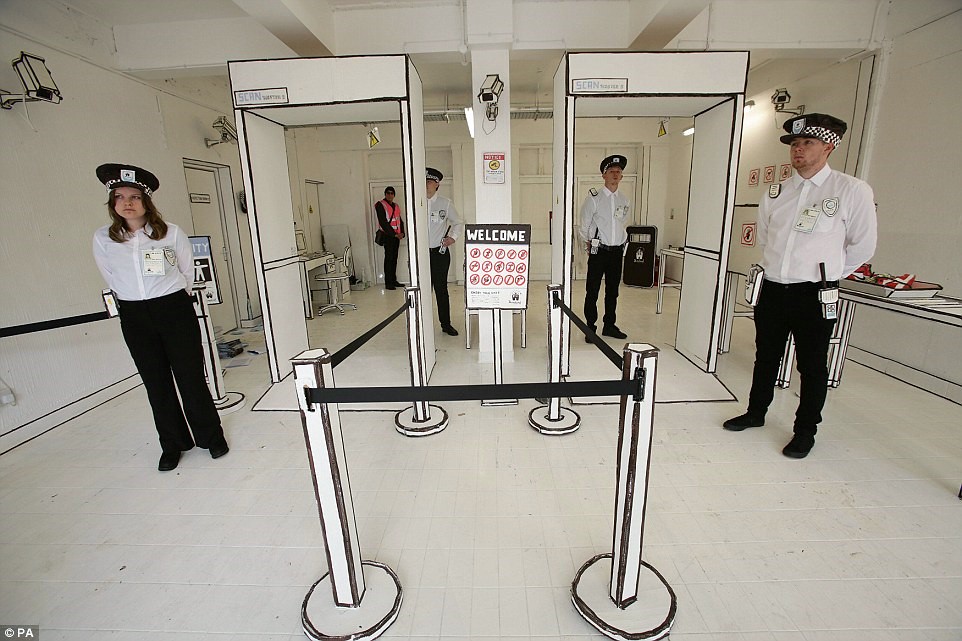 I visited one of Bill's installations a couple of years back when he was one of the many talented artists in Roger Gastman's LA version of his Beyond the Streets art show. In the room were fake shoes, fake TVs, a fake cardboard couch that you could sit on, and fake spray paint cans among other things. I was down on one knee taking a closer look at some of the cardboard cans of spray paint when a man who was sitting on the cardboard couch reached over, grabbed one of the cans, shook it, and handed it to me. Turns out, there was a "pea" inside…you know, that little ball that makes a sound when you shake a real spray can? This added to the surrealism of being in that room, hearing a sound that you associate with being inside a metal can come out of a non-functional cardboard version. What made the moment even weirder, was when I looked up, I noticed it was Bill Barminski handing it to me.
First album you bought?
The 1st album I bought was Bad Company – Bad Company. 8 track. But being the youngest of 5 children I had access to pretty much everything from the Beatles to Frank Zappa and a good bit of Jerry Jeff Walker and Ray Wiley Hubbard too. So in a sense, I didn't have to buy my first album rather than just play the ones already there.
Last album you bought?
The last album I bought, like an actual album, was a reissue on vinyl of The Vibrators Pure Mania. I think this is the 3rd time I have purchased said album. I hate to think about some albums I have purchased multiple times, 8 track, cassette, vinyl, CD, and digital download.
First concert?
The first concert I went to was Aerosmith at the Tarrant County Convention Center, Fort Worth, Texas. I think that was in 1976. Nazareth opened. In the 1970's Ft Worth had the brand new convention center so we got all the traveling rock shows. If you lived in Dallas you had to come to Cowtown to see them.
Last concert?
The last concert I saw was The Cunning Little Vixen in the Golden Hall, Muiskverein, Vienna, Austria. It's an opera written in 1920 by Leos Janacek and performed by the Cleveland Orchestra. Myself and Chris Louie created all the set designs which were video projections and all the animated characters for this opera. In COVID news the spring 2020 performances of this opera in Sweden were canceled.
Was there one album that made a significant impression on you?
The album that changed me was The Damned Damned, Damned, Damned. It blew my mind. In 1977 my brother had gone to London and returned to Ft Worth, Texas with this album. The first song he played me was "Stab Your Back". It's basically over as soon as it starts. It's only a minute long. And the lyrics basically are "Stab your back, I'm gonna stab your back". This broke all the rules. You can't sing that, can you? And everyone knows a real song is 3 minutes long. It was crass, energetic, and authentic. I had been used to album rock on FM radio and stadium shows with laser lights. This was some completely other thing. Punk. I consider "Neat, Neat, Neat" to be the quintessential punk song.
Who is your musical hero?
It's hard to pick a single 'musical hero". I admire so many musicians. Anyone who can write a song basically. I trying to learn how to write my own songs and I hear so many songs that are so good and so simple. But when I try to do this I can't figure it out and I struggle. So anyone who can write a decent song is my hero. And of course, I'm jealous of them too.
How important is music to your creative process?
Music has always been part of my creative process. I always have something playing when I work. It helps occupy the mind especially when you are doing tedious tasks that are necessary to the process. I also write my own stuff either for the fun of it or to score my animation or video projects.

Is there any music, in particular, getting through this strange time we're living through?
Right now I find myself writing a lot more of my own music. Maybe that's because I have more time. But no, I think it's an emotional response to quarantine. I've been doing more animation and music. Most of what I'm making is a bit moody so when I do put something on I want something fun and/or something that puts me in a different time and place. I find I'm liking DEVO Are We Not Men? because it takes me back to my youth. Surf music because it takes me to someone else's youth. I'm listening to the Chats often because everyone's on smoko right now. And some days I really dig listening to John Coltrane.
Smoko – The Chats
Uncontrollable Urge – DEVO
You Push I'll Go (feat. Alex Sanchez) – Baby Dayliner, Alex Sanchez
C'Mon Everybody – Eddie Cochran
Hey Ya! – OutKast
Harley Davidson – Brigitte Bardot
This Takes the Cake – Martin Mull
Anti-Pope – The Damned
Don't Burn It – Barons
Good Guys (Don't Wear White) – Minor Threat
Famous – The Magnetic Fields
Rock Bottom Riser – Smog
Status Back Baby – Frank Zappa, The Mothers Of Invention
Olson – Boards of Canada
Didn't It Rain – Sister Rosetta Tharpe
…and Vintage Surf Music.
Check out Bill's playlist below on Spotify. Be sure to like Background Noise on Facebook for updates on future episodes. You can browse ALL the Background Noise episodes right here.