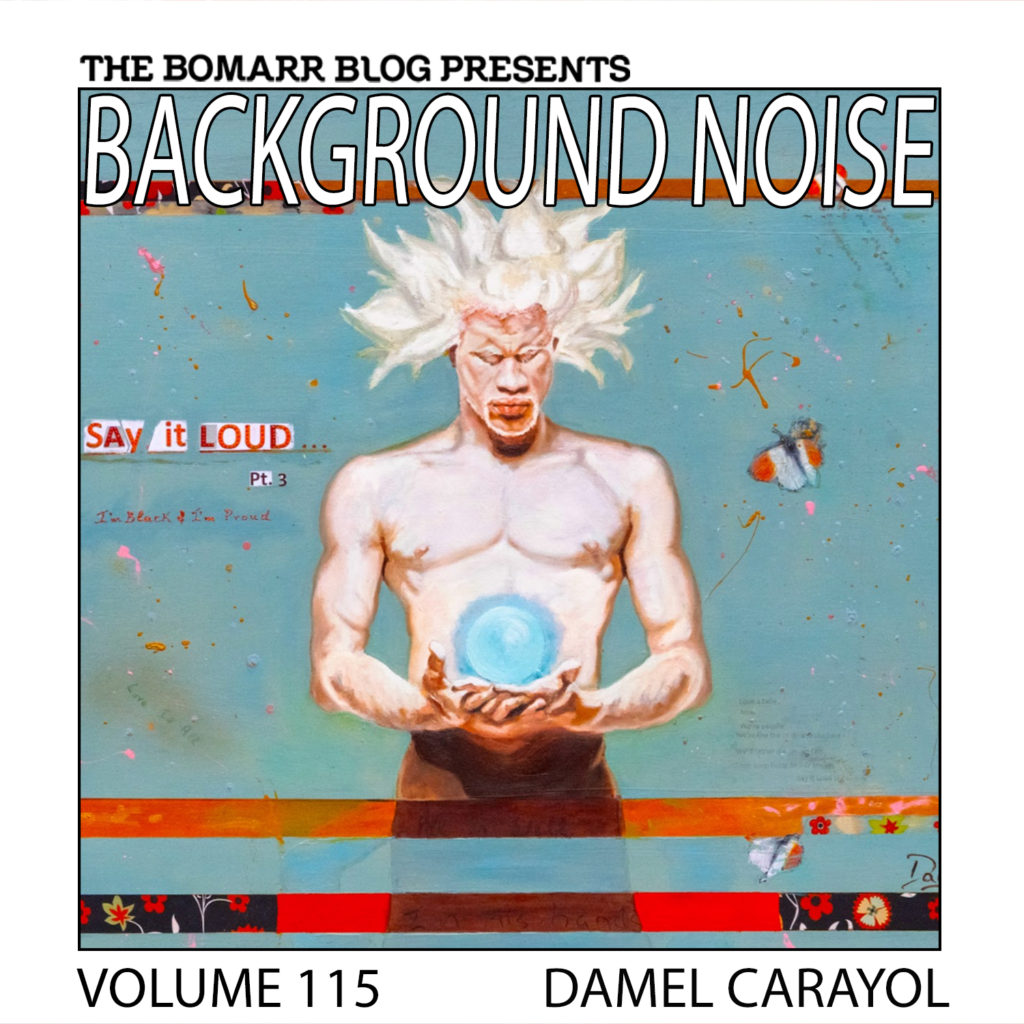 I had the pleasure of working on a project with Damel Carayol toward the end of 2021. The project was called "Black Art, Black Stories, Black Voices", and was a collaboration between Yahoo, RYOT, Kaleidoscope, and the UK-based art collective Disrupt Space. The project featured 8 artists from Disrupt Space and helped guide them in their first forays into the world of NFTs. Our team was responsible for building the augmented reality components of the artwork, which were used to direct viewers to the Super Rare auction pages for each artist's work. Damel's piece, titled "Pandora's Box (As It Was In the Beginning)" featured not only a 3-dimensionalized version of one of his paintings but an accompanying audio recording of one of his poems.
Damel has been at it for a while now and he's not only a visual artist who works with oils, acrylics, and unconventional materials like bitumen and soil, but he is also a poet and established musician. Gambia-born, and currently living in the UK since the age of 9, Damel had to adjust to being a minority in school growing up, after being part of the majority in the Gambia. He's passionate about social justice, and this passion really stood out to me when I read an article about his meeting with UK Prime Minister Theresa May.
First, the back story:
After the devastating tragedy that was the Grenfell Towers fire in 2017, which sadly took the lives of a few of Damel's relatives who lived in the building, and after learning that a significant contributing factor to the spread of the fire was due to covering that was known to be flammable but was kept for "aesthetic reasons", he couldn't take it anymore. He channeled his anger into his art, creating a painting titled "'Eyesore!! Final Straw' ", depicting the burned-out tower. He then presented this painting in person to Theresa May at a meeting with victims' families, with a note that read "To the Prime Minister Mrs. Theresa May. Given from a good place with a righteous message. We all hope and pray that nothing like this will ever happen again."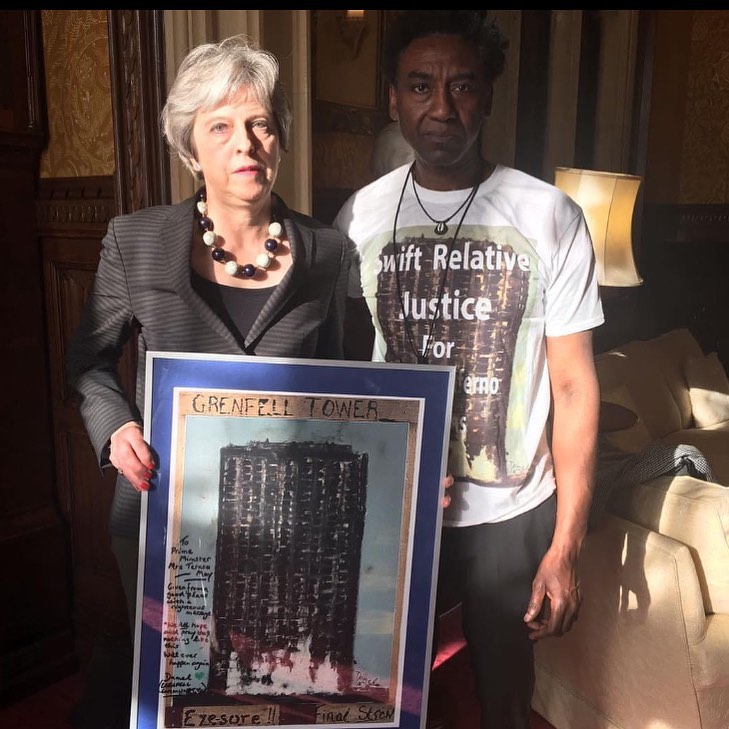 Just reading about this story really floored me, from the absolutely avoidable devastation to the way Damel channeled such an emotional event through his art, and how he used it as a statement to others.

There are many layers to Damel Carayol. For further reading, check out his website at damel.life and I highly recommend reading this article, which dives deeper into the motivation behind his "Eyesore!! Final Straw" painting.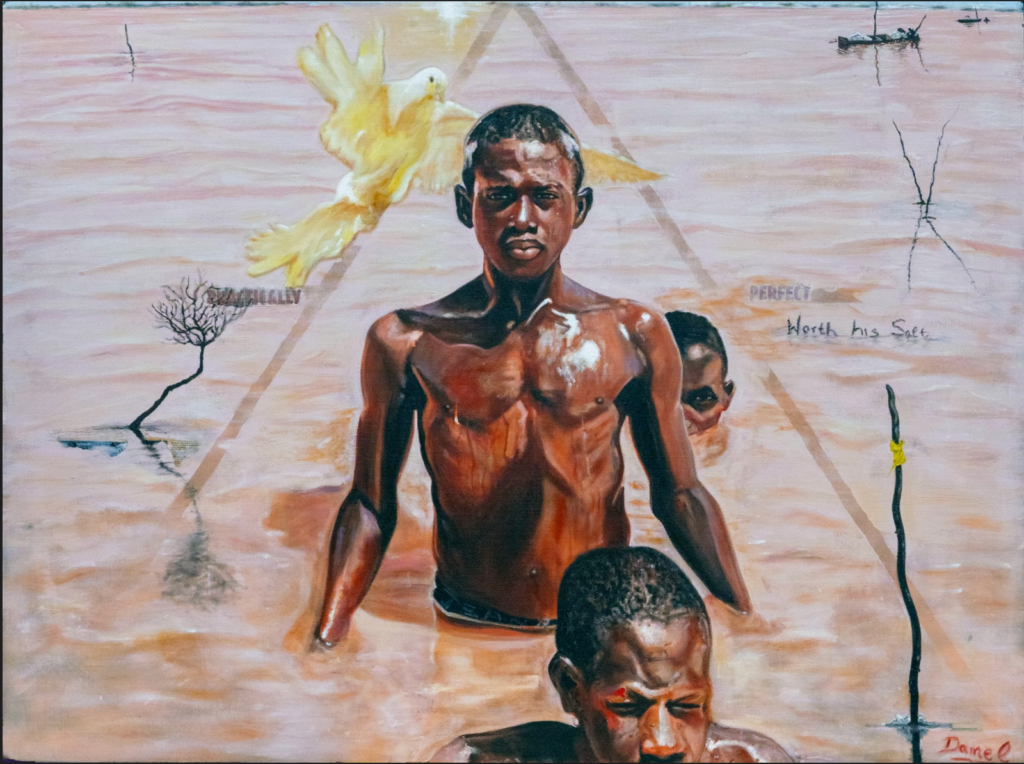 First album you bought?
Innervisions – Stevie Wonder
Last album you bought?
Flo'Ology – by Floetry
First concert?
Status Quo (Rainbow Theatre – London, UK)
Last concert?
Anthony Hamilton (O2 – London, UK)
Was there one album that made a significant impression on you?
What's Going On – Marvin Gaye, undoubtedly, and Marcus Garvey by Burning Spear
Who is your musical hero?
Marvin Gaye, Donny Hathaway, Jimi Hendrix
How important is music to your creative process?
Music is Life, cliche as it sounds. We resonate on vibrations and tones so connect with notes and rhythm. Melody means as much to me as is a good groove. Having been and still am a musician – vocalist, saxophonist, percussionist, and songwriter marries me perfectly to Visual Art which speaks visually to me as loudly as music. Hand in hand they both liberate.
BONUS: What is your favorite album cover of all time (and why)?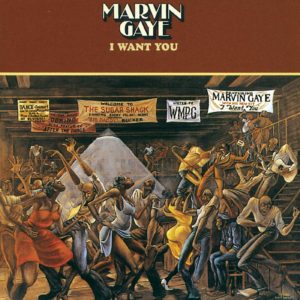 I Want You – Marvin Gaye (painting by Ernie Barnes)
BONUS #2: Any visual artist(s) you'd like to see answer these questions?
Chris Ofili
Leaving For A Dream – Heatwave
Sweet Life – Frank Ocean
Quiet Storm – Smokey Robinson
Music Is My Sanctuary – Gary Bartz
Design A Nation – Donald Byrd
All The Way Around – Marvin Gaye
Little Boy Blue – Rufus Ft Chaka Khan
Old Friends – Simon And Garfunkel
Cono – Salif Keita
Miss Yi – Youssou N'dour
Barefoot Ballet – John Klemmer
Lyin' Eyes – Eagles
No Place To Hide – The Crusaders
Heaven – Damel Carayol
Sack Full Of Dreams – Donny Hathaway
To Know – The Jackson 5
Deja Vu (I've Been Here Before) – Teena Marie
Us And Them – Pink Floyd
Check out Damel's playlist below on Spotify. Be sure to like Background Noise on Facebook for updates on future episodes. You can browse ALL the Background Noise episodes right here.