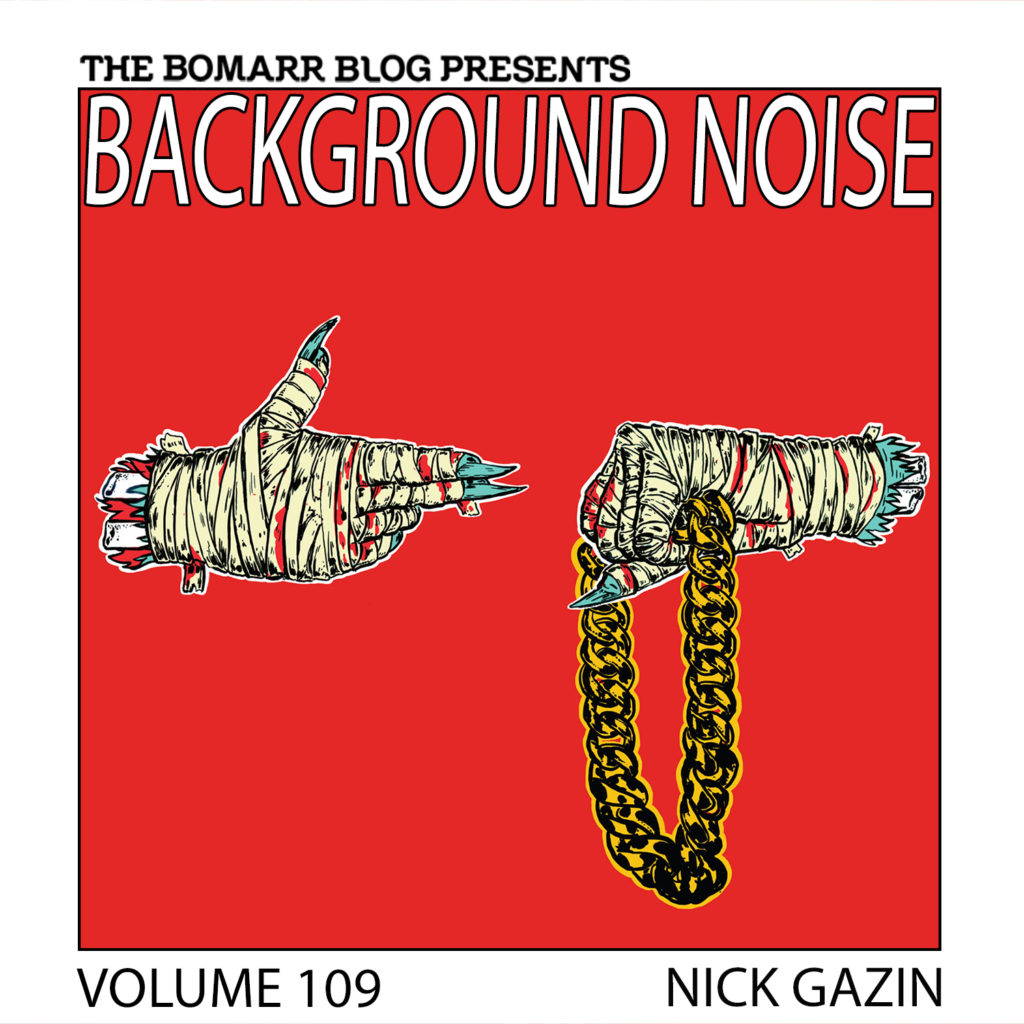 Nick Gazin really likes the Beatles. So much so, that he worked them into every single one of his answers here. Granted, for a while, there was a lot of Beatles-related art he'd posted on his Instagram, and his love for the Beatles does seem to be legit, but the validity of some of his answers remains to be seen.
That being said, it all fits in line with Nick's persona, or what he's put out there, at least. He's a serious (and talented) artist, but there seems to be a lot of tongue-in-cheekery about him. He hosted a web show called The Creepy Touch for Mishka under the name The Toilet Cobra (surely a nod to the Cobra Snake, yeah?) He has a comic book review column for Vice, and has written many humorous articles for Vice. Honestly, I think I appreciate artists more when they don't take themselves too seriously.
I'd be remiss if I didn't mention Nick's most notable work…the now-iconic hands that graced the covers of both Run the Jewels 1 and 2. Not only does it appear on a whole bunch of RTJ merch, it's appeared in numerous murals and as tattoos across the world.
In addition to RTJ, he's done album art, t-shirts, posters, etc for countless bands, including Wavves, Jay Reatard, Mac DeMarco, Cerebral Ballzy, The Alchemist and more.
Go ahead and hit play on Nick's 41 minutes of the Beatles jams, and check out his wonderfully colorful Instagram account while doing so.
First album you bought?
The White Album
Last album you bought?
The White Album
First concert?
The Beatles
Last concert?
The Beatles
Was there one album that made a significant impression on you?
The White Album
Who is your musical hero?
Lennon, McCartney, Harrison, Starr, Ono
How important is music to your creative process?
Very important!
BONUS: Is there any music, in particular, getting you through this strange time we're living through?
The White Album
BONUS #2: Any visual artist(s) you'd like to see answer these questions?
Lennon, McCartney, Harrison, Starr, Ono
Back in the U.S.S.R. – the Beatles
Dear Prudence – the Beatles
Glass Onion – the Beatles
Ob-La-Di, Ob-La-Da – the Beatles
Wild Honey Pie – the Beatles
The Continuing Story of Bungalow Bill – the Beatles
While My Guitar Gently Weeps – the Beatles
Happiness Is a Warm Gun – the Beatles
Martha My Dear – the Beatles
I'm So Tired – the Beatles
Blackbird – the Beatles
Piggies – the Beatles
Rocky Raccoon – the Beatles
Don't Pass Me By – the Beatles
Why Don't We Do It in the Road? – the Beatles
Check out Nick's playlist below on Spotify. Be sure to like Background Noise on Facebook for updates on future episodes. You can browse ALL the Background Noise episodes right here.