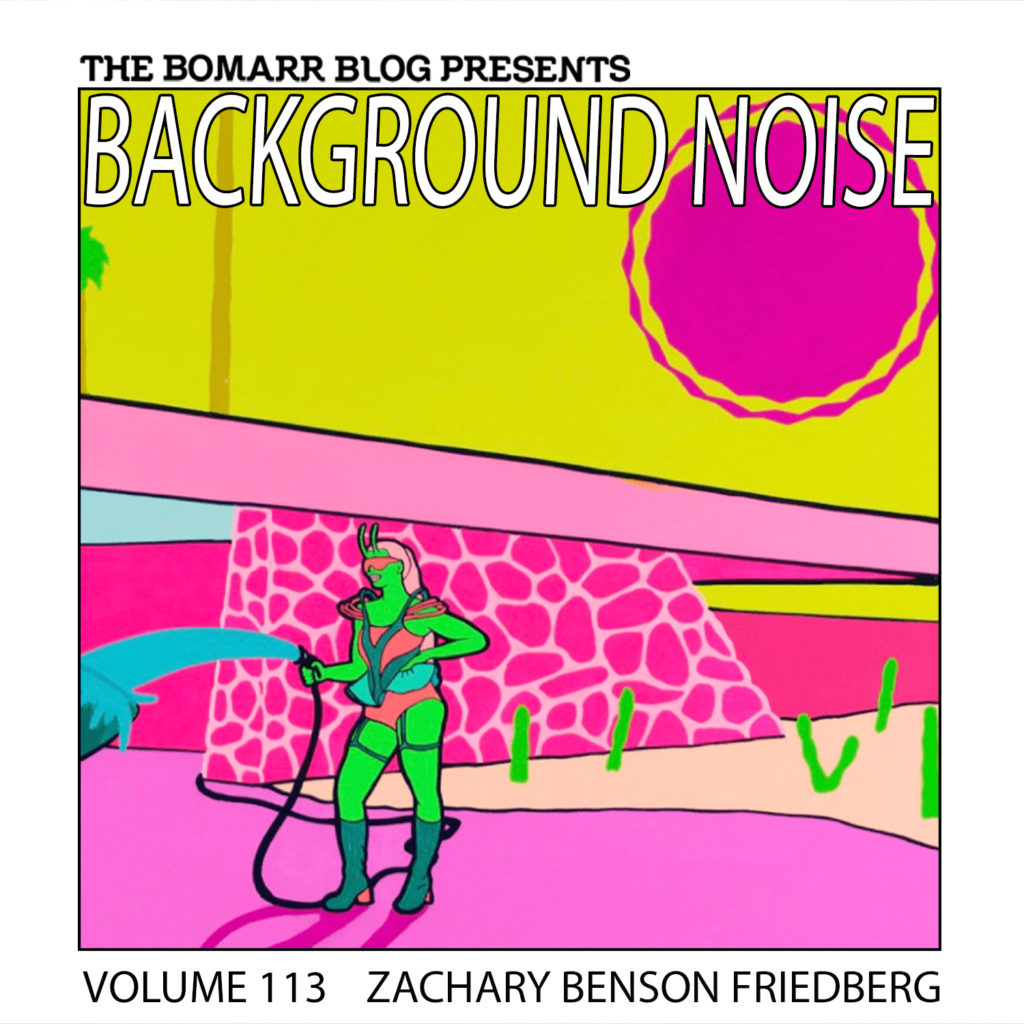 Santa Ana, CA-based artist Zachary Benson Friedberg seems to love music just as much as he loves art.
On top of his own vibrant, surreal acrylic paintings, he has done band logos and album art for the likes of Toxic Holocaust, Sabbat (Japan), Nocturnal (Germany), Nunslaughter, and Antebellum 666. Oh, and he's in a metal band called Morbid Eclipse.
He's been doing professional artwork since he was 18, but only recently went full time as an artist. It's keeping him busy too, with solo exhibitions, group shows, and commission work in Los Angeles and beyond.
First album you bought?
Beck – Odelay
Last album you bought?
Cirith Ungol – Forever Black
First concert?
Besides going to see live music with my parents, the first concert I went to on my own was the Misfits on January 21, 2000, at The Galaxy in Santa Ana, CA (with Strife and Indecision)
Last concert?
Metalucifer on September 19, 2020, at Catch One in Los Angeles, CA (with Fortress and Nightmare)
Was there one album that made a significant impression on you?
Hearing Sarcofago – I.N.R.I. for the first time was a very formative experience. That was the album that pulled me deep into underground metal and consumed most of my musical taste for many years.
Who is your musical hero?
Matt Harvey (Exhumed, Dekapitator, Gruesome, Pounder, Ted Sanchez, etc…). Matt is incredibly prolific and has written some of my favorite music. He's managed to consistently write excellent songs in a variety of bands which each retain their own unique voice. Besides being a total metalhead he lets his eclectic musical taste influence his music and has even branched out into synthwave and orchestral compositions.
How important is music to your creative process?
I'm always listening to something. Most of the music I listen to keeps me in a groove while painting, however, the exotica is instrumental in establishing a mood I strive to capture in my artwork.
BONUS: What is your favorite album cover of all time (and why)?
Very biased answer. Morbid Eclipse – The Poison Winds. It's my band and I commissioned the cover art to be exactly what I wanted for the music on the album.
BONUS #2: Any visual artist(s) you'd like to see answer these questions?
So many already have!
Nathan Cartwright, Dos Diablos, Pool y Marianela, Shag, Peter Haley
speczacular.com/
instagram.com/speczacular/
"Soul Sauce" – Cal Tjader
"Cheganca" – Walter Wanderly Trio
"Bo Mambo" – Yma Sumac
"Sadomatic Rites" – Beherit
"Wildfire" – Quartz
"Drift Stage Main Theme" – Myrone
"Road Racin'" – Riot
"Key Largo" – Bertie Higgins
"Numbskull" – Ghoul
"Executioner's Tax (Swing of the Axe)" – Power Trip
"Miami Supercops" – Gama Bomb
"Touch of Grey" – Grateful Dead
"Reelin' in the Years" – Steely Dan
"Too Much Monkey Business" – Elvis Presley
"Turbo Killer" – Carpenter Brut
Check out Zachary's playlist below on Spotify. Be sure to like Background Noise on Facebook for updates on future episodes. You can browse ALL the Background Noise episodes right here.