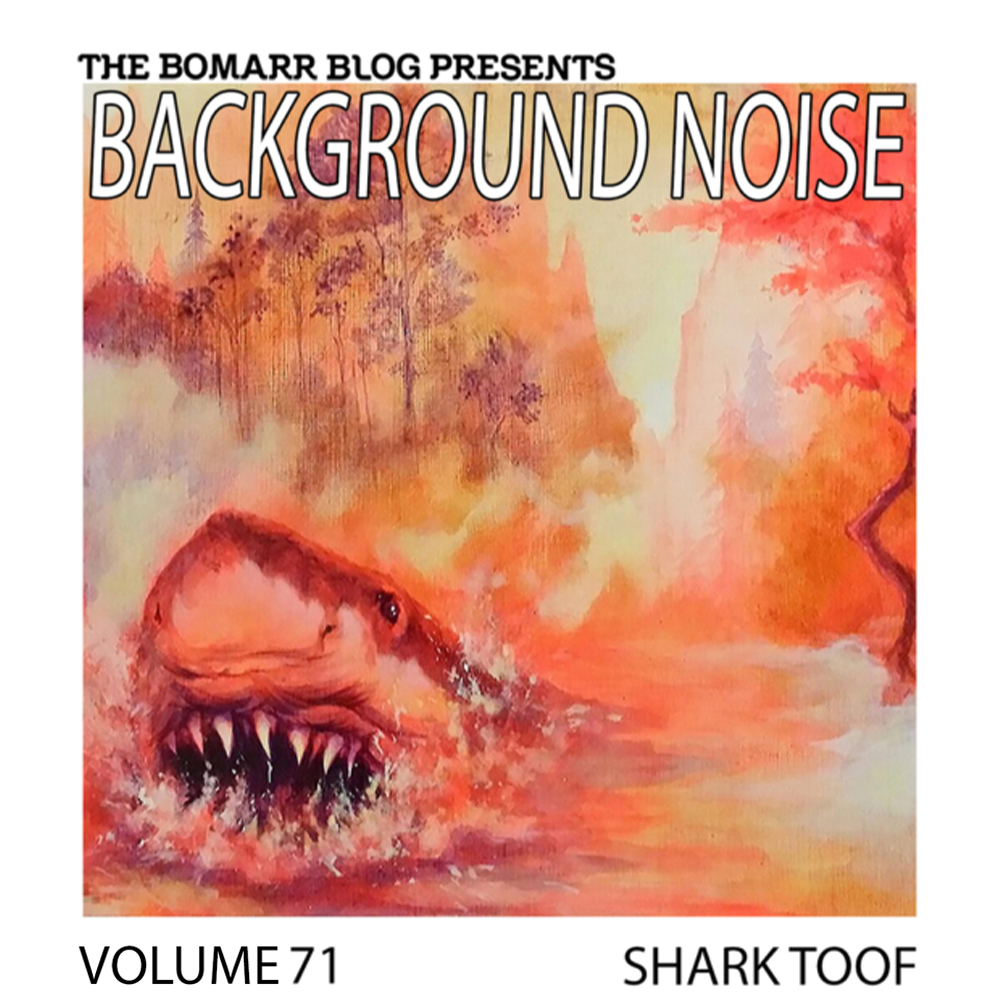 THE BACKGROUND NOISE SERIES FOCUSES ON THE MUSIC THAT ARTISTS LISTEN TO WHEN THEY WORK, WHAT MUSIC INSPIRES THEM, OR JUST MUSIC THEY LIKE. THIS WEEK, IN VOLUME 71, THE FOCUS IS ON ARTIST SHARK TOOF.
Shark Toof has been a fixture in the Los Angeles street art scene for years now. His iconic shark wheat pastes, which featured "TOOF" strategically placed in the negative space left from rows of shark teeth, were commonplace throughout the streets of many cities, from Los Angeles to New Hampshire. And his gallery art, much more detailed and thought out, continues to wow art collectors worldwide.
He has worked closely with PangeaSeed, a Hawaii-based non-profit organization that helps educate and raise awareness about the importance of shark conservation and preserving ocean habitats. PangeaSeed even helped coordinate a shark dive for him so he could better connect with the sharks and the ocean life.
In addition to his website, his work can be seen at the Chinese American Museum in Los Angeles, where his work is part of their permanent collection. He also has two 100 foot murals located in Miami and Los Angeles. The latter of which recently had a preservation fundraiser to keep it visible.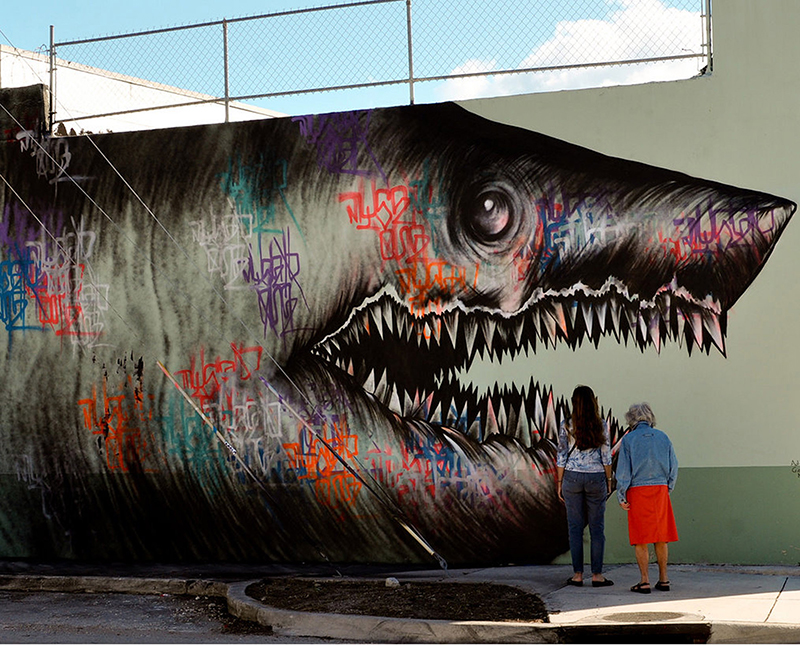 What was your first concert?
New Order or The Jesus and Mary Chain, but The LA Dream Team played a lunchtime show at my middle school. Does that count?
Last concert/show?
The Make Up
First album, tape or cd you bought?
New Order – Substance
Last album you bought?
It's been so long I can't remember.
Either The Wedding Present or Casiotone For The Painfully Alone
Was there any album that made a significant impression on you?
Jane's Addiction – Nothing's Shocking
Who is your musical hero?
Robert Smith
How important do you think music is to your creative process?
Music is important to my living process.
1975 JAWS THEME SONG
Summertime Rolls – JANE'S ADDICTION
Dance Yrself Clean – LCD SOUNDSYSTEM
Corduroy – THE WEDDING PRESENT
Vapour Trail – RIDE
We Can't Be Contained – THE MAKE UP
Sunshine Smile – ADORABLE
Star Sail – THE VERVE
So What – MINISTRY
I Luv The Valley Oh – XIU XIU
The Fire In Which You Burn Slow – INDELIBLE MCS
Summer Babe – PAVEMENT
2 Kindsa Love – JON SPENCER BLUES EXPLOSION
Birthday (Christmas Eve Christmas Day Remix) ( with Jesus and Mary Chain) – SUGAR CUBES
1969 – THE STOOGES
Ladies And Gentlemen, We Are Floating In Space – SPIRITUALIZED
Mersey Paradise – STONE ROSES
Just Like Honey – JESUS AND MARY CHAIN
Looking At You – MC5
If You're Feeling Sinister – BELLE AND SEBASTIAN
Little Yellow Spider -DEVENDRA BANHART
Thirteen (Demo Version) – FORWARD RUSSIA
Between Us and Them – MOVING UNITS
Do They Owe Us A Living – CRASS
In My Eyes – MINOR THREAT
Plainsong – THE CURE
Ceremony – NEW ORDER
Disorder – JOY DIVISION
Sheep – GONJASUFI
El Camino – ZACKEY FORCE FUNK
Check out Shark Toof's playlist below on Spotify. Be sure to like Background Noise on Facebook for updates on future episodes. You can browse ALL the Background Noise episodes right here.