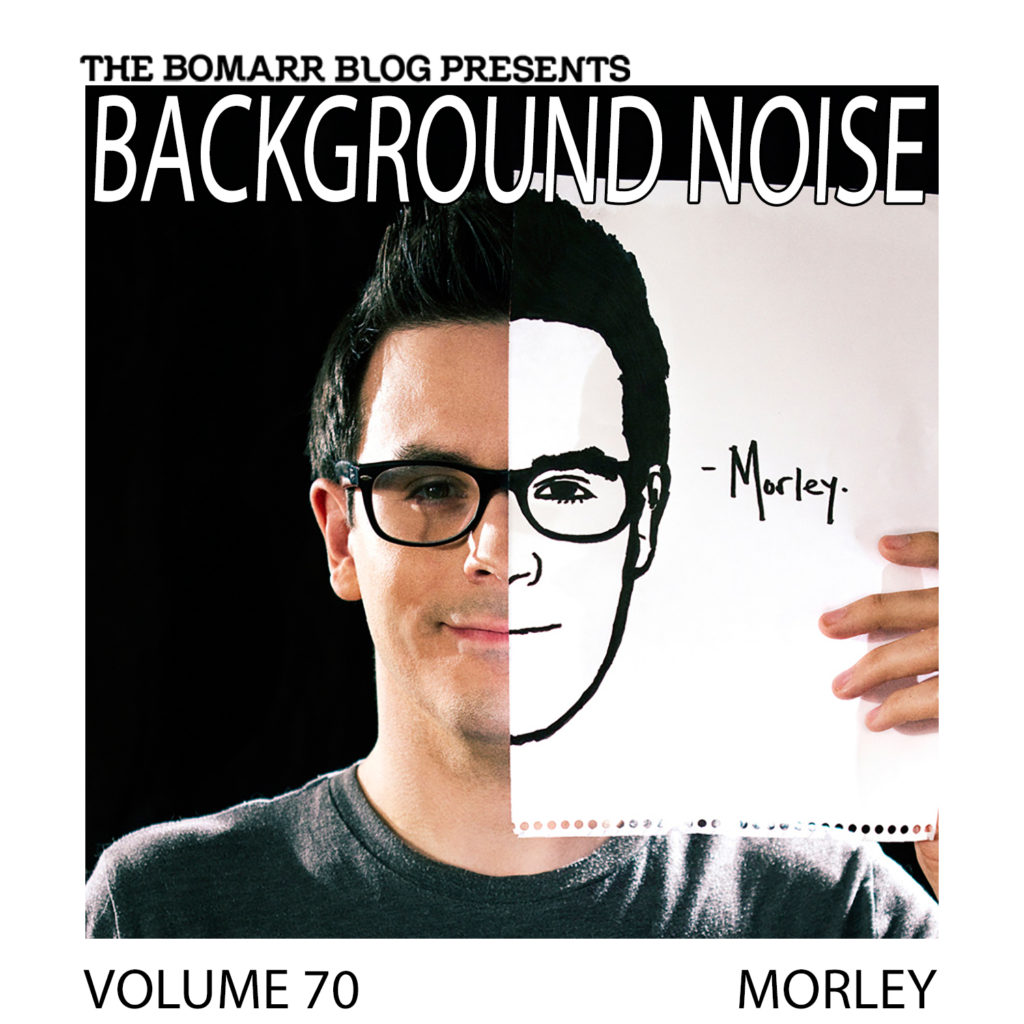 Los Angeles street artist Morley likes to break up the monotony of everyday routines. He uses witty black and white wheat pastes, often put up strategically based on their surroundings, to provoke thoughts and inject humor when it is needed most.
He uses these wheat pastes to put his own internal thoughts out into the world. Thoughts that he knows others out there can relate to. "Oh Alarm Clock, You Have No Idea What I Can Do With Nine More Minutes," or "I Love You Because We Hate The Same Stuff." They're all quick little reminders not to take ourselves too seriously. Reminders that it's ok to have a little chuckle on your way to work or your way home after a long day.
The art world needs more people who don't take themselves too seriously.
What was the first album you bought?
TAPE: The Pretty Woman Soundtrack. In my defense, my parents had pretty good music taste- so I didn't need to buy any albums by The Beatles or Tom Waits as they already had them and played them in the house. But I got an infection from hearing the song "The King of Wishful Thinking" by Go West and it was beyond my control. Plus I was 8 years old, so give me a break.
CD: Naughty By Nature's "19Naughty3." I wish I could redeem myself with this being better than my first cassette tape, but sadly I cannot. This time you don't have to give me a break- by 11 I should have known better!
What was the last album you bought?
"Another Eternity" by Purity Ring. It's pretty good. I got the cover album of Elliott Smith tunes by one of the Avett Brothers on the same day. They're decent covers for sure but there really is something uniquely magical about Elliott Smith that just can't be recaptured. I think the attempt was a respectful homage, but on a purely sonic level, any cover of his will always be missing something.
What was your first concert?
White Zombie. It was the "Astro Creep 2000" tour, though- to be honest, I went because I had a friend who was really into them and I was more of a fan of the opening band, The Toadies. Looking back, it's kind of a strange pairing, musically. I still love that first Toadies record, "Rubberneck." It's pretty underrated as far as '90s post-grunge albums go.
What was your last concert?
Stars at the Henry Fonda Theater in Los Angeles. The band KILLED it and it's a really great venue. I had seen Built to Spill there right before they broke up. There's not a bad spot to stand in the house and it's not obnoxiously large. I don't bother seeing bands if they outgrow places like The Fonda or the El Rey. I just don't feel a connection with the band if the venue is huge and overflowing with people.
Was there one album that made a significant impression on you?
"The Blue Album" by Weezer was a monumentally important record for me. After outgrowing "Hip-Hop Hooray" just in time for Nirvana to abruptly end, I found myself searching for a band that I felt represented who I was. At 12 years old, you really want a band that will be the bones that you can build an identity around. You take your fashion cues from them, your sense of romance, rebellion, and swagger. As much as I would have liked to relate to Kurt Cobain or Eddie Vedder, they just seemed too handsome and mythic. Instead, I gravitated to Rivers Cuomo. He sang about seeking refuge in his garage and playing Dungeons and Dragons. It was like he was singing just to me! In a time of somewhat dour music, Weezer seemed happy with who they were. They weren't ashamed of their nerd status, they wore it as a badge of honor. This was incredibly empowering at a time when I really needed it. Even though the band has since evolved in a direction that I don't dig, I still wear the same horn-rimmed style glasses that Rivers sports and take it as a compliment when people say we look alike.
Who is your musical hero?
My all-time biggest musical influence has to be Beatles-era Paul McCartney. I'm a bit of a Beatles nut and in studying their influence, I'm fascinated with how much they altered pop culture and the musical landscape. It's mind-boggling. I saw him play in Dodger Stadium last summer (breaking my "only small and medium-sized venue" rule) and it was honestly magnificent. That's a pretty big word but for me, it's appropriate. My wife and I had crappy seats but just to hear some of my favorite songs sung by the man who wrote them. I mean- I got to hear "Hey Jude" live! It was a bucket list moment for sure.
How important is music to your creative process?
It's vital for me. I always say that if my work seems like lyrics to a song you like, then I've done a good job. Music is really how I grease the wheels of creativity. I have to have something playing any time I work or create. Silence just feels like a brick wall. When I was developing the idea for what I wanted my work to become, I looked to music because, unlike a lot of methods of creative expression, there is a more profound relationship formed between the musician and the audience. You can look at a beautiful painting without forming a connection to the artist because the artist isn't really part of it. Ditto with film and photography. You can feel a connection to an author but it's still removed from hearing an artist sing directly in your ears. With music, a 12-year-old boy in Iowa can listen to Weezer and finally feel like he's not alone in this world. I wanted the people that saw my work to feel that same connection. I wanted them to feel like it was someONE, not just someTHING talking to them. This is why I include a drawing of myself in all of my work, to try and realize that connection between two humans and remind those who might see what I do and relate to it, that none of us are alone. Hope is not lost when there's someone to help you back up, even if that help is just a few words pasted on a wall.
1. "Life of the Party" – Longwave
2. "Sax Rohmer #1" – The Mountain Goats
3. "The Song In My Heart" – Gomez
4. "Beautiful Beat" – Nada Surf
5. "Scenic Pastures" – Archers of Loaf
6. "Bad Reputation" – Freedy Johnston
7. "That's How Strong My Love is" – Otis Redding
8. "I Should Have Known Better" – The Beatles
9. "Car" – Built to Spill
10. "To All My Friends" – Atmosphere
11. "'Til I Get There" – Lupe Fiasco
12. "Losers" – The Belle Brigade
13. "(This Is) The Dream of Evan and Chan" – Dntel
14. "Eat, Sleep, Repeat" – Copeland
15. "Every Stone" – Manchester Orchestra
16. "Your Hand In Mine" – Explosions in the Sky
17. "Not Miserable" – Frightened Rabbit
18. "The Tracks of My Tears" – Smokey Robinson and the Miracles
19. "Nowhere We Cannot Go" – Hayden
20. "Place To Be" – Nick Drake
21. "Heartbeats (The Knife cover)" – Jose Gonzalez
22. "To Sing For You" – Donovan
23. "Murder In The City" – The Avett Brothers
24. "Grizzlies" – Jim & Sam
25. "England" – The National
Check out Morley's playlist below on Spotify. Be sure to like Background Noise on Facebook for updates on future episodes. You can browse ALL the Background Noise episodes right here.