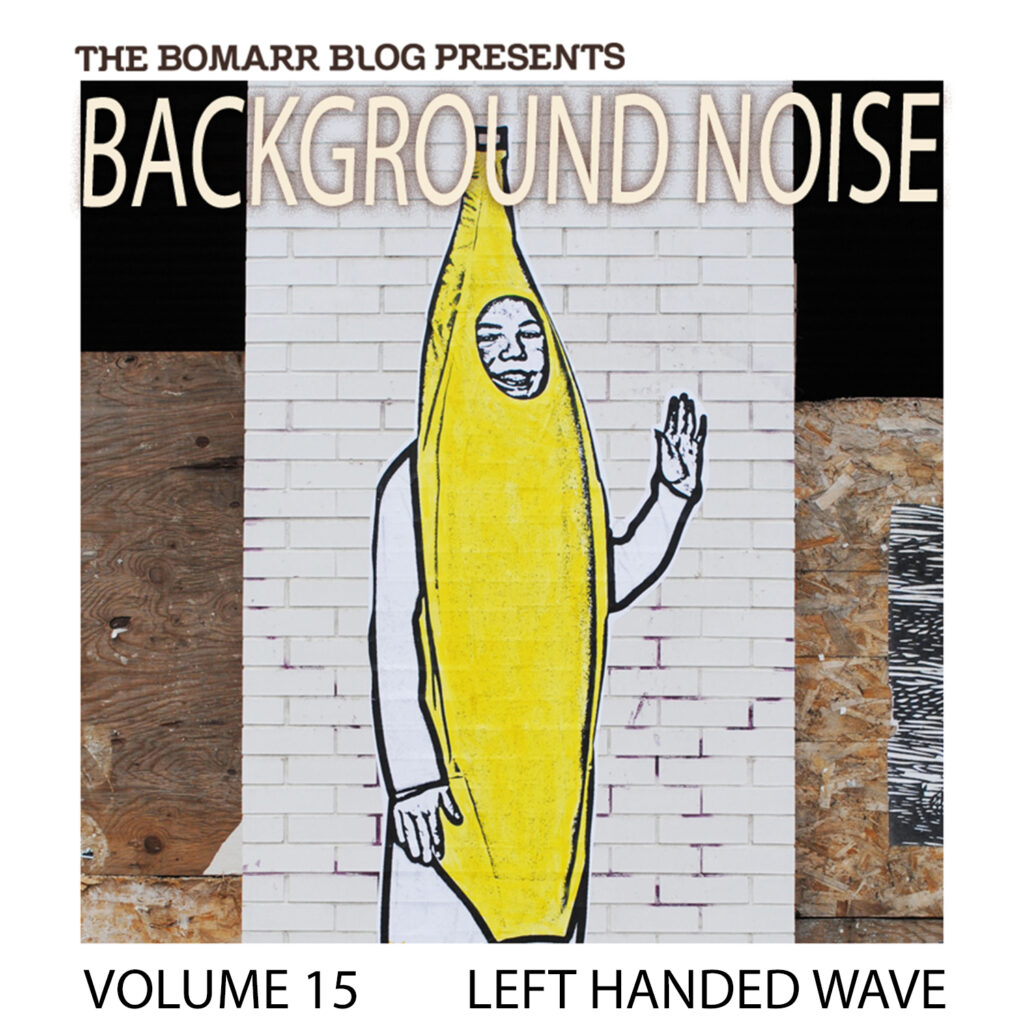 Chicago's Left Handed Wave is another prolific artist who tends not to take himself too seriously. His character of choice is "Banana Man", a man who is often seen in a banana suit, smiling and waving at passersby. While Banana Man started off in this outfit, he's taken on various other disguises throughout his evolution on the streets. Sometimes he'll be grinning at you from inside a bunny suit, sometimes he'll be dressed like a hot dog. Other times, Santa Claus, a ghost, etc. It never ends, really. He's constantly evolving.
Most prolific in his hometown of Chicago, his work will often be spotted in the streets of Brooklyn and Manhattan. He was yet another of the select few artists that Hanksy chose to participate in Surplus Candy, his 2-hour abandoned building art show in NYC's Alphabet City a few months back.
He always has great merchandise to sell. He made a limited run of stuffed plush Banana Men, recently made some limited edition t-shirts, and almost always has stickers and prints available for sale on his Big Cartel page. Go there now though, because his work almost always sells out.
What was your first concert?
A few words from LHW:
All shit-talking aside… I'm pretty sure the first concert I attended was New Found Glory at The Riv in Chicago, I must have been in the 7th or 8th grade. My best homie's dad took us and I remember him advising us not to take any drugs or alcohol from anybody while he was slyly getting dad drunk at the bar. The show was god awful, being a young kid from the suburbs I had never seen so many people going nuts before and I was a little weary to see another show after that. The next concert I went to wasn't until high school, I did everything my friend's dad said not to and then shows got pretty rad after that.
Last concert/show?
The last concert I went to was George Clinton & Parliament Funkadelic at the Concord. I drank a lot of delicious adult beverages and found a five-dollar bill, it was fun…
First lp/cd/tape you bought?
I'm pretty sure Blink 182's Enema of the State was the first CD I bought with my own cash which makes me feel like the whitest, most generic suburban kid ever. Everyone I knew had that album though, it has that skanky-looking nurse on the front and it made me feel a little rebellious listening to it. The songs they swore in the most were my favorite, look up 'Family Reunion', it's no hit, but for a sixth grader, I was easily entertained.
Last album you bought?
I recently picked up RJD2's latest release, 'More Is Than Isn't'. It's no platinum joint, but I can rock some of it, especially the collaborations. I don't get down with too much of his new stuff like I do with the classics, but RJD2 was a big player in my transition into hip hop and electronic music so I always keep up with what he's doing.
Was there any one record that made a significant impression on you?
There have to be dozens, but as of late, 'Daily Bread' By Hassaan Mackey and Apollo Brown has me listening on repeat. It's somewhat of an underground classic, but maybe it's too early to make that distinction. The beats on the album have this old-school hip hop vibe and Mackey's lyrics are super raw, I feel a lot of struggle with them which kinda reflects our current brutal winter here in Chicago. If I could describe Chicagoans right now all I'd say is we're fucking miserable, I've lived here my whole life and this is by far and wide the coldest winter ever. All that grit in the lyrics has really been reflecting my mood, but it gets me through the day like all impressional albums usually do.
Who is your musical hero?
If you don't play dubstep, well, you're my hero then.
How important do you think music is to your creative process?
Music is incredibly important to my creative process and daily routine in general. I'm not super hip to what the kids are listening to these days, but I always need something to narrate my day. I'm always plugged in if I suddenly had to work in silence nothing would ever get done and my creative drive would most likely shut down. Art and music have always gone hand in hand, for me it'd be impossible to have one without the other.
You can follow Left Handed Wave on Instagram, Twitter, Facebook, and Tumblr.
Beck – "Volcano"
Apollo Brown – "Drinking Life"
RJD2 – "Temperamental"
Eliot Lipp – "The Area"
How To Dress Well – "Ready For The World"
Onra – "Long Distance (feat. Olivier Daysoul)"
Pretty Lights – "Almost Familiar"
Eliot Lipp & Jasia 10 – "Journeys"
Linus Loves – "Waterfall"
The Black Keys – "Psychotic Girl"
Hassaan Mackey & Apollo Brown – "Dollar Bill Hill"
Gramatik – "Muy Tranquilo"
Yeah Yeah Yeahs – "Skeletons"
Check out Left Handed Wave's playlist below on Spotify. Be sure to like Background Noise on Facebook for updates on future episodes. You can browse ALL the Background Noise episodes right here.