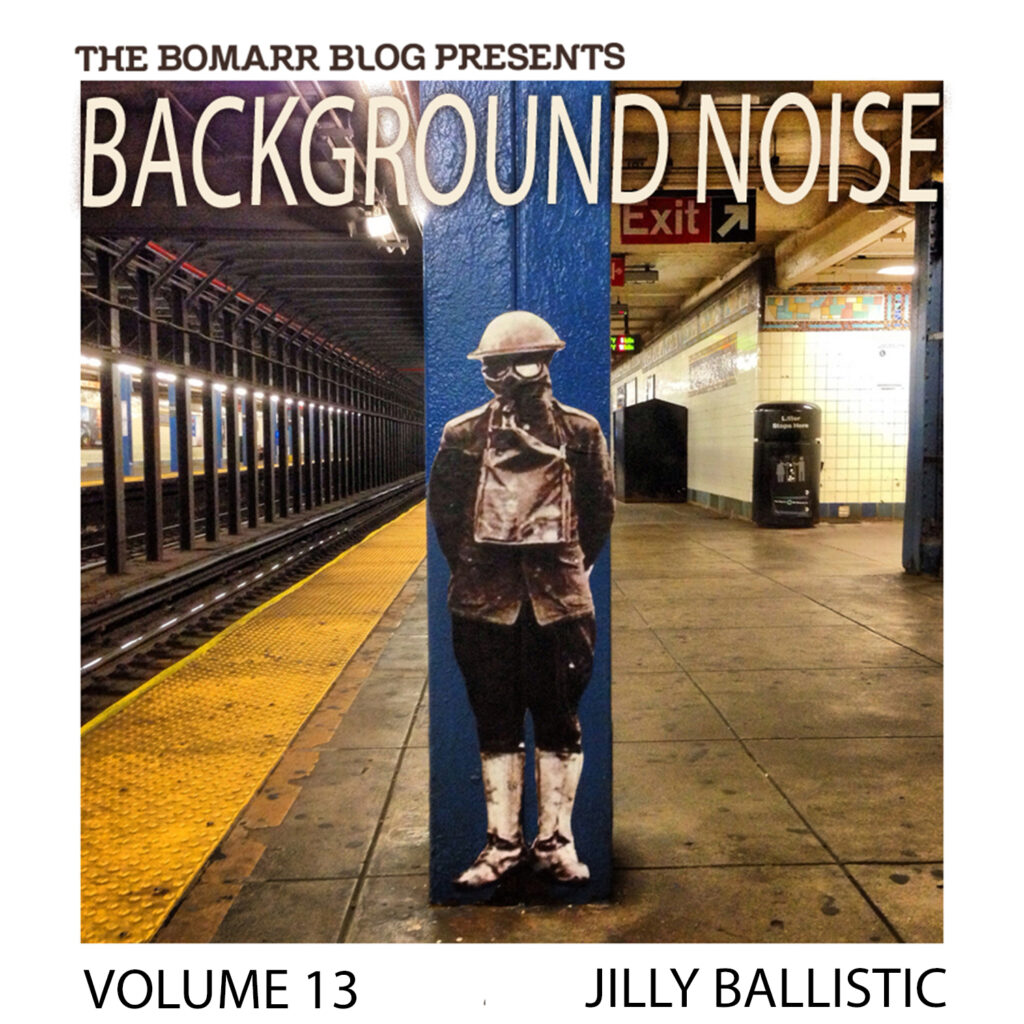 Jilly Ballistic is pretty much a staple of the New York City subway system. So much so, that many commuters likely pass over her work thinking it's part of the advertising. That's a testament right there to how well she does what she does. Where she chooses to put her work is not random. It is location-scouted and thought out, often measured to fit perfectly where she wants it. All of this is not an easy feat either when you factor in the number of people going in and out of the subway stations daily, not to mention the security cameras everywhere.
Most of the paste-ups she does feature historical imagery and frequently feature gas masks, which is a reference to 2014 being the 100-year anniversary of chemical warfare. It's all very fascinating imagery on its own, so when thrown into the gritty NYC subway system, whether on poles, subway seats, or advertising,  it becomes an even more fascinating juxtaposition.
She injects humor into her work as well. Modifying advertisements to look like computer errors or iOS prompts. (For example, an advertisement for the recent Stallone/Deniro boxing flick "Grudge Match" was modified by Jilly to feature a pop-up Mac prompt saying "GERIATRIC ALERT Are you sure you want to make the following movie public? A more self-respecting role choice is recommended. Please review late-career trajectory. " And that's just the beginning. She has many great ones out there, as well as some pretty witty modified MTA Policy Advisory posters that can all be seen on her Flickr page.
The music she chose for this episode is gritty as well. Some raw Fat Possum blues, and indie rock, with a little Billie Holiday thrown in for good measure. It's a great mix. Check it out below after this short Q+A.
What was your first concert?
I haven't thought about this in years. It was Paul Simon's free concert on Central Park's Great Lawn, in 1991. I have a handful of vivid memories that include the touch of wet grass, strangers singing in drunken unison and a mannequin's head used as a beach ball.
What was the last concert you went to?
I'll go out on a limb here and say Matthew Barney's 'Road to Fundament' was the last concert. It's a film/art piece, yes, but if you were as (un) fortunate as I to see it, you can't escape the soundtrack. The musicians–a classical orchestra to South Central LA marching bands–were present in nearly every scene creating a soundtrack from terrific to torturous ear canal bleeding.
What was the first LP, tape, or CD you bought?
I have no idea, but I'm pretty sure it was some Blues on CD. Probably a compilation.
What was the last album you bought?
The last one was 'Black Tambourine' by the band of the same name over iTunes a few weeks ago.
Was there any album that made a significant impression on you?
RL Burnside and his album 'A Ass Pocket of Whiskey.' Though born and raised in Brooklyn, I grew up listening to delta blues. Coming across RL was historic for me, he totally shattered my concept of what the Blues could sound like.  I had evolved the moment I heard those first few opening notes. 
Who is your musical hero?
(see above)
How important do you think music is to your creative process?
I've got music playing as I'm cutting out pieces and tracks going as I'm on the subway heading to paste. It enhances my focus, and keeps me charged: I'm looking out for cameras, analyzing who's around me in the car or platform. The subway is its own massive universe complete with human asteroids, basically. A soundtrack shrinks it down, making it easier to grasp.
R.L. Burnside – "Goin' Down South"
R.L. Burnside – "Bad Luck and Trouble"
R.L. Burnside – "Poor Black Mattie"
Bob Log III – "Boob Scotch"
Bob Log III – "It's the Law"
Billie Holiday, Teddy Wilson – "Sugar (with Teddy Wilson & His Orchestra)"
Billie Holiday – "Fine And Mellow"
Black Tambourine – "Black Car"
Black Tambourine – "I Wanna Be Your Boyfriend"
The Drums – "Book Of Revelation"
The Drums – "How It Ended"
DIIV – "Human"
DIIV – "Wait"
Check out Jilly's playlist below on Spotify. Be sure to like Background Noise on Facebook for updates on future episodes. You can browse ALL the Background Noise episodes right here.