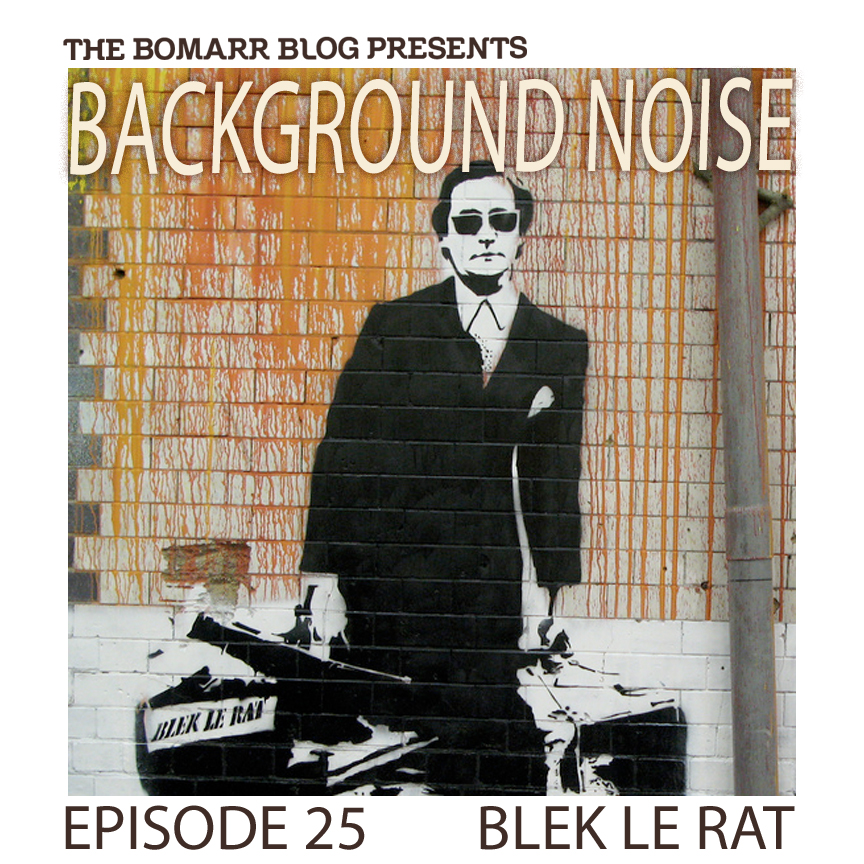 Parisian stencil artist Blek Le Rat is another artist that I'm absolutely honored to have on board for this project. For over 30 years, Blek (born Xavier Prou) has been doing his thing, putting up his signature stencil works in cities throughout the world.
Long before Banksy became associated with stencils of rats, Blek was stenciling them throughout the streets of Paris, inspired by them because they create fear and are synonymous with invasion. Despite being known for this, they aren't the only thing he's incorporated into his art. He's done self-portraits, images of Warhol, Amy Winehouse and various homeless people, often life-size stencils.
Blek continues to go strong, still doing work in the street, despite some run ins with the law, and often has gallery shows. I checked out one of his shows years ago when I lived in San Francisco, and saw his impressive Ignorance Is Bliss show at Jonathan Levine Gallery last year here in New York.
His Background Noise covers a lot of ground in its short 33 minutes, and I'm impressed when someone can go right from Neil Young's "Old Man" into Rick Ross's "Hustlin". It gives me that much more respect for him.
First concert?
Rolling Stones 1969, London – Tribute to Brian Jones
Last concert?
Scred Connexion
First album?
Sgt Pepper
Was there one album that made a significant impression on you?
Hendrix – Electric Ladyland
Who is your musical hero? Eminem
How important is music to your creative process?
It makes me forget that I am working
1. Wax Tailor – "The Games You Play"
2. "NTM – "Pose Ton Gun"
3. Eminem – "Real Slim Shady"
4. 2pac – "California Love"
5. Wax Tailor – "Que Sera"
6. Neil Young – "Old Man"
7. Rick Ross – "Hustlin"
9. Kevin Coyne – "Marlene"
10. Bob Marley – "Redemption Song"
Check out his mixtape below, download it here, or subscribe to Background Noise for free on iTunes. Be sure to like Background Noise on Facebook for updates on future episodes.
The Bomarr Blog Presents: The Background Noise Podcast Series, Episode 25: Blek Le Rat by Bomarr on Mixcloud