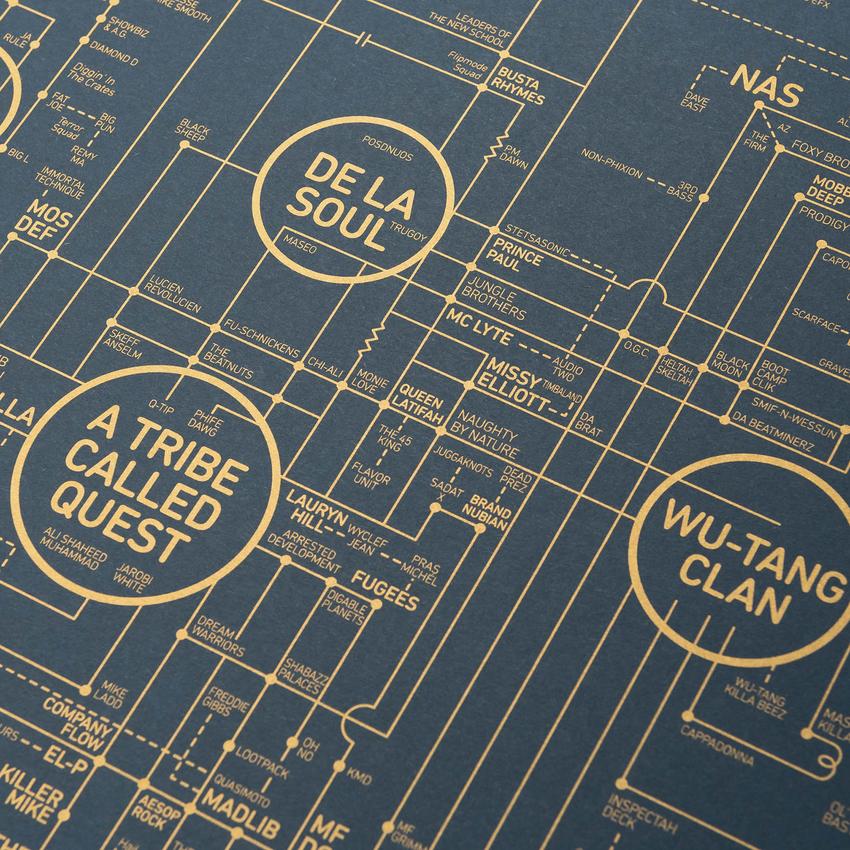 Earlier this year, my friend Tommy (name drop: the talented producer also known as Controller 7) tipped me off to the fact that Restiform Bodies (my old musical project with my best friends) was featured on a piece of art called "Hip-Hop Blueprint". A history of hip-hop mapped out to the circuit diagram of a classic turntable, put together by designer James Quail, one of the founders of the UK creative studio Dorothy.
I thought he was joking at first, because, being one of the last new acts through the door during the early 00s days of the experimental underground hip hop label anticon, we always teetered on the edge of what people would consider "hip hop".
I zoomed, and I zoomed, and I zoomed even more on the photos on the website he linked me to, and sure enough, found, nestled comfortably inside a section bordered by the likes of MF DOOM, Madlib, Company Flow, Cannibal Ox and our anticon. contemporaries, our little project Restiform Bodies.
I was floored.
Now sure, this isn't some grand, official Library of Congress level recognition, where we'll be forever cemented in hip hop lore, but it felt pretty great to have been recognized, even by one person, as having been part of something that deserved to have a home in this massive list of legendary artists.
The blueprint "celebrates over 700 MCs, DJs, producers, turntablists, musicians, graffiti artists, b-boys and b-girls who have been pivotal to the evolution of hip."
It's really a sight to behold.
You can order one for yourself right here.
I was incredibly curious about how this project came to be, so I reached out to James and had him answer a few questions:
How long have you been a designer?
Always! My Dad is a designer and for a long time he worked and freelanced from home, so I grew up surrounded by the amazing things that he used, I remember using his photographic enlarger to scale up pages from my Back to the Future sticker album to copy and draw them and then colour them in. And I'd be fascinated with the album covers of records – big foldout psychedelic covers by the likes of Hipgnosis that Dad had and I'd sit there and try to draw my own crazy covers. I turned most school subjects into avenues for design – I'd draw crazy maps to go with stories, I'd labour over doodles in margins, everything had logos for it or in it….
What was the motivation behind starting Dorothy?
We met while we all worked together in a design and advertising agency in Manchester and we all had a shared mindset of wanting to make our own things, not just the things that we had to make for clients, but the things that we wanted to make for ourselves and share with other people. Our favourite projects were always the things like the studio Christmas card where we could make anything that we wanted to do, or birthday cards for other members of the studio based on things they do or liked.
So then Ali started Dorothy with the intention of making our own things, and I joined in not long after.
Is there a significance behind the Dorothy name?
Our friend came up with the name, and it stuck! There is no-one at Dorothy called Dorothy. Dorothy is Ali and me, Oli and Rach. And sometimes when we are really busy, Sonny, Tom, Chas and Maeve. We also work with other creatives like Malik, Tracy and Ian. But no Dorothy (yet).
Regarding your brilliant blueprint pieces…. they are all mapped out based on circuit boards relevant to each genre. Do you have any extensive circuit board knowledge in your back pocket, or is this something you enjoyed the visuals of and decided to connect so many artists together in this way?
They started as the idea of wanting to map out a flow of history of music. The first was the Electronic Love print. I wanted them to feel like they flowed through history like electricity through the circuit and connected these artists together. And the thought of if you connect all these people together in a certain way, something incredible would happen. It's also a really personal work, I look at them and I can see that sections of them are times of my life – this bit is what I was listening to in high-school, this area is what I was listening to when I moved to a new city, this area is what me and a friend listened to together…
How long does it take you to put one of these blueprints together?
A long, long time! I aim to complete one a year, while overlapping with other projects at the same time, but often they've had to take longer! Sometimes I think they might never end and I could just keep working on them forever, but then Ali tells me to stop.
Is there a limit to the number of artist you include on these?
Not really – it's just how much space is there on the paper! The latest ones are growing more and more complicated!
Curious to know the process that goes into creating these, from deciding what artists to include, to how you decide to map them out.
I start on paper, in little notebooks that I keep with me, I start by making a timeline of what seem like important events, then I connect those events to the people involved, then those to the people related to them, then I try and make sense of it! Often I'll be sat on a train or at home and I'll be listening to something and realise it connects somehow to something on the blueprint and I'll have to shuffle things around to accommodate the new thing. Then it's like a crazy jigsaw, shuffling the pieces around until it feels right.
Do you have any other blueprints planned?
Yes, there's a couple more up my sleeve! It's very self indulgent, but it's always about the things that I'm interested in, so as I listen to things I'm always planning out the next one.
What music/songs/albums have you had on heavy rotation lately?
Right now I'm listening a lot to the new Floating Points & Pharoah Sanders album. I really like that, and also the Black Country New Road album. And because I have two little children, we're hearing a LOT of the Frozen soundtrack and Koo Koo Kanga Roo at the moment.
Anything else you'd like to get the word out about? (Website/social links, upcoming projects, etc.).
You can check out our stuff at wearedorothy.com, and we're on Instagram as @dorothy_uk and Facebook as @theworldofdorothy