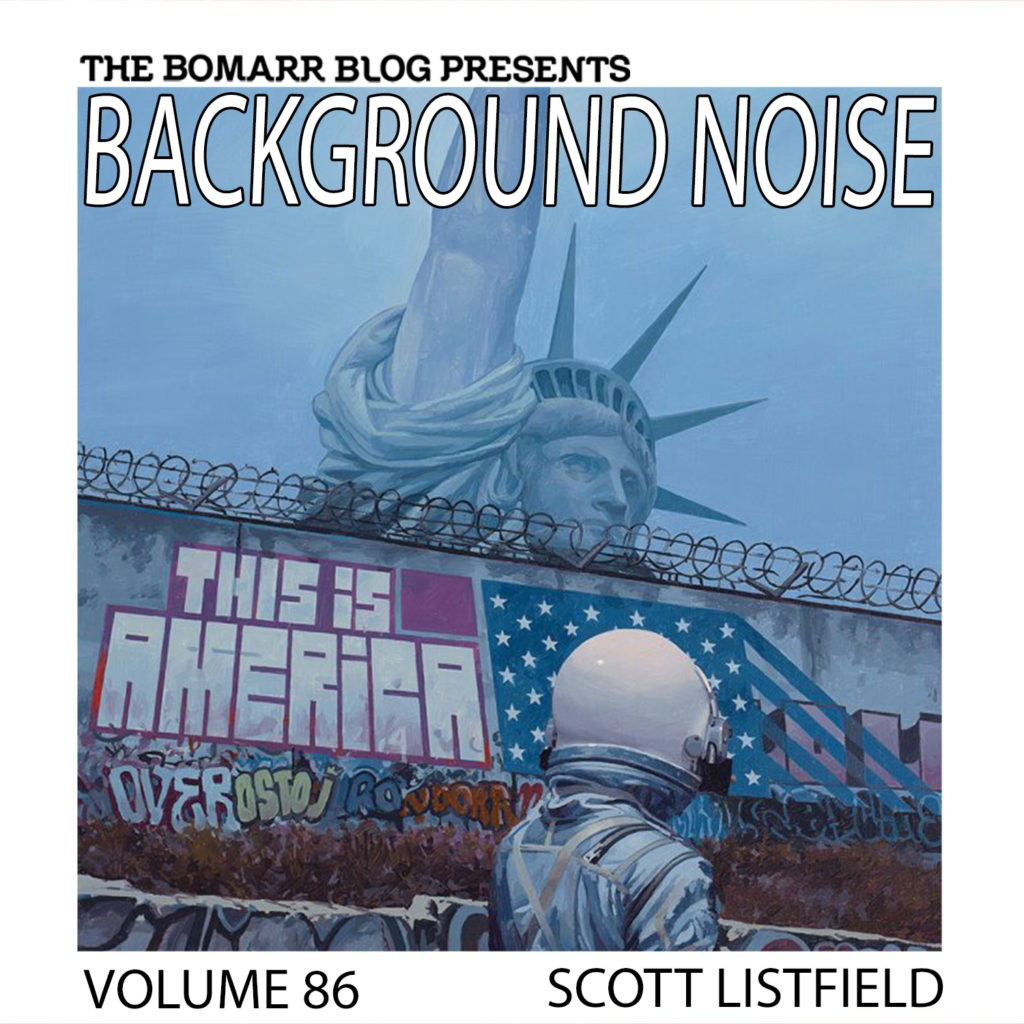 Scott Listfield's paintings have recently taken on a new meaning for many people who follow his work. His paintings, which all feature some variation of the same, unnamed astronaut depict the astronaut constantly stumbling onto abandoned locations and landmarks, which, until now, had seemed like a far-off dystopian future. These days, with major cities looking nearly empty because of various stages of lockdown, this type of imagery hits even closer to home than it ever has. Scott has even admitted that it's taken on a new meaning for him as well after the pandemic hit the US when he was roughly ¾ of the way done with the paintings that would become his next show.
His most recent solo show at Thinkspace Gallery in Los Angeles had its opening pushed back and had to run as a web-only viewing due to the lockdowns being instituted. Strangely enough, the show, titled This is America after the Childish Gambino song, depicted the astronaut roaming the empty landscapes of the US. Stumbling on a cracked-beyond-repair Hoover Dam, the Statue of Liberty behind a graffiti-strewn wall, and both the Wall Street Bull and the Lincoln Memorial surrounded by water, among many others. In some ways, it's a haunting depiction of what things could look like to future visitors, A cautionary tale, of sorts, since we never know what the future may hold.
Scott's work has always had a bit of pop culture sprinkled in, with frequent nods to music and film, so it's no surprise that he was one of the first to reply to my request for him to take part in this project. After all, he's had an ongoing project he's been doing himself called Soundtrack My Art via his Instagram stories, pairing specific songs that inspired specific paintings. Throughout the process of corresponding for this feature, we discovered that he and I had even attended the same David Bowie concert in Massachusetts back in 1995. Just a little, serendipitous fun fact. 
First album you bought?
I'm dating myself here, but it was Bon Jovi's Slippery When Wet. Yikes.
Last album you bought?
Oh man, I haven't bought an album in a really long time. I'm sorry to say this, but streaming has won, at least for my listening habits.
First concert?
Nine Inch Nails and David Bowie at Great Woods in Mansfield, MA.
Last concert?
Sigh. I was supposed to go to a show right when things went sideways and we all ended up in quarantine. I have no idea when the next one I'll get to will be, but the last one I can remember attending was seeing The Stitches at The Echoplex.
Was there one album that made a significant impression on you?
It's hard to pick just one. But I'll say Urban Hymns by The Verve. Partially because it's one of my all-time favorites, but also because of circumstance. I'll explain. Way back when I was 21 I moved to Australia for a little while and had just bought this CD, along with Enter the Wu-Tang (36 Chambers). This probably sounds like it was 100 years ago (and it was), but I had no stereo with me, just my Walkman and a few tapes. And so I couldn't buy more CDs because I had nothing to play them on. And so I listened to that one tape with The Verve and Wu Tang on it EVERY. SINGLE. DAY. For like 5 months. I lived with those songs in a way I never will again. And when I hear them now, they still bring me back to that time in my life.
Who is your musical hero?
Well, I don't really consider them heroes, because people are imperfect and it's good to remember that before we idolize them. But there are a lot of musicians I greatly admire. David Bowie is an obvious choice. I also named my upcoming gallery show after a song by Childish Gambino, so I'd probably include him on my list as well.
How important is music to your creative process?
Oh, very. I'm always listening to music in my studio. It helps inspire me and sets the tone sometimes for the work I do. Often it seeps into my paintings in a more overt way, too. I've painted everyone from Oasis and the Spice Girls to Kanye and Phil Collins into my work.
BONUS: Is there any music, in particular, getting you through this strange time we're living through?
Lately, I've been enjoying the new album by Caroline Rose and the new singles by Run The Jewels.
"Household Goods (Zeds Dead Remix)" – Totally Enormous Extinct Dinosaurs
"III. Telegraph Ave. ("Oakland" by Lloyd)" – Childish Gambino
"Get Innocuous!" – LCD Soundsystem
"Lesson No. 7" – Clock Opera
"Sweep Me Off My Feet" – Pond
"No Diggity" – Chet Faker
"Close Your Eyes (And Count to Fuck)" – Run the Jewels feat. Zach de la Rocha
"The Phoenix (feat. Willy Wesly)" – Pyramid
"Hello It's Me" – Todd Rundgren
"Sea of the Edge" – The Bright Lights Social Hour
"Empire Ants (feat. Little Dragon)" – Gorillaz
"Hey Lover" – Blake Mills
"Journal of Ardency" – Class Actress
"Heroes" – David Bowie
"Addiction" – Doja Cat
Check out Scott's playlist below on Spotify, or subscribe to Background Noise via the iTunes podcast feed here. Be sure to like Background Noise on Facebook for updates on future episodes. You can browse ALL the Background Noise episodes right here.