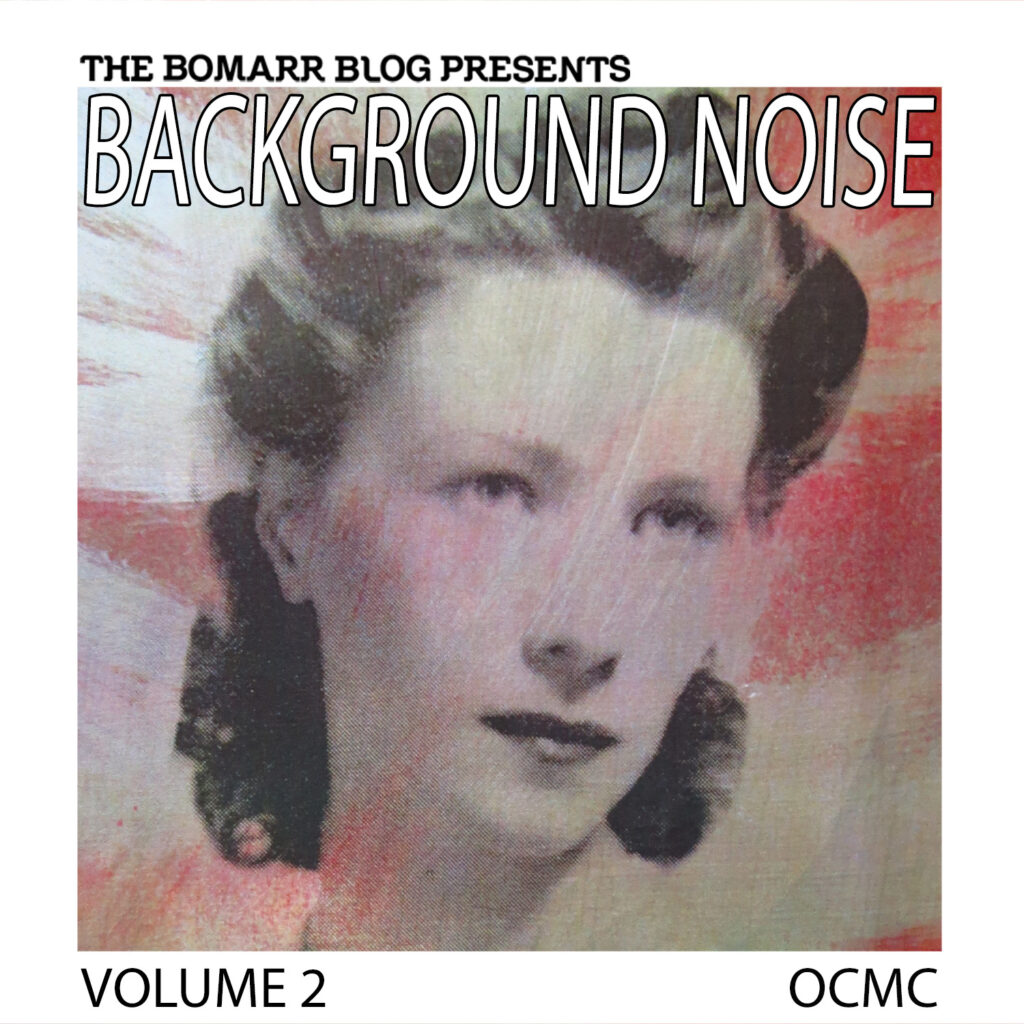 My new "Background Noise" podcast series focuses on the music that artists listen to when they work, what music inspires them, or just music they like. This week, in volume 2, the focus is on NYC's OCMC (Oh Captain, My Captain).
OCMC got my attention when I first moved to New York. I would (and still do) wander the streets, looking up, looking down, basically just taking in the diverse visual stimulation this city has to offer. I would encounter pieces, similar to the one above, which featured a vintage photo of a beautiful young woman. I started to see them everywhere, as well as other pieces that were obviously by the same artist, featuring different people. Not until later did I learn the fascinating story about the origin of those first images I saw. OCMC had lost his grandmother, and as a way to deal with her death, he started pasting up her image throughout the city so he could see her wherever he went. That really struck a chord with me, and that, on top of the visually pleasing aspect of his work, made me a fan.
His work goes so much further than those first wheat pastes I saw. I've seen shows of his that had pop culture icons' faces as the main focus (Basquiat, Debbie Harry, Warhol, Muhammed Ali), overlaying newspaper. His "Subway Series" featured New York graffiti icons Futura 2000, Fab 5 Freddy, and Lee Quinones, with their faces superimposed over NYC Subway Maps. And then there's his David Bowie print, "I'm Afraid of Americans", featuring David Bowie's mugshot, that hangs above my bed, courtesy of the artist. 
It's all great stuff, and OCMC is a musician as well as an artist, so I knew he'd be a perfect fit for this podcast series.  I asked him a few music-related questions as well. Have a read and have a listen to his playlist. It's great. 
What was your first concert?
The first concert I ever went to was a band called The Good Rats. I was snuck into a rock club to see them when I was ridiculously young. It was life-changing. 
What was the first album you ever bought?
The first album I ever bought was Kiss "Dynasty".
What was the LAST album you bought?
The last records I bought? Just last week… Joy Division "Closer" and Ace Frehley's Kiss solo album (picture disc, motherfucker!) on vinyl.
How similar are your musical tastes now to what you listened to in high school?
My musical tastes now are fairly similar to what I listened to in high school, though my tastes are a bit all over the map. Back then you would have just as much of a chance of finding me at a Prince concert as you would a Motley Crue show… 
Any comments on why you chose the songs you did?
I tend to listen strictly for moods when I work, hence why I chose what I chose… Wait, what did I choose?
Jane's Addiction – "Three Days"
Joy Division – "Means to an End"
Yeah Yeah Yeahs – "Soft Shock"
Nine Inch Nails – "The Persistence of Loss"
Nine Inch Nails feat. Bauhaus – "Warm Leatherette"
David Bowie – "Ashes to Ashes"
Massive Attack – "Black Milk"
Tricky – "Bad Dream"
Bauhaus – "Double Dare" (Live)
How to Destroy Angels – "Is Your Love Strong Enough?"
Peter Hook & the Light – "Doubts Even Here"
Greg Dulli – "The Killer"
Hole – "Malibu"
The Melvins – "Hooch"
Check out OCMC's playlist below on Spotify. Be sure to like Background Noise on Facebook for updates on future episodes. You can browse ALL the Background Noise episodes right here.