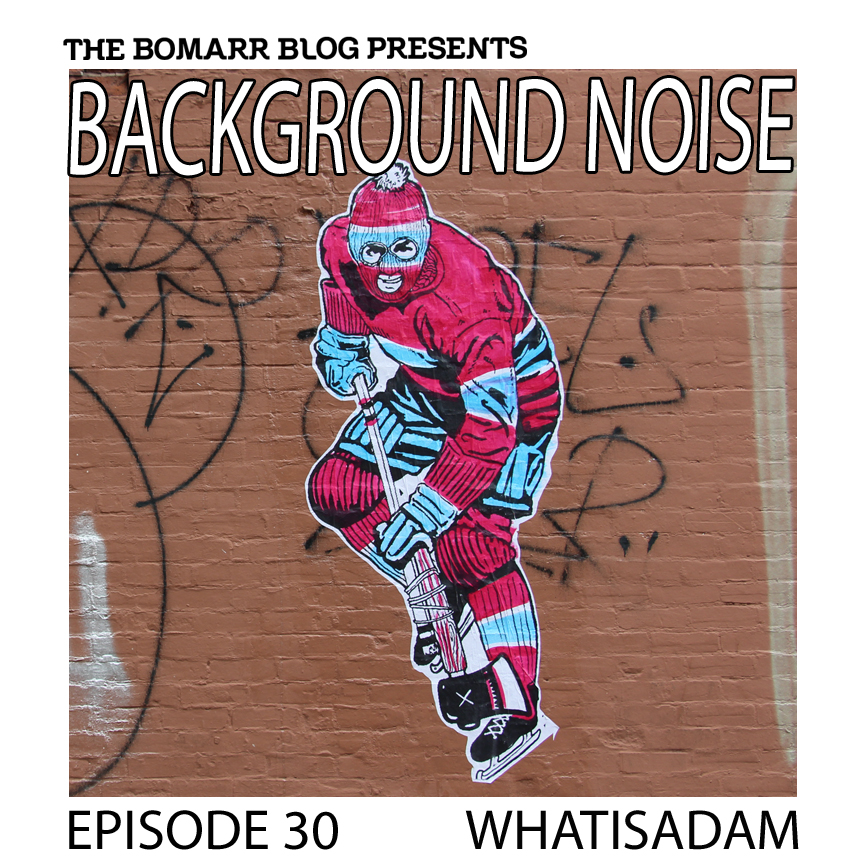 Not much is known about Montreal-based street artist WIA (Whatisadam). Like many others in his trade, he likes to keep his identity a secret.
He has worked with the Montreal artist collective En Masse, which boasts artists such as Beau Stanton, Elle Deadsex, Gaia, Lunar New Year and MANY others as members. He's also been known to traverse the streets with fellow Montreal artist Stikki Peaches. WIA is most known for his morphed variations of North American wildlife. From prostitute deer to buffaloes with headdresses. He's also an avid hockey fan, as you can see in his street piece above. It features a menacing member of the Montreal Canadiens, complete with ski mask and axe-wielding hockey stick. WIA also has a recent piece that features a large can of "Pure Maple Sizzurp", which I find particularly funny, and in addition to a print depicting this, he also created a life-size 200 liter oil drum of the Pure Maple Sizzurp, featuring a detachable resin oil "drip" spilling out onto the floor.
Fans of Brooklyn-based art duo Faile may find Whatisadam's work appealing, due to his use of old comic/pulp novel cover-inspired imagery, although he still has a style all his own. His work has also been used as a digital backdrop for some of pop star Pink's live shows, which has not hurt his exposure level at all.
WIA is represented by Montreal's excellent Station 16 Gallery. The gallery has some great pieces of his for sale, which you should pick up while you can still afford them.
What was your first concert?
My first concert if I remember correctly, was "The Guess Who". My dad brought me, and we rocked out.
Last concert/show?
My last concert was nine inch nails.
First album, tape or cd you bought?
I never bought tapes, I copied them! I waited until songs played on the radio and created my own. But when Cd's rolled around, the first CD I probably bought was Nofx or Lagwagon. I was really into punk as a teenager.
Last album you bought?
Last album I bought was Timber Timbre (creep on creepin on).
Was there any album that made a significant impression on you?
Their are actually two albums that really left an impressed the first time I heard them : The Mars Volta's (De-Loused in the Comatorium) and Kanye West's (Dark Fantasy).
Who is your musical hero?
Don't got one.
How important do you think music is to your creative process?
I think music is a very important part. It helps build my creative atmosphere. I like to surround myself with images and sounds that bring out new ideas and colours, it also makes things more fun. Music has always created pictures in my head, and I try to get those pictures out on canvas or paper. I've also always listened to music before and during a night out in the city, so it's definitely a part of my regular routine.
– Lights and camera by Yuna
– R U with Me by ASTR
– You & Me (Flume Remix) by Disclosure
– U got me by Lee Foss
– Northern Lights by Kate Boy
– Heartbreaker by MSTRKRFT
– Home by Austra
– Stay High (Tove Lo Flip) by Hippie Sabotage
– Genesis by Grimes
– Televators by Mars Volta
– Deadbeat Summer by Neon Indian
– Work by Iggy Azalea
– Drunk in Love by Beyonce (jay Z)
– Slow Blues by Wu Tang Clan (indie culture)
– Stillness is the move by Dirty Projectors
– Comin Home by City and Colour
– Bad Ritual by Timber Timbre
Check out Whatisadam's excellent mix below, download it directly here, or subscribe to the Background Noise podcast on iTunes. Be sure to like Background Noise on Facebook for updates on future episodes.
You can also check out more of his work over at his website.
The Bomarr Blog Presents: The Background Noise Podcast Series, Episode 30: Whatisadam by Bomarr on Mixcloud