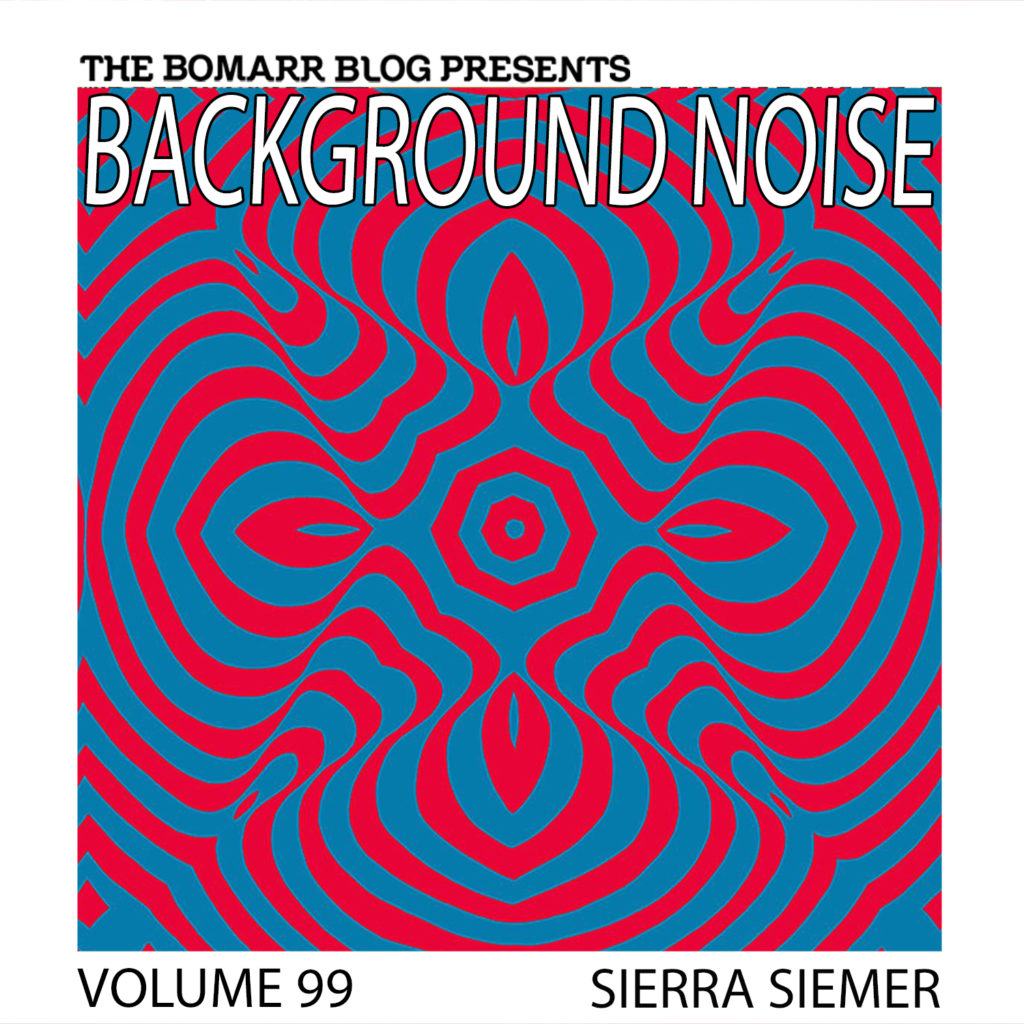 Sierra Siemer's art is hypnotic. It's the type of work you can just stare into and get lost in. Often, it gives the illusion of slight movement when looking at it. I find myself constantly expecting her pieces to present to me some hidden image that I hadn't seen before, like those Magic Eye posters you'd see in stores back in the day. These are much, much better, of course, and not even close to the same thing. However, I can't help but think there's something hidden just beneath the surface.
Her 2-color variations on these designs are even more impressive. She has a keen eye for color pairings, and these designs lend themselves well to any type of surface… be it fanny packs, t-shirts, stickers, prints, pins, and even puzzles. Part of me is tempted to get one of these 500 piece "Hypno Puzzles" at some point, as I know it'll be quite the challenge.
Sierra currently works in California. You can find some of her various work in her Etsy shop.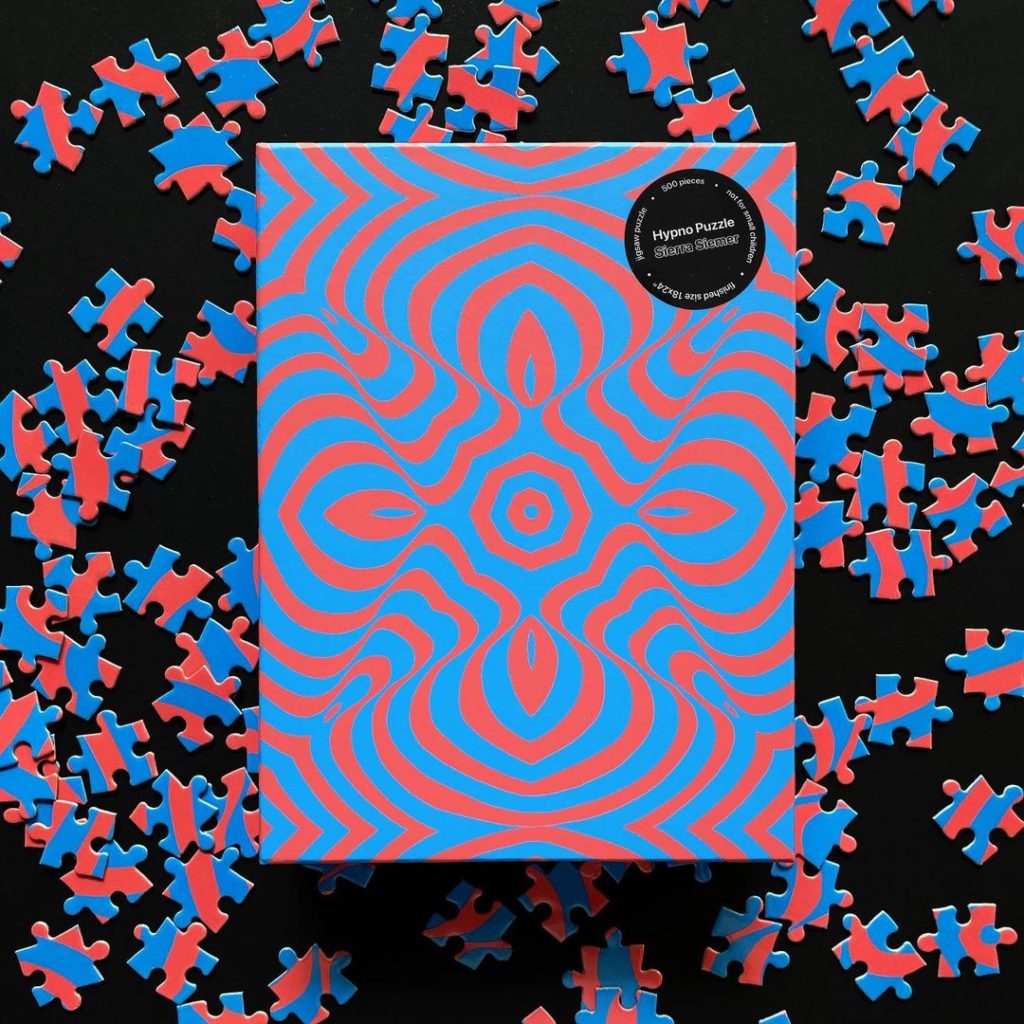 First album you bought?
My dad was really into the Rolling Stones, Jimi Hendrix, Tom Petty, The Beatles, Bob Dylan. He loved playing me his records. My two favorite songs he used to play for me were Culture Club's Karma Chameleon and Smokey Robinson & The Miracles Tears of a Clown. Anyway, the point of me saying this is that my dad thought pop music of my generation – the late 90s – was garbage, which it probably was. He encouraged me to avoid Britney Spears or whatever, and for the most part, I did. But when I was 10 I saved up enough allowance and secretly biked to the local Tower Records where I bought my first tape – Spice World. I listened to that over and over on my walkman. It was like indulging in a sugary donut after only being fed organic food.
Last album you bought?
Guess I don't really buy albums anymore. But the last album I downloaded and listened to on repeat for months was Norman Fucking Rockwell by Lana Del Rey. I'm also still listening to Hive Mind by The Internet, Daytona by Pusha T, Igor by Tyler the Creator, and Love & Hate by Michael Kiwanuka.
First Concert
First concert was The Smashing Pumpkins. Went with my dad at Madison Square Garden. I was completely obsessed with that band for most of my childhood. I had every single CD and cherished the special box set The Aeroplane Flies High. Come to think of it, that box set had some trippy black and white packaging. I wonder if that had any visual influence on me.
Last concert?
Sure miss being able to get out of the house and go to concerts. I think the last concert I went to was Wavves. My husband (Killer Acid) did some work with him, which is how I got introduced to his music. It's great having Rob around to help me find new music outside of what I typically listen to, which tends to be more on the r&b spectrum. I really love Wavves, though, and the concert was awesome.
Who is your musical hero?
Perhaps an expected answer, but I am blown away by Beyonce. Her birthday is one day after mine, so I feel really connected to her Virgo energy. Her evolution and how she's tapped into her power is what I find so impressive. She went from making good pop songs to unleashing intricate visual storytelling. The range of styles and emotions she explores in Lemonade is basically unmatched for me.
Was there one album that made a significant impression on you?
Too hard to single one out. Some memorable ones are Bloom by Beach house, DAMN by Kendrick Lamar, The Miseducation of Lauryn Hill, The Mollusk by Ween, Blonde by Frank Ocean.
How important is music to your creative process?
I actually listen to a ton of podcasts and audiobooks when I work. But I love listening to music when I drive, and when I go for runs. There's something really refreshing about going for a run with no phone, just music, and a clear head. I definitely think it helps empty my brain so more inspiration can come through.
Is there any music, in particular, getting through this strange time we're living through?
Right now I'm listening to old soul and r&b music on repeat. Al Green, Sam Cooke, Marvin Gaye, Smokey Robinson & The Miracles. Just makes me feel super happy like there's not a care in the world.
Tuesday Feeling (Choose To Stay) – Blood Orange, Tinashe
Cinnamon Girl – Lana Del Rey
Myth – Beach House
Solo – Frank Ocean
Home Again – Michael Kiwanuka
Come Together – The Internet
To Zion – Lauryn Hill
Freedom (feat. Kendrick Lamar) – Beyonce
A Boy is a Gun – Tyler, The Creator
No Role Modelz – J. Cole
Redbone – Childish Gambino
LOYALTY – Kendrick Lamar
Love and Happiness – Al Green
Check out Sierra's playlist below on Spotify. Be sure to like Background Noise on Facebook for updates on future episodes. You can browse ALL the Background Noise episodes right here.