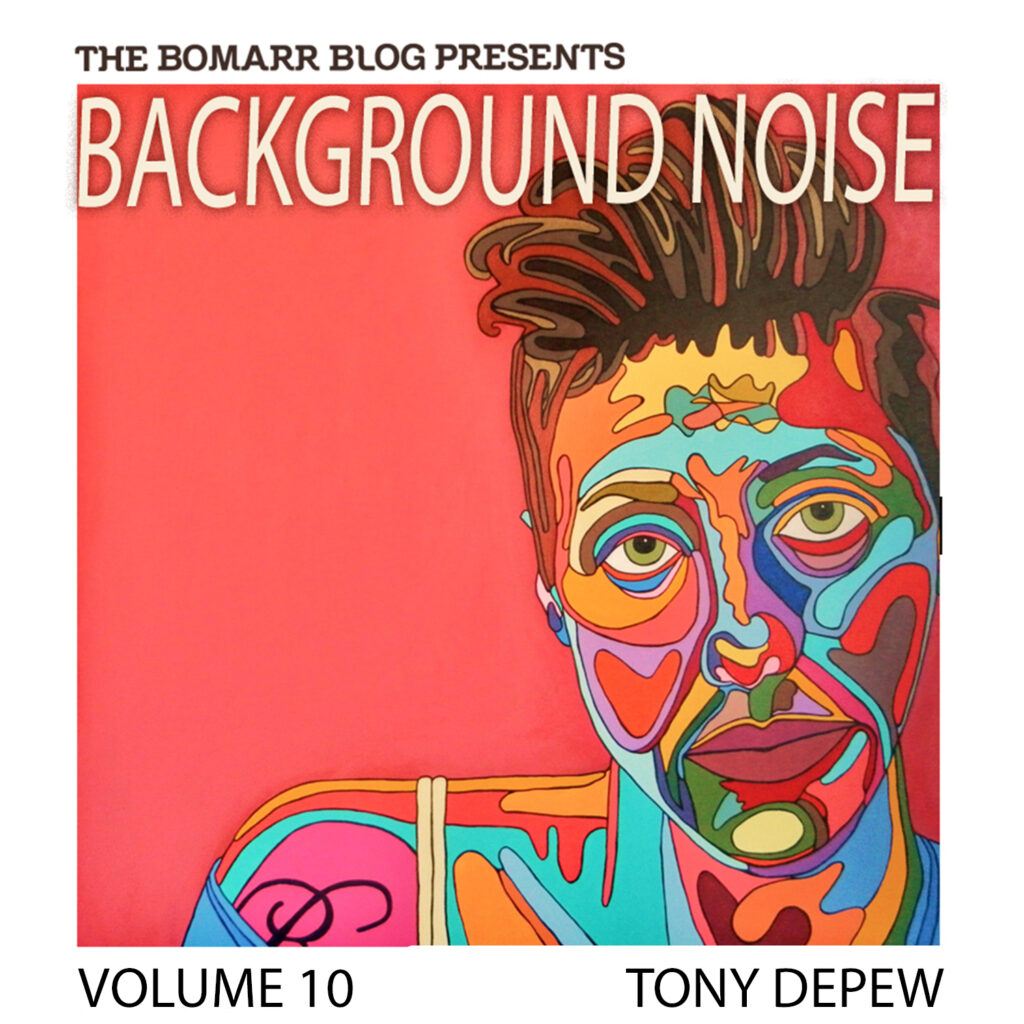 Tony Depew's art always stands out. Even on the already-colorful streets of NY, you can always catch one of his pieces from afar due to his use of bright colors, and their trippy, psychedelic nature.
Tony's interpretations of other artists such as Chuck Close, Kenny Scharf, and Ron English are not to be missed. They can be found in the form of wheat pastes in doorways and on walls throughout Brooklyn and Manhattan.
In addition to participating in Hanksy's awesome one-night-only guerrilla art show in an abandoned NYC building, he's done some great collaborations lately with Roycer and CB23.
A few words with Tony Depew …
What was your first concert?
Ha ha, this is a good one… the first concert I attended was New Kids on the Block in November 1989, at the now-extinct Richfield Coliseum in Ohio. My sister and I, as well as a group of us youngins, were invited to a friend's birthday celebration. 
Last concert/show?
The last show I attended was out in Colorado this past August, seeing Phish. My friends and I made it to the second night, of a 3-night run, which ended their Summer Tour. Dancing your ass off at an outdoor venue is soooo much fun! I highly recommend it.  (http://www.jambase.com/Articles/119284/Phish-Denver-Dick's-Setlist-And-The-Skinny-Night-Two)
First album, tape or cd you bought?
First cassette purchased was… Dun dun dunnnn- Cyndi Lauper's "She's So Unusual"; I was 5. In December 2010, while seeing Prince at MSG, she came out and performed a song with him. Bravo, Cyndiiiii…..
Last album you bought?
Hmmm… this is a tough one, as it has been a long time since I have purchased any albums. BUT- this past fall I received a 'Baths' album if that counts. Definitely recommend them for a listen!
Was there any album that made a significant impression on you?
Oh man, so many! Nirvana- In Utero and Nevermind, Grateful Dead's American Beauty, as well as many other bands/albums are what got me through high school. Most Phish albums did too, which has led me to see them dozens of times since the late 90s. Nina Simone- Legendary, can't live without it! As far as having just one album that stands out as leaving a significant impression… I have many. I could go on and on with this list!
Who is your musical hero?
My musical hero? Man, another question where there isn't just one answer!
How important do you think music is to your creative process?
Very. I believe music and art go hand in hand with one another. Traveling all over to see live shows was my outlet from the "normal" life; where I would recharge myself and bring that energy into my creativeness. When working on my art, 97% of the time I have tunes playing- whether albums or live shows. My music selection also depends on my mindset whilst working; I could be creating dark depressing colors, or vibrant day-glo ones that will melt your face off! Sometimes I can even be caught dancing while painting, haha…
Nirvana – "Pennyroyal Tea"
Modest Mouse – "Dashboard"
Frank Zappa – "Peaches En Regalia"
Talking Heads – "(Nothing But) Flowers"
Grateful Dead – "Touch of Grey"
Phish – "Reba"
Elis Regina & Antonio Carlos Jobim – "Aguas de Marco"
Nina Simone – "My Baby Just Cares For Me"
Check out Tony's playlist below on Spotify. Be sure to like Background Noise on Facebook for updates on future episodes. You can browse ALL the Background Noise episodes right here.