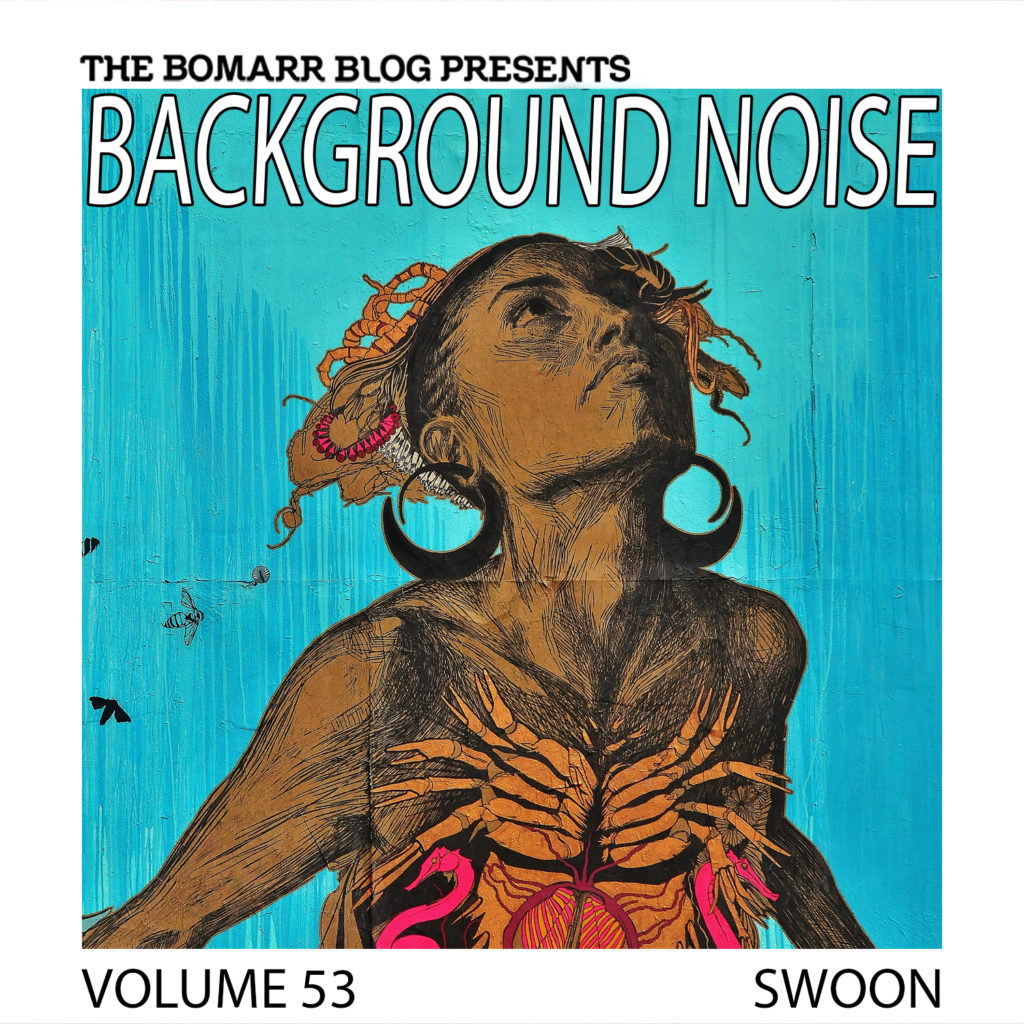 Swoon is a humanitarian, to say the least. She's devoted pretty much all of her artistic time to the betterment of man (and woman)kind. Filled with positivity, and always aiming to inspire change, Swoon, also known as Caledonia "Callie" Dance Curry, has left her mark everywhere she's gone.
Let's look at a couple of her notable endeavors:
She has her Konbit Shelter Project, where she and a team of others build housing in Haiti that consists of 10% cement and 90% earth and are resistant to anything Mother Nature may choose to throw at them. Be it earthquakes, fires, tornadoes, and floods, these shelters are not only beautiful, but they're sturdy.
There's the Braddock Tiles Project, where she is turning an abandoned church in Braddock, PA into an experiential learning and arts-based community center.
And on top of that, for her well-known 2013 contribution to Goldman Properties' Bowery Wall mural series, she made it less about her, and more about the people affected by the damage done by Hurricane Sandy. Her biggest contribution to that mural was her depiction of the Greek sea goddess Thalassa, rising from the center, surrounded by imagery sourced from stories of youth employment groups gathered from local communities in the area.
She's working hard to inspire change, and now you can hear the songs that inspire HER.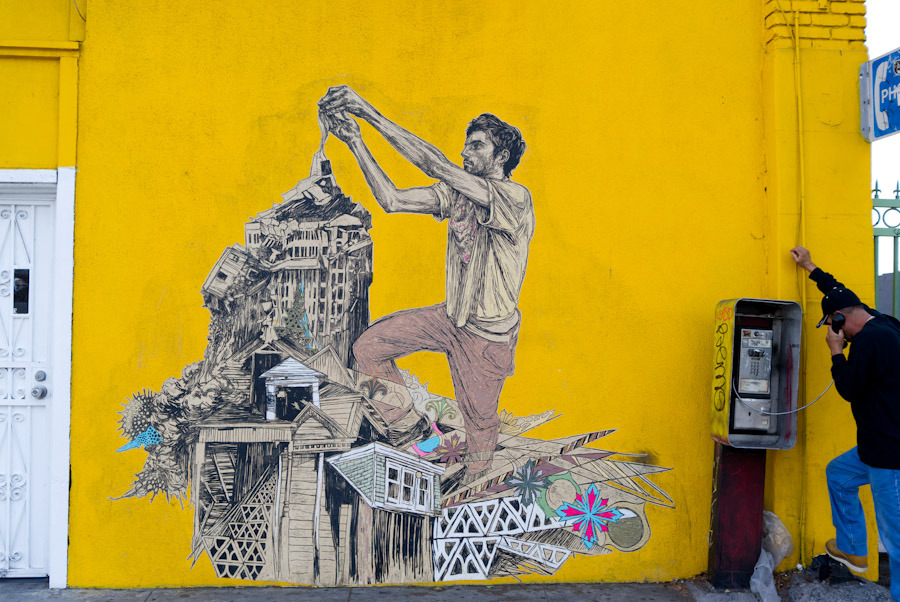 What was your first concert?
Daytona Beach, I was like 15 maybe, we had this teeny tiny little club no bigger than a shoebox which was the only safe haven for punks freaks and artsy types. When I got brought there by a couple friends it was like the most grateful day of my young life. This ska(esque) experimental band called "What!?" was playing all fun and dancy. The singer was singing in a sweet distorted way through a megaphone, and we danced so hard in the Florida summer heat, dozens of us packed into the world's tiniest dance floor, and it got so hot that the bartender started hosing all the people down from behind the bar. I was in heaven.
Last concert/show?
I saw Alicia Keys perform at her charity ball, 8 months pregnant. it was mind-shatteringly beautiful. She, just beaming and glowing and dancing like nothing in the world could stop her from the music. It was really unbelievably inspiring. Also, Angel Haze shared the stage that night and she's one of my heroes.
First album, tape or cd you bought?
Ha! Do I really have to answer this honestly? Ok, deep breath, I'm gonna do it. It was….."Poison….Look what the Cat Dragged in"
Last album you bought?
Yesway – Yesway
Michael Kiwanuka – Home Again
Was there any album that made a significant impression on you?
Yes, so many. Probably the most influential of all would have to be In the Aeroplane Over the Sea, by Neutral Milk Hotel
Who is your musical hero?
Well, I guess I would have to then say, Jeff Mangum. When I discovered In the Aeroplane Over the Sea, my uncle had just committed suicide. He was my mom's baby brother. I was born on his birthday, and if I had been a boy I would have been given his name. It was such a terrible loss, and in the months that followed I ended up listening to that album on repeat. The layers of beautiful lyrics, the references to death, suicide, and intergenerational family trauma, all wound through these other beautiful stories and deeply poetic images of distress and anxiety "the bridges burst and twist around", and of course the music, funeral and celebratory together. The album created a place of deep solace for me. And it became a place that I could enter to more deeply access my own grief, as well as to create from. I must have played that album a thousand times while making some of my more major drawings and installations. I later learned that many people have the exact same story with that album, and I think it's such an incredible thing – that someone was able to create a vessel of mourning and grief, healing contemplation, and revery which so many people have been able to connect with. It's one of art's highest aims as far as I can see.
How important do you think music is to your creative process?
!!! So much so much. In fact, sometimes I get jealous of music! I think of the way that songs become the soundtrack to my life, carry me through my emotional world, instigate, inspire, make me dance myself silly, and just generally accompany almost everything I do and I think! Damn! who is ever gonna say that about anything that I make?
—
Sad slow songs to play while drawing:
Michael Kiwanuka – Home Again
Yesway – Howlin' Face
Neko Case – Dirty Knife
Tom Waits – Tango Till They're Sore
Anais Mitchell – Young Man in America
Sister Rosetta Tharpe – Can't Sit Down
Cat Power – Cherokee
Neutral Milk Hotel – Oh Comely
Cat Power – I Don't Blame You
Great Lake Swimmers – Still
Valerie June – Workin' Woman Blues
Fleet Foxes – Tiger Mountain Peasant Song
Mirah – Goldrush
Major Lazer (ft. Amber of Dirty Projectors) – Get Free
Mountain Man – Mouthwings
Angel Olsen – Lonely Universe
Ane Brun – One
Dark Dark Dark – Wild Go
Bonnie Prince Billy – Grand Dark Feeling of Emptiness
The Arcade Fire – Born on a Train
Damien Jurado – With Lightning in Your Hands
Chad VanGaalen – Old Man + The Sea
Jolie Holland – Mad Tom of Bedlam
The Returnee – Marcel Khalife
Sufjan Stevens – Romulus
Bonus mix (no audio included):
songs to play while cleaning the studio:
Angel Haze – Werkin Girls
Mykki Blanco and Princess Nokia – Wish You Would
Lykke Li – Get Some
LE1F- Wut
Azealia Banks – Grand Scam
Santigold – Look at These Hoes
Nicki Minaj – Massive Attack
YeaSayer – Sunrise
Bestia (Julieta Venagas Remix) – Hello Seahorse!
TV on the Radio – Wolf Like Me
Young Bleed/Master P/C Loc – How You do Dat
Nicky da B – Express Yourself
Goodie Mob – Dirty South (feat. Big Boi)
Missy Elliot – My Struggles
Lorde – White Teeth Teens
Mos Def – Sun Moon Stars
Gary U.S. Bonds – New Orleans
Tito Puente – Elequana
Madlib – The Rumble
Quasimoto – Goodmorning Sunshine
Lazaro Ros – Anything
Check out Swoon's playlist below on Spotify. Be sure to like Background Noise on Facebook for updates on future episodes. You can browse ALL the Background Noise episodes right here.
Part 1: