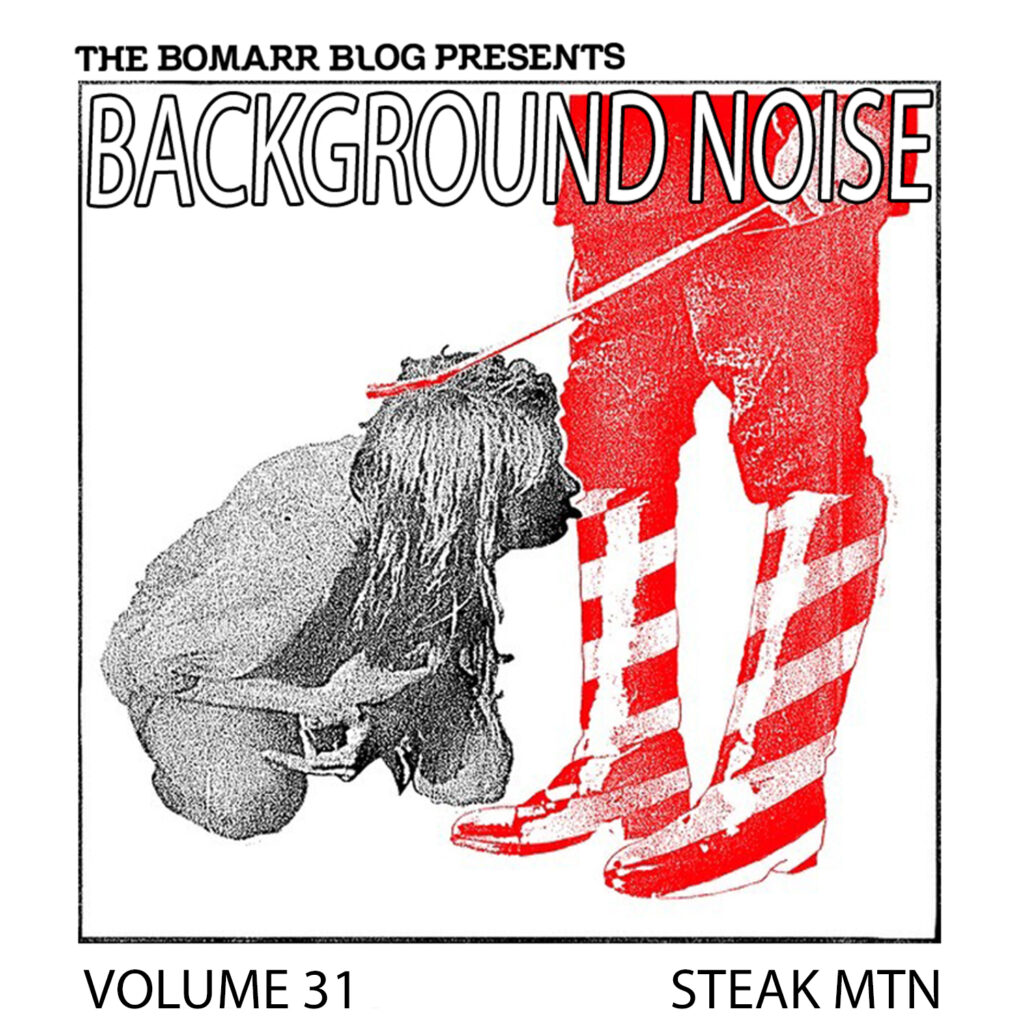 Tampa-raised and now New York-based artist Christopher Norris (aka Steak Mtn) has had his hands in many pots throughout his career. In addition to doing his own art for fun, he's done quite a few album covers and videos for bands you've most likely heard of, designed his own watch, worked in the porn industry (more on that later), as well played in bands himself.
My friend Andy / Astronautalis put me up on the Steak Mtn stuff a few years back after a conversation we had about our mutual admiration for Spring Break/Bad Dad, and I've been hooked ever since.
His most notable recent work would be the album cover he did for Florida punk rockers Against Me! for their 2014 record Transgender Dysphoria Blues. He's also done album art/design work for bands like Surfer Blood, Black Joe Lewis, Atom and His Package, and Fences, among many others.
During a brief stint in the Bay Area, he did set design and title cards for fetish porn site Kink.com. That is a feat in and of itself, and a fairly surreal one at that. Just thinking about designing darkly-lit, dungeon-esque sets strictly for people to fuck on is fascinating to me. I bet the guy has some stories…..
Working in music/with musicians has seemingly, and hilariously soured his outlook on music in general, having gotten rid of all of his records a few years ago, hating live music, and preferring the sound of people in his building to listening to music when he works. Those feelings though, led to a great mish-mash of songs, which you can listen to below.
What was your first concert?
Deicide at Jannus Landing in St. Petersburg, Florida. Summer of 1990.
Last concert?
On purpose – I truly can't remember. Live music is a miserable experience and I avoid it all costs.
For business – Against Me! at St. Vitus in Brooklyn, NY this past May. But truth be told, I ignored the first two bands wholeheartedly and then only heard half of AM!'s first song before leaving.
First album you bought?
LL Cool J – "Bigger and Deffer"
Last album you bought?
…………….N/A?
Was there any one record that made a significant impression on you?
The only "album" I still own is "A Blaze in the Northern Sky" by Darkthrone, a cassette version that I bought when I was 16. I chucked or sold all physical copies of my records years ago, but kept that tape for the one or two minutes a year I am nostalgic for my youth.
Who is your musical hero?
The "STOP" button (and finger that presses it) on any device that plays/emits music or Ennio Morricone…depending on the day.
How important is music to your creative process?
100% unimportant. These days, when I do work, I would rather hear general room noise (air conditioning, idiots yelling in my building, street chatter bleeding through the windows) than have to listen to some poor dummy fumble their way toward a song's end. However, when I did listen to music when making this Steak junk, I mainly listened to Top 40, which was excellent because it is so finite in its ease to ignore and holds an unwavering dependability in its base sounds and structures. Pop music is the pet that never died, the spouse that never left, the parent that never punished you, the friend that never changed, the dirt that won't bury you. It's wonderful stuff.
The Steak Mtn. Playlist
Cannibal Holocaust (Main Theme) – Riz Ortolani
Maybe (Steak "Remix" – 2014) – The Shangri-La's
Barber / Adagio for Strings (1971) – Conducted by Leonard Bernstein
Barber / Adagio for Strings (1982) – Conducted by Leonard Bernstein
When I Hear Music – Debbie Deb
You Suffer – Napalm Death
Radio promo for Lucio Fulci's "House by the Cemetery" narrated by Brother Theodore
You can also check out more of his work over at his website.
Check out Steak Mtn's playlist below on Spotify. Be sure to like Background Noise on Facebook for updates on future episodes. You can browse ALL the Background Noise episodes right here.