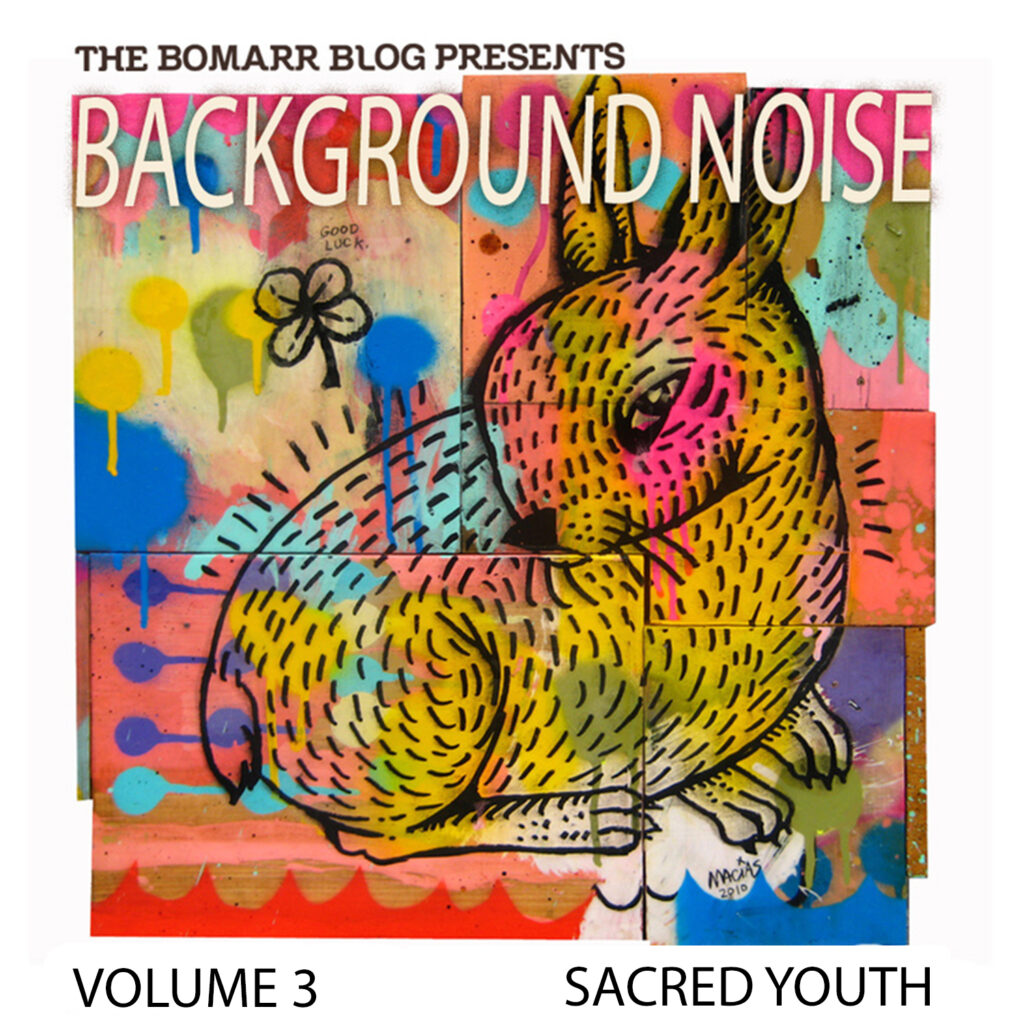 My new "Background Noise" podcast series focuses on the music that artists listen to when they work, what music inspires them, or just music they like. This week, in Episode 3, the focus is on Brooklyn's Abel Macias.
If you've wandered the streets of New York, you've most likely seen some of Sacred Youth's work. From his bright Pink Clouds pieces to his yellow rabbit wheat pastes, which often adorn doors and various other surfaces. These alone were enough to get my attention, so when I saw that he was participating in this year's Bushwick Open Studios, and would be opening his studio to the public, I jumped on the chance to check it out. 
I grabbed my friend Seth, and off to the studio, we went. On the outside of the building was a great mural he had done with Rae, and as we descended into his basement studio, my eyes widened, and my brain nearly exploded. There were so many different pieces of art down there. From large-scale paintings to smaller prints, t-shirts, stickers, and framed pages from books, overlaid with phrases hand-written by Sacred Youth. Much of it blurred the line between well-educated artist and outsider art. In other words, my cup of tea. 
It's very clear that he never sleeps. He recently had a group show with Beau, Elle, and Hue at the now defunct White Rabbit Gallery on Houston Street here in NY, and his work can often be seen on display in or around Little Skips cafe in Brooklyn. 
What was your first concert?
First concert was Nirvana at the Omni in Atlanta, 1993. So cool. 
Last concert?
Last one was my friends' band, SKATERS, from NYC, who just got signed to Warner Bros.  They are awesome.
First album/tape/cd?
Some Weird Al Yankovic CD was probably my first CD.
Was there any one album that made a significant impression on you?
Definitely Nirvana's Nevermind became the soundtrack to my youth.  Energetic, rebellious, at times FUN, and upbeat with sad angst moments as well.
You can check out more of Abel's work over at his website or on his Instagram. 
Beck – "Debra"
Blur – "Caravan"
The Walkmen – "On The Water"
Electrelane – "Gone Under Sea"
Stereolab – "Lo Boob Oscillator"
DIIV – "Doused"
Jimi Hendrix – "Like A Rolling Stone" [Live]
The Velvet Underground – "Heroin"
Smashing Pumpkins – "Starla"
Sonic Youth – "The Diamond Sea"
Santo & Johnny – "Sleepwalk"
Check out Sacred Youth's playlist below on Spotify. Be sure to like Background Noise on Facebook for updates on future episodes. You can browse ALL the Background Noise episodes right here.