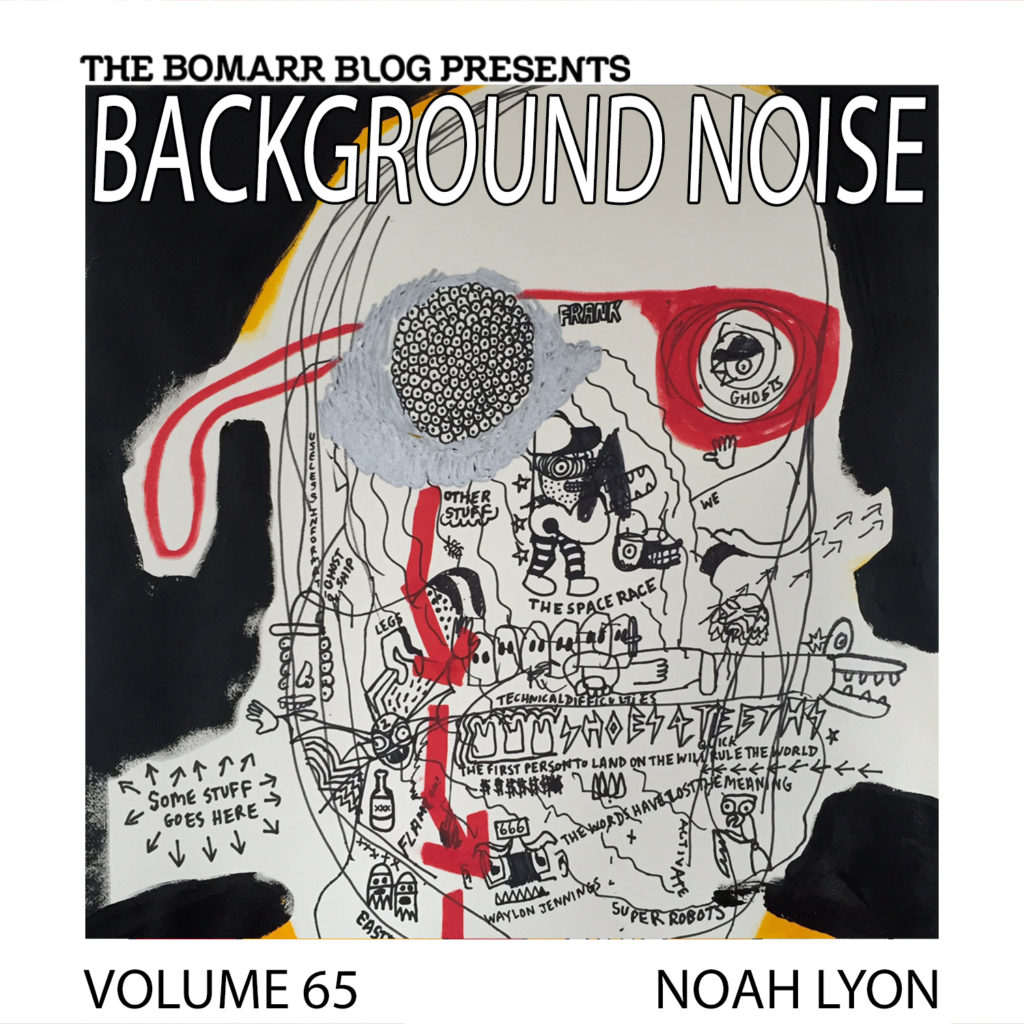 There aren't a whole lot of things that Noah Lyon can't do. He's yet another brilliant artist who simply cannot deal with having idle hands. One of those guys who just has to constantly create, create create.
A graduate of NYC's Cooper Union, Noah's drawings and paintings often comment on the state of consumerism, pop culture, commercialization, and the like. Often using pop art imagery and colorful, cartoonish characters to get his point across. On the flip side, some of his work doesn't seem to concern itself with having a point. Veering more toward the surreal brain drippings of someone who just has to get this stuff out of his head somehow.
Noah is well known for founding Retard Riot, a network of radical individuals devoted to art, music, and philosophy. Retard Riot produced a popular zine of the same name, as well as radio broadcasts, cassettes, flyers, and stickers.
In addition to all of that, he has about a zillion bands (some featured on his mix, below), with names like The Grateful Dead Kennedys, Elderly Youth, Lead Paint Zeppelin, etc. If you're curious, you can explore that aspect of his output a little more in-depth here.
Naturally, Noah was a no-brainer for participation in this series.
First album you bought?
Beastie Boys – License To Ill in 1986 on cassette. Around the same time, I found a tape in a dirty bus station parking lot, it was Foghat – Fool for The City. No cover just the tape but there was a song called Slow Ride on it and the Beastie Boys also had a song called Slow Ride. The tape was stretched & warped and side A was bleeding through to side B and the music would fade in and out consistently like somebody dropped a magnet on it. So it was basically like a weird dub version of a classic rock album. The first used album I bought was "Weird Al" Yankovic's self-titled debut on cassette.
Last album you bought?
I got a bunch of records in the mail this week: G.I.S.M., The Varukers, Broken Bones, Hellkrusher, Wu-Tang Clan's Enter the 36 Chambers on clear vinyl, the new Lighting Bolt album, an old Smif-N-Wessun 12". The most exciting thing I got though was the Scharpling & Wurster box set which included a tiny piece of a smashed telephone (the actual telephone that Jon Wurster used on the Rock, Rot, or Rule recording). Tomorrow I'm going to either Academy Records or Turntable Lab to pick up the Shogun Assassin soundtrack on Cinewax and the reissue of Amanez's "Africa" on Now-Again Records.
First concert?
The Ramones. They played all their songs literally twice as fast as normal. That blew me away. They probably played 90 songs. It was crazy.
Last concert?
Parliament-Funkadelic was the last concert I bought a ticket to. Or it might have been Jello Biafra and the Guantanamo School of Medicine, I can't remember. I see a lot of good free shows, it's kind of an occupational hazard. There is always some live music happening in New York, on the street, at art shows. I saw Thurston Moore and Ho99o9 at the LA Art Book Fair. I'm hoping to see Mobb Deep and Smif-N-Wessun next week. I just missed a CockSparrer concert I would have liked to have gone to that. Oi!
Was there one album that made a significant impression on you?
That Foghat tape that got run over by a bus. Seriously though, there are a lot of albums that blew me away the first time I heard them and still do twenty years later or whatever, off the top of my head… The Slits – Cut, Beastie Boys – Paul's Boutique, Public Enemy – It Takes A Nation of Millions, Black Sabbath – Master of Reality, Dead Kennedys – Give Me Convenience or Give Me Death, The Crucifucks' first record, The Feederz – Ever Feel Like Killing Your Boss?, Crass – Feeding of The 5000, all the Sockeye 7" EPs, Wu-Tang Clan – Enter the 36 Chambers (and all the solo records that lead up to Wu-Tang Forever), Funkadelic – Maggot Brain, Junjo presents Aces International 1982 live dancehall session, Boogie Down Productions – Criminal Minded, Lee Scratch Perry – The Upsetter Collection (Upsetter and Friends), Black Moon – Enta Da Stage, The Anthology of American Folk Music. Sorry, I could go on forever. Any one of those albums will lead you on a discovery path to a wellspring of amazing sounds. Actually, some of them might just make you want to take an axe to your stereo.
Who is your musical hero?
Thomas Edison
How important is music to your creative process?
Part of my art practice is deconstructing music. I play records while I'm painting and while I wait for the paint to dry I play them backward looking for secret messages to put in the paintings.
I actually produce music too. I have eighteen different "bands" all of which are long overdue for an album release. I'm not into the whole crowd-funding thing, some of the music is actually made to disperse crowds.
Right now I'm going through a John Cage – 4'33 period. My new album Doctor Ninja "I Draw Blood" comes out April 20. It's a twenty-minute-long quadruple album. It comes preinstalled on everybody's phone. You don't even have to download it. It's just there. All you have to do is turn your phone off for twenty minutes. There's also going to be a limited edition mentally numbered 0-gram invisible vinyl release on Record Store Day.
1. The Grateful Dead Kennedys – The United States of Hardcore
2. Sockeye – Cut off Your Arm
3. Nausea – Cybergod
4. Subhumans – Us Fish Must Swim Together
5. Crass – Big A Little A
6. Smif-N-Wesson – Sound Bwoy Bureill
7. Parliament – Children of Productions
8. Hellsongs – Run To the Hills
9. Funkadelic – Biological Speculation
10. Amanaz – Easy Street
11. Black Moon – I Got Cha Opin
12. Sean Price – Straight Music
13. The Cenobites – Mommy
14. Dave McCarn – Cotton Mill Colic
15. Ill Bill – Exploding Octopus
16. Black Sabbath – Children of the Grave
17. Goat – Diarabi
18. El-P – Tougher Colder Killer (feat. Killer Mike and Despot)
19. Guilty Simpson – The American Dream
20. Dr. Alimantado – Best Dressed Chicken In Town
Check out Noah's playlist below on Spotify. Be sure to like Background Noise on Facebook for updates on future episodes. You can browse ALL the Background Noise episodes right here.