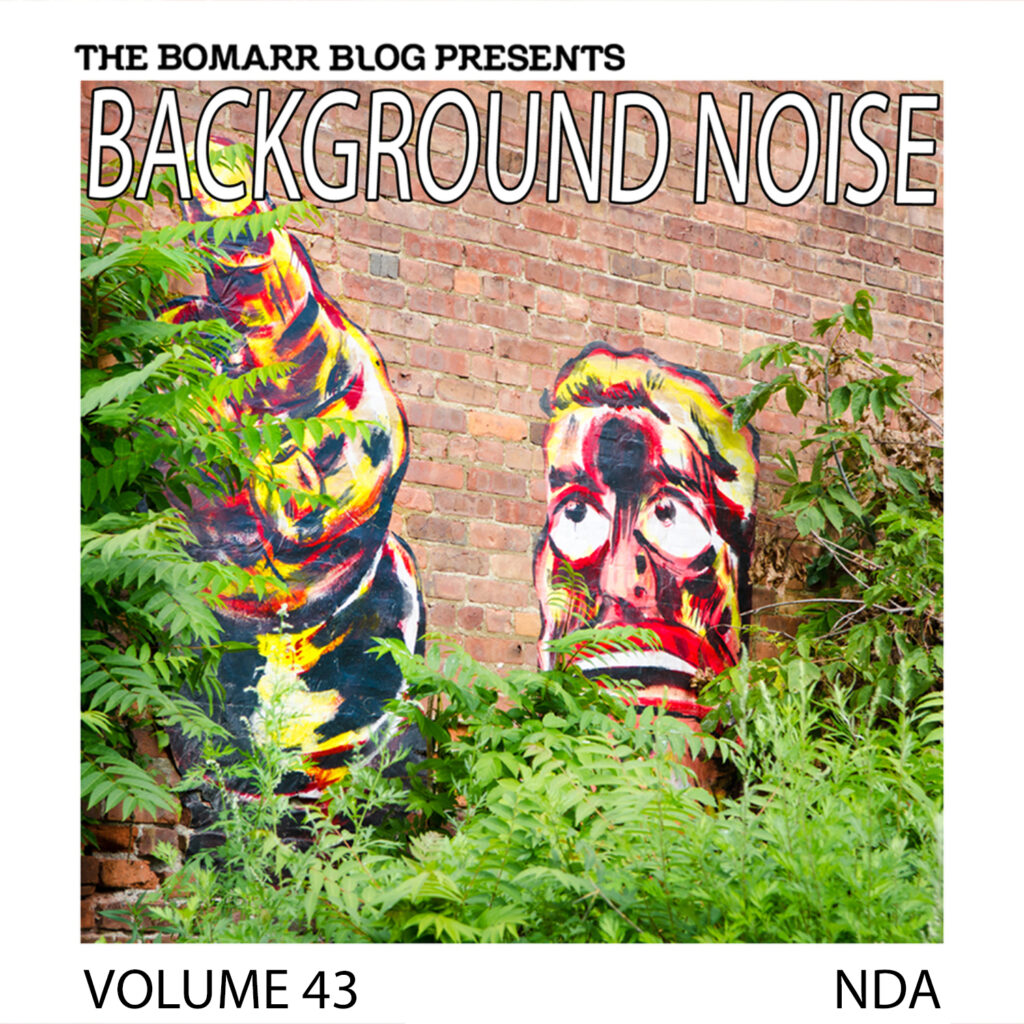 NDA takes his inspiration from Marvel comics to classic Warner Bros cartoons. Although born in New York, NDA grew up in Portland, Oregon. He's now based back in New York, but as of late, doesn't seem to be spending a whole lot of time there. In the late part of this year, he spent some time putting up his art overseas for the first time. He traveled to Norway, England, Spain, and Portugal, all the while enjoying the less urban landscapes, which allowed his art to stand out more than it does in a crowded city.
His colorful, abstract drawings have gradually adorned many walls throughout the US since around 2010 when friend and frequent collaborator OverUnder convinced NDA to start putting up his work in the street. He's since participated in many group art shows, showing alongside Icy & Sot, Mata Ruda, Sonni, Lunar New Year, and Labrona. He's been featured in Yoav Litvin's Outdoor Gallery book, participated in the Lower East Side's Centrefuge Public Art Project and the Welling Court Murals, painted murals on Williamsburg rooftops, and has been involved in NYC's ever-growing LISA Project.
He's put together a great mix. As always, I love it when some of these artists construct a mix with some diversity, and when someone includes both The Silver Jews and Freddie Gibbs, and transitions from a Smog song into Kendrick Lamar, they get respect from me.
What was your first concert?
When I was about six or seven my dad took me to see Smokey Robinson at a state fair. I can't remember if any of The Miracles were with him but I can still recall this older man up on stage with an impressive amount of energy.
Last concert?
I don't go to a lot of concerts anymore but I think the last one I saw was my man Steeve Sam. He's a Newark artist and to call him hip hop is a bit limiting. He's one of the more versatile musicians I know and someone to watch out for for sure. He opened and did a couple freestyles and some really soulful tracks. People did not see it coming. He's going to have some new albums coming out soon. Keep your ears open.
First album you bought?
I'm pretty sure it was the Regulate single cassette. I was about 11 and heard it on the "Above The Rim" soundtrack. I bought it and thought I was the fucking coolest. Me and my friends listened to the song then flipped it to the instrumental until I think it popped. 
Last album you bought?
This is one of those questions that makes me look like a real asshole because I can't remember the last album I bought. I feel like a total jerk. I keep telling myself that I'm going to buy a record player again and then I'll make up for all my musical transgressions.
Was there one album that made a significant impression on you?
I suppose there were a lot of albums that made an impression on me. When I was about 19 and living in Vancouver, B.C. a friend recommended I listen to "American Water" by The Silver Jews I was struck by the abstract poetry of it. In the very first song on the album, Berman comes in with "In 1984 I was hospitalized for approaching perfection" and I was hooked. I think a big part of it has to do with the fact that I associate this album with striking out on my own away from my hometown for the first time. 
Who is your musical hero?
I don't know that I have a musical hero honestly. I'm impressed by a lot of people's abilities but my creative heroes tend to be visual artists. I suppose RZA stands out.
How important is music to your creative process?
Music is a driving force for me while I'm in the middle of painting large-scale murals. I don't like to listen to anything when I'm figuring out technical aspects at the beginning but when I need to start moving in the middle of a piece and not chat with anyone familiar hip-hop drives me forward. And when I'm a bit stressed some Jazz and classical music can calm me down.
Danny Brown – The Wizard
Vince Staples – 45
Freddie Gibbs/ Madlib – Knicks
Sam Cooke – That's Where It's At
Silver Jews – Like Like The The The Death
Steeve Sam – Masterplan
Kanye West- I Wonder
Elvis Costello – Imagination (Is A Powerful Deceiver)
Sly And The Family Stone – Underdog
RZA / MF Doom – Biochemical Equation
Cafe Tacuba -Olita Del Altamar
Smog – Dress Sexy At My Funeral
Kendrick Lamar – Bitch Don't Kill My Vibe
Check out NDA's playlist below on Spotify. Be sure to like Background Noise on Facebook for updates on future episodes. You can browse ALL the Background Noise episodes right here.