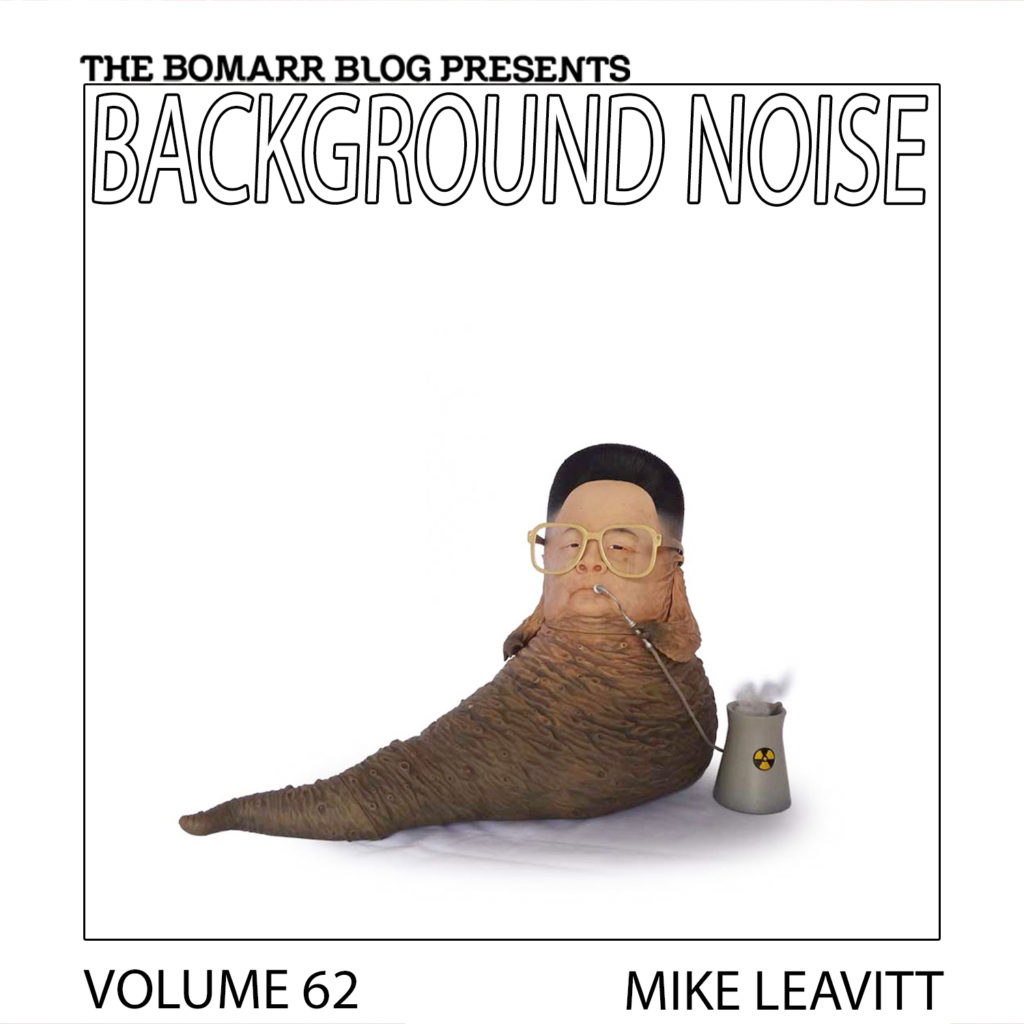 The Background Noise series focuses on the music that artists listen to when they work, what music inspires them, or just music they like. This week, for volume 62, the focus is on artist Mike Leavitt.
Mike Leavitt has a plethora of things under his belt. Based near Seattle, WA, the man who now also refers to himself as ReMike (ReMike remakes things), has been going strong for quite some time.
I'd seen some of his work online in passing over the years. It may have been his Banksy action figure that caught my attention. Needless to say, I jumped on the chance to go see his Empire Peaks exhibit at Jonathan Levine Gallery in Manhattan a couple of years back. The exhibit showed off Mike's sculptural mash-ups of political icons, pop culture figures, and Star Wars characters, all presented as large-scale, hand-carved, ARTICULATING wood statues. Each piece was amazing, and each one was incredibly hard not to touch. There was Steve Jobs as C3PO, Donald Trump as Darth Vader, and Che Guevara as Boba Fett, among many others.
His Art Army toy series, his largest series of work, has gotten him a lot of attention since he created his first piece in 2002. Aside from his Banksy toy, which is the only creation of his to have been mass-produced, every other Art Army figure is one of a kind. He covers so much ground in this series, creating amazingly unique figurines of artists such as Cindy Sherman, Matthew Barney, Chuck Close, Ai Weiwei, and Barbara Kruger. All artists who most definitely would never have been in toy form if it weren't for Mr. Leavitt.
He has a whole series of shoes and accouterments replicated to exact specs with cardboard. Cardboard Crocs, Chuck Taylors, a Keytar, etc… He has Kurt Cobain towels, an Elton John toilet seat, an Ahmadinejad teapot (a collaboration with Seattle ceramicist Charles Krafft), and his work is in the permanent collections of Morgan Spurlock, KAWS, Ron English, and Eddie Vedder (the latter of whom bought a piece of Leavitt's work and accidentally broke it when he got home). As far as I know, though, Leavitt fixed it for him and went on to make Eddie and his wife a custom wedding cake topper.
I'd highly recommend blocking off a good hour of your time and heading over to Mike's site to check out just a fraction of his body of work. It's absolutely insane what this guy has made.
First album you bought?
Michael Jackson Thriller. The cassette was my birthday present to myself when I was 8. I freaked out on the dance floor of a friend's birthday party when I first heard it. I had to have the album after that.
Last album you bought?
Future Islands, On the Water. I'm a total sucker for regurgitated new wave- M83, Hot Chip, Cut Copy & them. I love Future Islands' twist on it. It's like Tom Waits fronting New Order in their prime.
First concert?
MC Hammer, hot off the Can't Touch This tour. Back then I think even transcribed all of the lyrics from that song from a recording I made off the radio. I guess every answer to your questions requires me to reveal one guilty pleasure or another.
Last concert?
Just saw The War on Drugs at a place called Pappy & Harriet's near Joshua Tree between their Coachella sets.
Was there one album that made a significant impression on you?
Besides Thriller? U2 Joshua Tree, funny enough. It was a comfort in middle school during those awkward adolescent days. It still plays really well for me. Bruce Springsteen Born in the USA was another big childhood favorite. Great memories of road trips with my Dad. It also still plays well for me. I know The Boss isn't the best one to idolize as a hard-working blue-collar hero. He gets the job done for me. Sometimes I need my studio to take on the foul air of a Jersey construction site, alright? We all have our own motivations.
Who is your musical hero?
I used to answer this question "Beck" without hesitation. Bjork, Stevie Wonder, and Michael Jackson have all held this slot for me for long periods of time. My answer today: David Byrne. Talking Heads were a huge influence in my life from about age 12 to 18, especially as I learned and studied the downtown scene, Reed, Warhol, CBGB, Haring, etc. As an adult, I've discovered a whole new appreciation for the Heads & Byrne himself. That he's both a creator & facilitator, a great author of music, and a great assembler of talent.
How important is music to your creative process?
It's instrumental :). Literally. It's not as important during the early stages of conceptualizing and brainstorming. Music will definitely trigger new ideas and inspirations. It also triggers affirmation. It's a product of recorded music, especially anything with history. I hear a song even just a year or two old and I recall memories of the first time I fell in love with it, what was happening around that time. I should try to act aloof and perpetually confident, but the honest truth is that I need affirmation to continue taking risks and experimenting. Music takes on another level of importance to my process after I've started a project, anywhere in the middle, and definitely towards the finish line. Good music is the chugging train that keeps my wheels turning and my hands moving. If I'm ever in doubt, ever in need of a dose of energy or emotion, it never fails.
mikeleavittart.com
@mikeleavitt
"Chuch", Shabazz Palaces
"Don't Sweat the Technique", Eric B & Rakim
"Skills", Gang Starr
"Sweat", THEESatisfaction
"Queens", THEESatisfaction
"Human Nature", Michael Jackson
"Double Dutch", Malcolm McLaren
"It Was Written Down", Toots & the Maytals
"Mama Africa", Peter Tosh
"Shuffle a Dream", Little Dragon
"Back in the Tall Grass", Future Islands
"Vireo's Eye", Future Islands
"Sax and Violins", Talking Heads
"Running to Stand Still", U2
"I'm Goin' Down", Bruce Springsteen
Check out Mike's playlist below on Spotify. Be sure to like Background Noise on Facebook for updates on future episodes. You can browse ALL the Background Noise episodes right here.