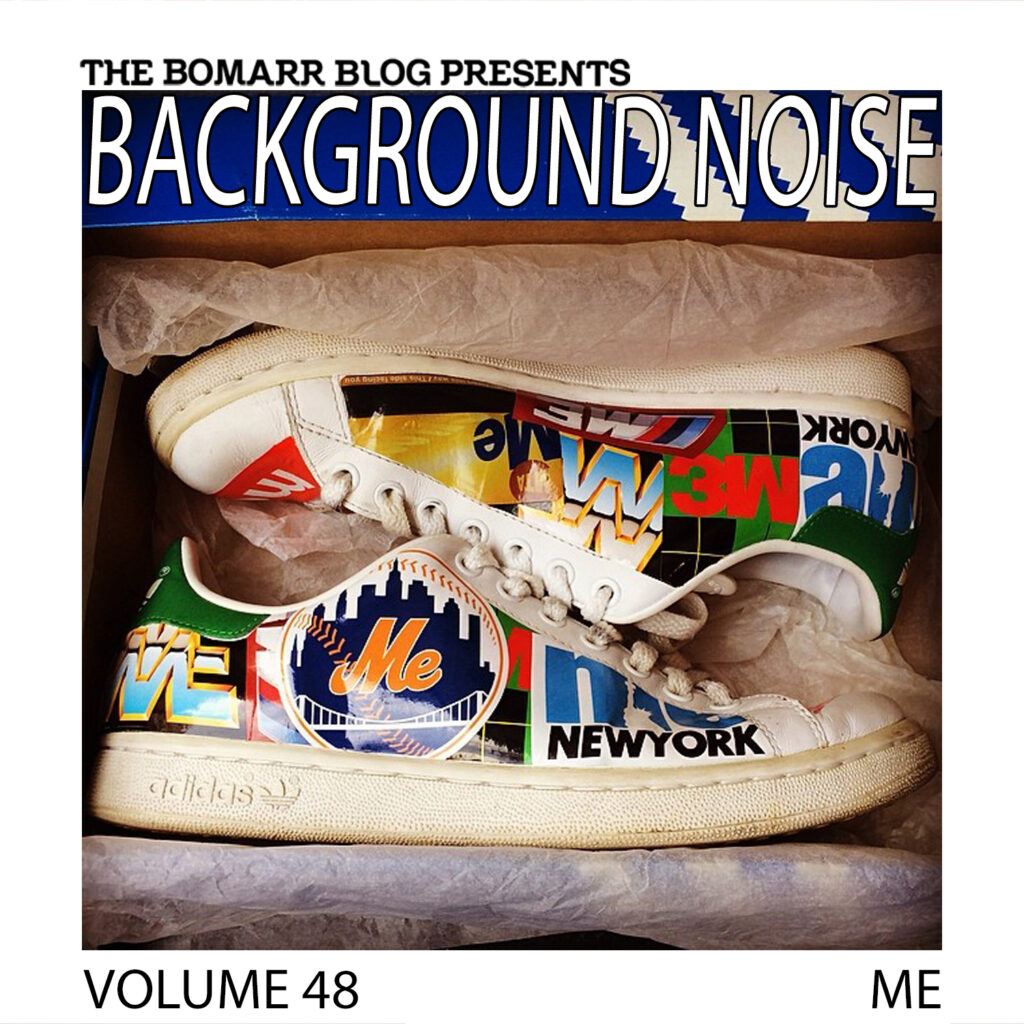 Street artist ME has been popping up quite a bit lately. Most notably, due to his ad takeovers with Clint Mario, which adorn bus stops all over New York City. They're really a sight to behold, and the creativity behind them just keeps getting better. Whether it's a reworking of the Gremlins movie poster, a Mentos ad, or the Home Alone movie poster……they're always upping their game, and people can't help but notice. An interesting fact to note: despite both ME and Clint Mario living in New York, they have never actually met in person. All of their work has been done and coordinated over Instagram, where they "met" in June of 2014. Within two months, they'd planned and completed their first ad swap. Whenever they need to exchange
goods, they use a friend to make the exchange.
This hasn't been ME's first rodeo when it comes to parodying popular imagery. After witnessing an abundance of greed during a Damien Hirst deck release at a Supreme store, he decided to rework the Supreme logo so it would say only "me". It sort of took off from there. He's gotten some press from a few of the bigger New York blogs for his election-themed "Ba Rock the Vote" and his Walter White "Kiss the Cook" wheat pastes. But that's not all. One look at his Instagram feed will show you all the different types of reworks he's done.
He taught himself graphic design, and has a good deal of professional experience in the ad world, having worked at some large ad agencies. He's also done some album cover and disc art from some big names, however, he will not reveal which ones because to do so would reveal his identity.
Be on the lookout for more from this guy, he's definitely gaining momentum.
What was your first concert?
Wow! Truthfully it was Gloria Estefan and the Miami Sound Machine. The show I was to go to was canceled cause the tour bus crashed in the Poconos on the way to the show. When she was better they resumed the tour and that was the first show I saw. A few years ago, I was lucky enough to be talking to Miss Estafan and she laughed and said you're too young when I said I liked her music. I then told her the first concert I ever went to was hers after that almost fatal crash. We had fun talking while we hung out. 
Last concert/show?
Flatbush Zombies, Dec 5th, 2014 Best Buy Theater. Awesome. One of the few venues that just lets everybody blaze out. Crazy. Zombies were awesome. Good show, great energy.  
First album you bought?
Was a cassette tape, my dad bought it for me, but it was the first album I wanted. We played it immediately in the car on the way home. After the first track, he said "Your mother doesn't hear this, ever." Beastie Boys – Licensed to Ill.
Last album you bought?
RiFF RAFF – Neon Icon. Jody Highroller (aka Horst Simco) is an amazing, very talented artist, the RiFF RAFF persona is an awesome character. Tip Toe Wing in My Jawwdinz.
Who is your musical hero?
Adam Yauch – This guy is great.
Was there one album that made a significant impression on you?
No. Only because every album I bought between the age of 12 and 20 had a significant impression on me. Singling out one isn't possible.  I remember leaving my after-school job when news of Kurt Cobain's death hit.  I really like Nirvana, I don't listen to it much anymore. A friend and I played the single "Creep" by Radiohead, like 2 days after it came out, over and over on a 3-hour drive. Really, only that song over and over.  Guns and Roses' Appetite for Destruction was my first CD. An album I was also too young to have, but I guess not. Although, it did make quite an impression. In 7th grade, it got me and some friends in on the high school weed circle. At first, we thought it worked, but then on like the 3rd time it WORKED. We vowed not to do it again until college. Made it till senior year. Every time a new album came out we couldn't wait to digest it and use it to transform ourselves. And really everything. Punk, goth, hip hop, Icelandic singers, rock, raves, phish…
How important is music to your creative process?
It is very important. I really like to have some creativity going on while working. Musicians are artists and it is great to make art while another person's art is happening around you. Plus having something playing helps keep the ADHD in check. It is hard to work on something for hours in silence.
Rhymin & Stealin – Beastie Boys
Abducted – DJ Soulslinger (T-power mix)
Otis – Kanye West & Jay Z
Juicy – Notorious B I G
The Message – Grand Master Flash
Check Yo' Self – Ice Cube
Musique – Daft Punk
Everyday Junglist – Bizzy B
Dub Plate Pressure – Mystical Influence (snipper)
Dub Plate Pressure – Lee "Scratch" Perry
Double Bubble Trouble – MIA
Rich Girl – Hall & Oates
I Can't Go For That – The Bird And The Bee
Palm Trees – Flatbush Zombies
Nuthin' But A "G" Thang – Dr. Dre
Triumph – Wu-Tang Clan
Shadrach – Beastie Boys
B-Boy Bouillabaise – Beastie Boys
Sailing – Christopher Cross
Check out ME's playlist below on Spotify. Be sure to like Background Noise on Facebook for updates on future episodes. You can browse ALL the Background Noise episodes right here.