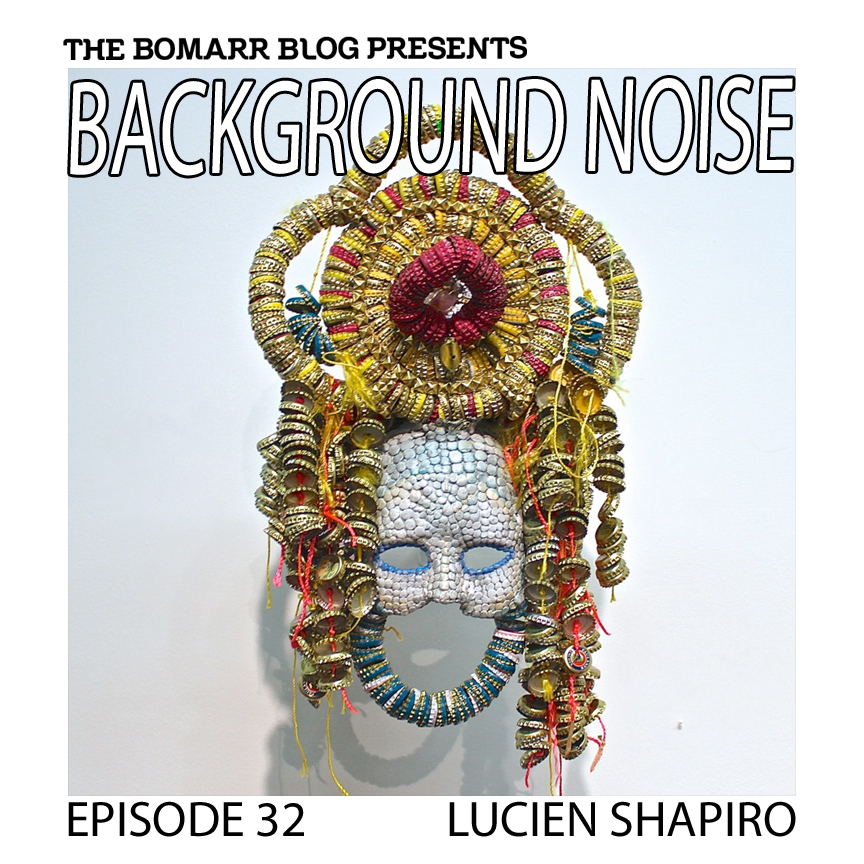 San Francisco-based artist Lucien Shapiro's work is like none I've ever seen. I was impressed with his painstakingly created masks the first time I saw them, but even MORE impressed once I looked a little bit closer and saw what they were made from. Using found objects, Lucien pieces together these ancient warrior-looking masks using modern day found objects.
His work is always open to interpretation by the viewer, but often has a personal connection or meaning to him. He incorporates bottle caps into a lot of his pieces, which appeal to Lucien because they are circles, and to him they symbolize his belief that everything comes full circle. A recent piece from his show at San Francisco's 111 Minna Gallery, which features a large number of condoms strung together, represents a "protection mask." One of his pieces even consists of different colored skateboard wheels tied together with twine and draped over a skull. It's all very fascinating stuff.
He's made a few videos as well. These videos are usually like mini art films that document some of the "rituals" that get performed by people wearing Lucien's masks. They are always beautifully shot, and usually soundtracked by fellow San Franciscan and beatmaker extraordinaire, Edison.
At the moment, I'm unaware of any upcoming gallery shows of his, but you can check out his website, his Twitter or his Instagram for updates.
What was your first concert?
I'm sure this wasn't the first concert I went to but definitely the first one I remember was MC Hammer .
Last concert/show?
Haven't been keeping up with my shows watching or concerts lately I am a bad fan I guess. Last one I remember was the Gaslamp Killer and DJ Shadow or Thee Oh Sees. About to go see Babelfishh , Swordplay, Pierre the motionless, James Reindeer, and Home on Friday.
First album, tape or cd you bought?
Shit not quite sure what was first but I did get Talking Heads tape Little Creatures pretty young. That was a good one.
Last album you bought?
Heavier Percussion tape from Egadz
Was there any album that made a significant impression on you?
Soo many to chose from. But the Beastie Boys License to Ill may have flipped the whole thing for me.
Who is your musical hero?
Shit, man so many on this question too, I would have to say Mike Patton. but so many more as well.
How important do you think music is to your creative process?
Very very very very very important. Without it I couldn't get into my flow in the studio, I don't need it always but it keeps me in it.
Check out Lucien's mix below, download it directly here, or subscribe to the Background Noise podcast on iTunes. Be sure to like Background Noise on Facebook for updates on future episodes. You can browse ALL the Background Noise episodes here. And stay tuned for next week's episode, featuring the UK artist Paul Insect.
The Bomarr Blog Presents: The Background Noise Podcast Series, Episode 32: Lucien Shapiro by Bomarr on Mixcloud