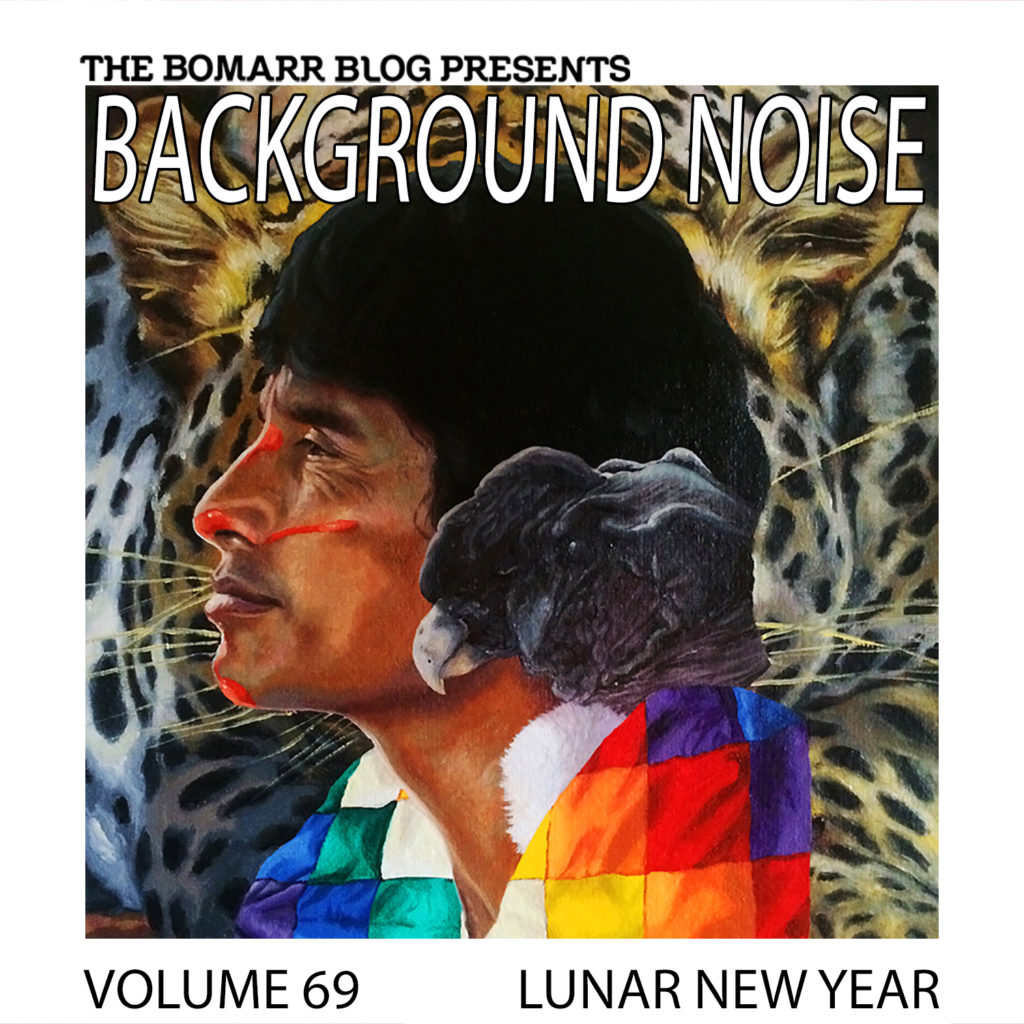 Lunar New Year (sometimes referred to as simply LNY) is an Ecuadorian-born street artist/muralist currently based out of New Jersey.
His works often depict the lesser-seen people in certain cultures or locales, bringing attention to those who wouldn't normally have their faces front and center.
He says this about his chosen alias:
"LNY is a label that I found for myself that later gained meaning and is still gaining meaning and changing. After adopting the letters as a moniker I found out that the acronym stands for "Lunar New Year" and when I Googled it, I saw all these pictures of celebration and teens having a great time in Asia – so now I have adopted this moniker because of that experience but also because of the Lunar New Year being this metaphor for an alternative; be it the lunar calendar or a different way of counting time or experiencing life and viewing the world."
Music is very important to him. Case in point, he not only included an hour's worth of music hand-picked for this series, but he also included a BONUS MIX that is near and dear to his heart. You'll find that further down below.
What was your first concert?
Manu Chao at Central Park Summerstage
Last concert/show?
The Freq Show at Seed in Newark
First album you bought?
More like the first song I illegally downloaded: Thom Yorke and Bjork, "I've Seen It All"
Last album you bought?
Las Cafeteras – It's Time
Was there one record that made a significant impression on you?
"What if someone is watching their T.V." by Screaming Females because it showed me that independence, hard work, and community support are all the success you need.  
Who is your musical hero?
Cafe Tacuba, hands down.
How important is music to your creative process?
It carries me, inspires me, and keeps me sharp – I play music pretty much 24 hours a day so it's like the blood flow of my creativity.
Cruzada Mix
It's Movement Time – Las Cafeteras
Alright – Kendrick Lamar
Latinoamérica – Calle 13
Lenape Lane – Ratking
Bikini Weather / Corazon en Afrika – Princess Nokia
Mi Bandera – Whitest Taíno Alive
How We Chill – Mello Mel
Never Catch Me (feat. Kendrick Lamar) Flying Lotus
Sycamore Tree – Kali Uchis
Half of it – Kap G featuring Devour
AyAyAy – Snow Tha Product
Working Like A Mexican Feat Chingo Bling – Kap-G
Whip It (Remix) Feat. Migos Rich The Kid – ILoveMakonnen
Teach Me (feat. Kiesza) – Joey Bada$$
Rose Mountain – Screaming Females
Jardinera – Rita Indiana & Los Misterios
Birthday Song – Kali_Uchis
Mexico Momma Came From Mexico – Kap G
Olita del Altamar – Cafe Tacuba
Ahora Nosotros Mixtape – Chancha Via Circuito
Check out Lunar New Year's playlist below on Spotify. Be sure to like Background Noise on Facebook for updates on future episodes. You can browse ALL the Background Noise episodes right here.
LNY's BONUS MIX:
INTENDED TO BE LISTENED TO IMMEDIATELY FOLLOWING
BACKGROUND NOISE, VOL 69