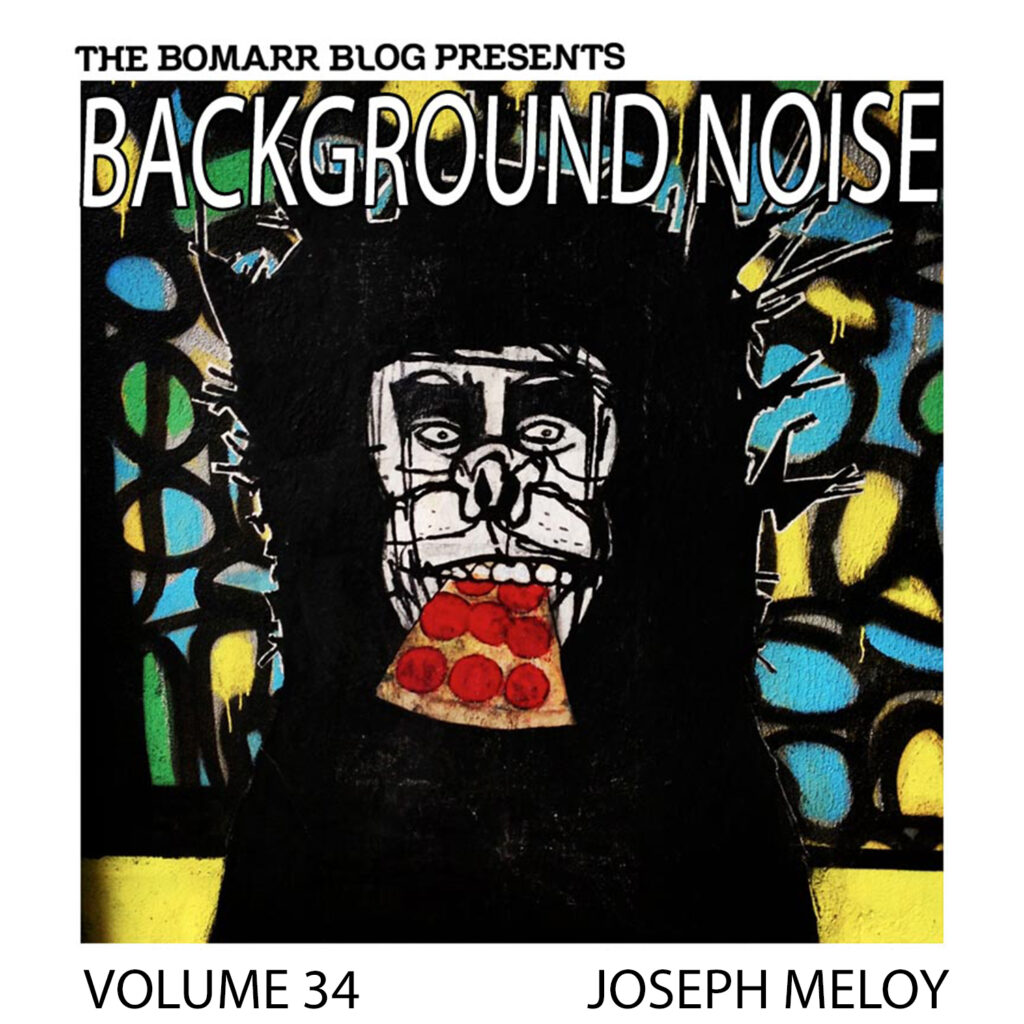 If you've spent any amount of time in the Manhattan/Brooklyn area, chances are, you've seen Joseph Meloy's work. Most notably, his black-and-white character, The Primate. The Primate generally has the same look and demeanor but often alternates what it holds in its mouth. Sometimes you'll see it with a slice of pepperoni pizza sticking out of its mouth, other times, a folded $20 bill. Sometimes he's gold, other times, he's red, but he's always The Primate, and you always know just by a quick glance, that it's a Joseph Meloy piece.
He doesn't limit himself to just The Primate though. Joseph has been bringing color to the Lower East Side for a few years now via his abstract paintings, which he also often uses as a backdrop for his Primate pieces, but sometimes puts up as works of their own. These paintings are often manic displays of Joseph's creativity. An obvious result of an artist needing a creative release. It's rather fitting that Joseph's name has become synonymous with Vandal Expressionism, a term he coined to describe what he does. These colorful works grace random walls throughout the city. Sometimes done without permission, but other times commissioned (see his work on the side of Rosario's Pizza on the Lower East Side).
He's done multiple gallery shows, as well as participating in projects such as the Centrifuge Public Art Project, an ongoing public art installation near 1st Avenue and 1st Street featuring a revolving cast of artists painting an abandoned trailer. (His work was featured in Centrefuge's Cycle 7). This past Friday, Joseph's new show, The Playground of the Fantastical, opened at Galerie Protege in Manhattan's Chelsea neighborhood. He's also started an Indiegogo campaign to help fund his next batch of Primate stickers. Check it out here.
What was your first concert?
The Offspring, at Roseland..?
Last concert/show?
Governors Ball 2014
First album, tape or cd you bought?
Nevermind, on cassette
Last album you bought?
I don't even remember! It's been quite a while… I usually just keep myself entertained with whatever I can stream off of YouTube…
Was there any album that made a significant impression on you?
More so than any specific album, I think that the music I heard playing 8-bit games as a kid might have made the strongest impression on me. I know the visuals really had an impact on my work, and I'm definitely drawn to noodly, blippy instrumental kind of stuff.
Who is your musical hero?
I think that what The Beatles accomplished in just 10 short years is heroic.
How important do you think music is to your creative process?
I enjoy working to music, reacting and responding to it through gesture and mark making, but i definitely don't mind working in silence either.
1. Jack White – "Lazaretto"
2. The Strokes – "One Way Trigger"
3. Blue Oyster Cult – "Burnin' For You"
4. Castlevania – "Bloody Tears (Gothic Metal Version)"
5. Hot Chip – "I Feel Better"
6. Julian Casablancas – "Out of the Blue"
7. Lou Reed, John Cale – "Style It Takes"
8. e.s. posthumus – "Antissa"
9. Lou Reed – "The Bells"
10. Best of Chiptune 
Check out Joseph's playlist below on Spotify. Be sure to like Background Noise on Facebook for updates on future episodes. You can browse ALL the Background Noise episodes right here.