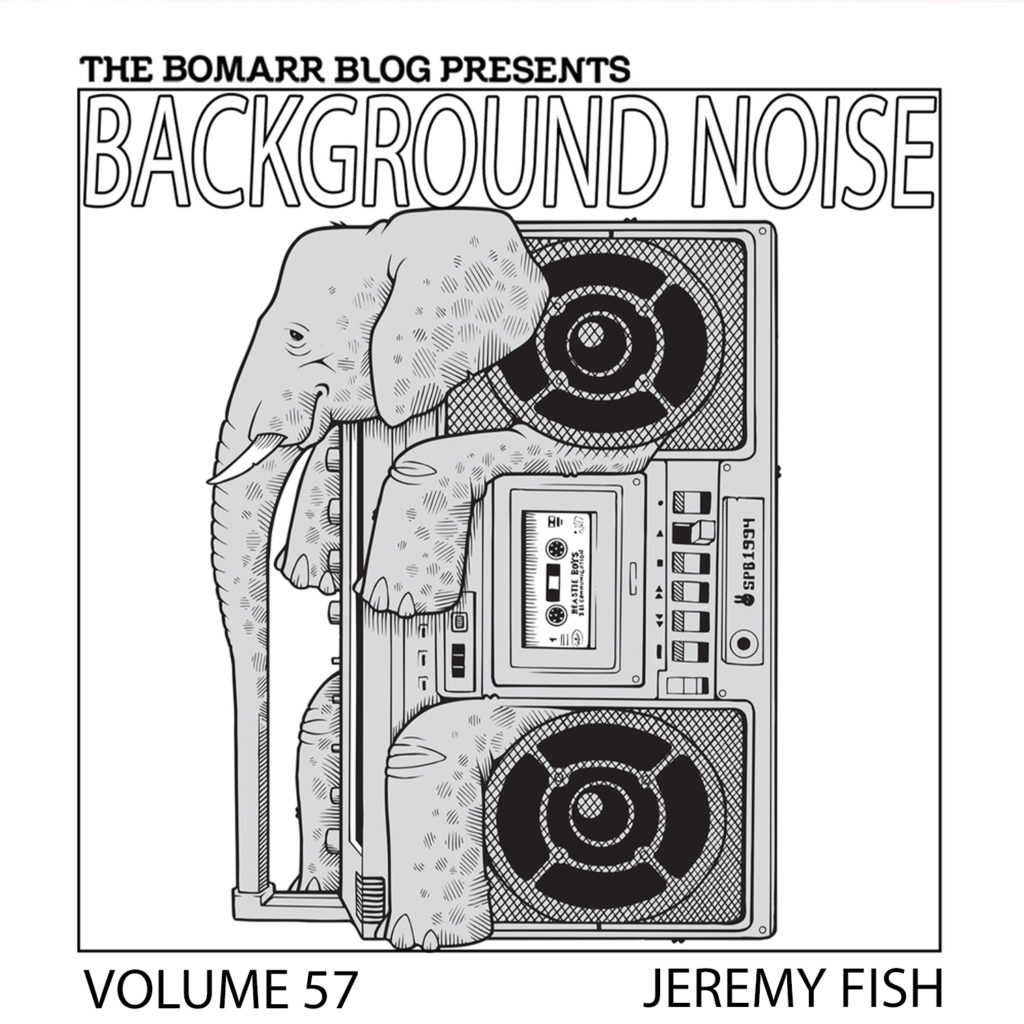 Let's get one thing out of the way right off the bat….Jeremy Fish often has a spectacular beard. So spectacular that when you do a Google image search for Jeremy Fish, his beard has its own sub-section. As far as I'm concerned, he's rivaled in the art world only by Brooklyn's Wizard Skull.
Now that we have that out of the way, let's talk about the man attached to the beard. Jeremy was born in New York in the 70s, but has spent the past 20 years or so in San Francisco. He's a fine artist, commercial illustrator, screenprinter, and has a degree in painting. He's designed skateboards, t-shirts, vinyl toys, sneakers, done large scale murals, you name it. If you're familiar with him, you already know what he's capable, if not, you've most likely seen his work somewhere without even knowing it.
He's done artwork for albums by his good friend, rapper Aesop Rock (None Shall Pass and Ghosts of the Barbary Coast), and they even collaborated on a book/7" called The Next Best Thing. The book was a modern take on the book and record combos from back in the day….You know, the ones that said, "You will know it is time to turn the page, when you hear the bell ring like this." Only this one had Jeremy doing the artwork, and Aesop Rock narrating the story.
He also had a great sculpture of one of his classic pink bunnies become a staple of the Lower Haight before it was torn down to make way for a new housing development. Fortunately, thanks to a Kickstarter Jeremy put together, enough money was raised to put a bronze version of that same sculpture back up near the same spot. No word yet on when it will be going up, but it'll happen.
Recently, Jeremy started posting some new work on his website. His Six Symmetric Skulls Series, which all featured alliteration-filled names, and ranged in date from 11/2014 to 1/2015, the point in time where Jeremy was recovering from surgery for a large brain aneurysm. He introduces the illustrations as "Six post brain surgery skull compositions…" He's been moving forward, still creating regularly, but has another surgery coming up, which he's expressing anxiety about in his sketches. A sign of a true artist……staying fully motivated and creative even when life throws you curveballs.
I have nothing but respect for this man.
What was your first concert?
Sting at SPAC in Saratoga Springs, NY
Last concert/show?
Hail Mary Mallon at the Fillmore here in SF
First album, tape or cd you bought?
Newcleus "Jam On It"
Last album you bought?
Michael Christmas "Is This Art?"
Was there any album that made a significant impression on you?
Company Flow "Funcrusher Plus"
Who is your musical hero?
Aesop Rock
How important do you think music is to your creative process?
Immeasurable. Especially in the years before the internet. I would draw to the same cassette or cd until I broke it.
1) Company Flow "Patriotism"
2) Rakim "Microphone fiend "
3) Casual "Styles"
4) Nas "NY state of Mind"
5) Danny Brown "Monopoly"
6) Aesop Rock "Tetra"
7) Action Bronson "Easy Rider"
8) Despot "Crap Artists"
9) Ghostface Killah "Run"
10) Troy Ave "My Grind"
11) Homeboy Sandman "Mine All Mine"
12) Public Enemy "Black Steel in The Hour Of Chaos"
13) Hail Mary Mallon "Hang Ten"
14) Frank Sinatra "A Very Good Year"
Check out Jeremy's playlist below on Spotify. Be sure to like Background Noise on Facebook for updates on future episodes. You can browse ALL the Background Noise episodes right here.