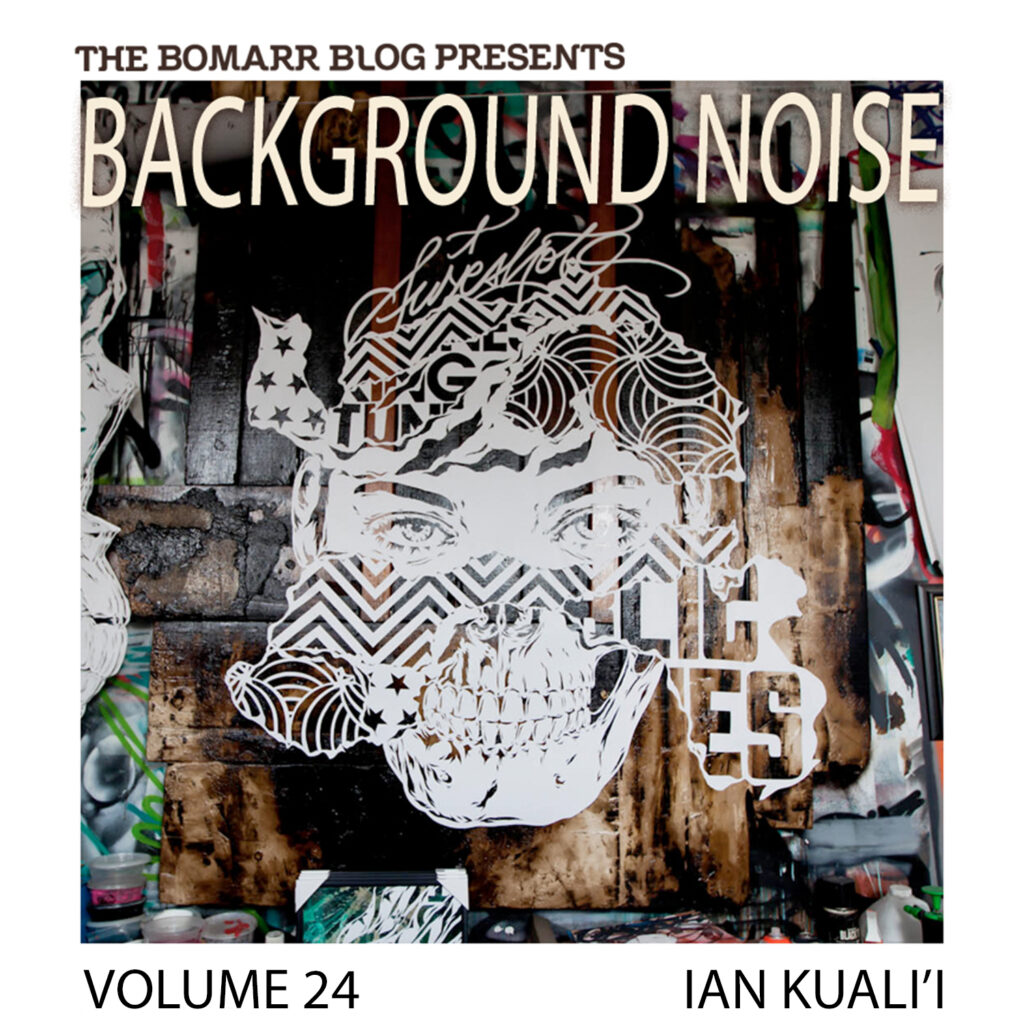 Ian Kuali'i uses a completely different medium for his art than anyone else featured on Background Noise so far. Kuali'i (pronounce Koo ah lee ee), Hawaiian-born and New Jersey-based, uses hand-cut paper to express himself. A master with an X-acto knife, Kuali'i constructs beautiful pieces of art with a steady hand, a vision, and lots of patience.
His art is rooted in early graffiti. He cites artists such as Futura, Rammellzee, Dondi White, and Doze Green as early inspirations (even apprenticing under Green for some time). The man has studied his heroes and channeled those inspirations to create a unique style.
Kuali'i recently partnered with 1xRun for a series called "Afterlife", which consisted of several discarded, rusty spray cans he has found along train tracks and various graffiti spots. The spray cans, often in various states of decay, each featured a unique paper stencil affixed to it, creating a juxtaposition of old and new. That particular run sold out quickly, but it looks like you can still get some of them directly through his website here.
What was your first concert?
The Los Angeles Philharmonic at The Greek as a child.
Last concert/show you went to?
The last concert I went to was two nights of Bjork at Roseland Ballroom. One night stage side and the other night birds eye view.
First album, tape or cd you bought?
I'm pretty sure it was Black Flag's Damaged on tape from this old punk shop in the Orange Circle called Razzmatazz. Either that or Egyptian Lover's On The Nile on cassette which I lifted from I believe a Gemco or Kmart in the early 80s.
Last album you bought?
The last albums I bought were both of Lonnie Holley's albums on vinyl. Some folks have a hard time listening to his music but I think he is absolutely brilliant.
Was there any one record that made a significant impression on you?
Eric Dolphy's Out To Lunch forever changed the way I listen to music. Hands down of my top ten favorite albums of all time.
Who is your musical hero?
I have so many…damn! I'm just going to do a quick five. Charles Mingus, Eric Dolphy, Alice Coltrane, Sun Ra, and Joe Strummer.
How important is music to your creative process?
Massively important! It's nearly impossible for me to imagine creating without it.
The Esoundscapist Mix by Ian Kuali'i
1. Sun Ra, June Tyson, John Gilmore – Enlightenment
2. Broadcast – Illumination
3. Build An Ark – You Yourself Are The Key To The Universe (The Long Lost Remix)
4. Lonnie Liston Smith and the Cosmic Echoes – Expansions
5. Rafiq Bhatia – A Change Is Gonna Come
6. Cinematic Orchestra feat. Austin Peralta – Lapis
7. Alice Coltrane – Galaxy In Satchidananda
8. RJD2 – A Spaceship For Now
9. Lonnie Holley – Six Space Shuttles and 144,000 Elephants
10. Norman Connors, Michael Henderson – You Are My Starship
11. Lonnie Liston Smith – A Garden Of Peace
Check out Ian's playlist below on Spotify. Be sure to like Background Noise on Facebook for updates on future episodes. You can browse ALL the Background Noise episodes right here.