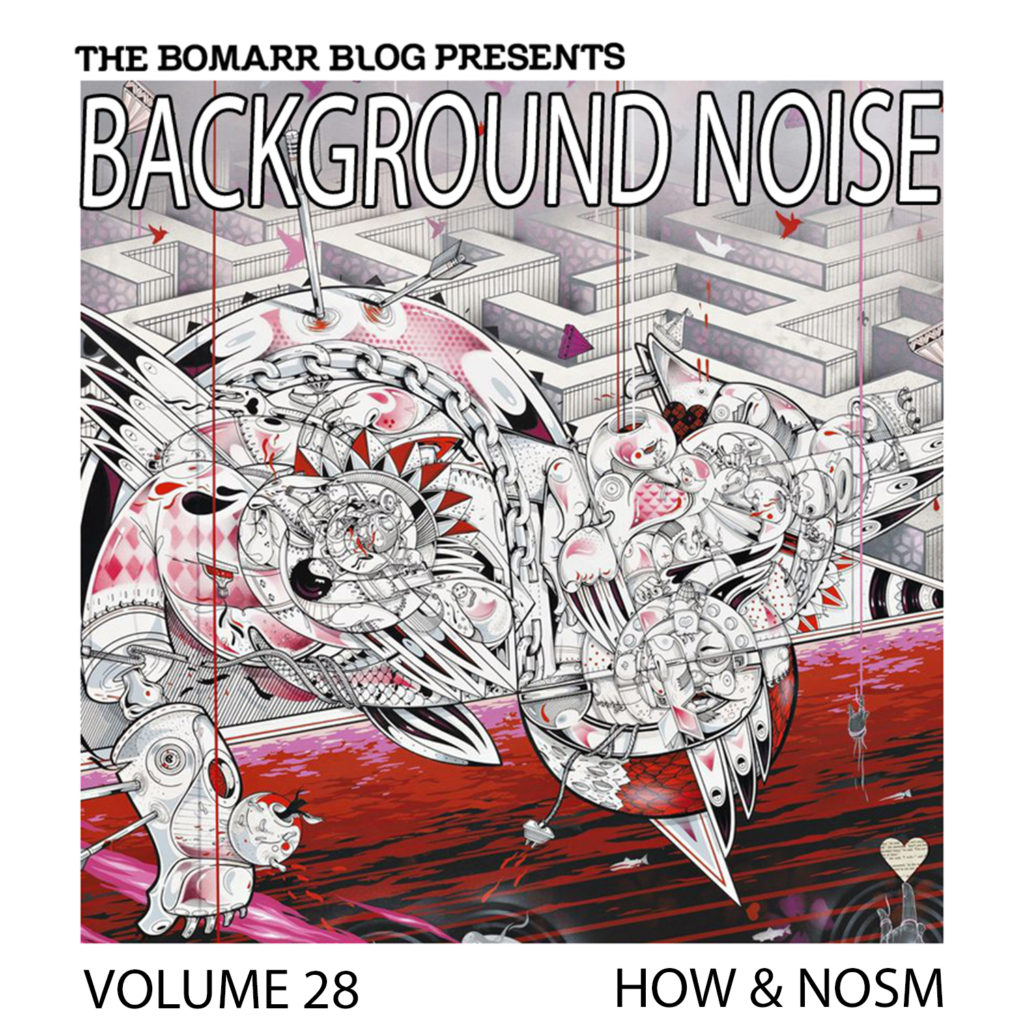 How & Nosm are identical twin brothers. The duo, consisting of Raoul and Davide Perre, were born in Spain, but raised near Dusseldorf, Germany, and lived there most of their lives, growing up as regular graffiti artists until around 1999, when they relocated to New York.
Their style is very unique and recognizable. Their signature black, red, and grey color scheme almost always depicts some insanely detailed events. So much so, that you really do get lost in them. At their Late Confessions show at Jonathan Levine Gallery near the beginning of 2013, there was actually a point where I caught myself forgetting to breathe while looking deep into one of their pieces of work. I was so sucked in that I completely forgot. As cheesy as it sounds, they were literally breathtaking, as is the case with most of their work.
Despite having their roots in straight-up graffiti, the duo does mostly mural work these days, which is great because I feel like that's a medium that really allows them to put a lot more detail into the work and have that detail actually be seen, whereas all that detail could maybe get a bit lost on a small canvas. They've done the famous Bowery Wall on Manhattan's Lower East Side, which counts Keith Haring as its first artist. They painted an entire airplane in Arizona for The Boneyard Project, have done murals in Miami for the Wynwood Walls, and designed a few limited edition, hand-made shoes inspired by Quentin Tarantino's Django Unchained, with all proceeds being donated to people in need after Hurricane Sandy.
Their mix, like many other mixes in this project, is very eclectic. Starting with some classic Kraftwerk, (whom the guys acknowledge having the same color scheme as), then ending up at some Mobb Deep, Solange, and even some Falco (RIP).
What was your first concert?
Our first concert was in 1991 in Wuppertal, Germany and we saw the British hip hop groups Hijack and Gunshot which were part of the Syndicate with Ice T.
Last concert?
Kraftwerk in 3D, New York City
First album you bought?
Nosm never bought one but How did. It was probably a Gang Starr album.
Last album you bought?
We haven't bought an album in many many years. The internet changed the whole process of going to a record store to listen to an album and then buying it. With all the free music players online you can listen to what you like whenever you want for free.
Was there one album that made a significant impression on you?
Raekwon, Only Built for Cuban Linx comes to our minds when reflecting on our past. But there are too many great albums and musicians out there to stay firm with only one.
Who is your musical hero?
Do you mean who is our musical influence? Definitely Kraftwerk from our hometown Duesseldorf. Same color scheme, same precision work, and same originality.
How important is music to your creative process?
We listen to all genres while we paint in the studio, constantly. Our neighbor must hate us.:)
1. Kraftwerk, Radioactivity
2. David Bowie, Man Who Sold The World
3. Rolling Stones, Sympathy for the Devil
4. Mobb Deep, Shook Ones pt.2
5. Raekwon, Incarcerated Scarfaces
6. Led Zeppelin, Whole Lotta Love
7. Solange, Losing you
8. Little Dragon, Ritual Union
9. Kanye West, Cold1
10. Falco, Out of the Dark
11. Frank Ocean, Lost
12. Bob Marley, Exodus
Check out How & Nosm's playlist below on Spotify. Be sure to like Background Noise on Facebook for updates on future episodes. You can browse ALL the Background Noise episodes right here.