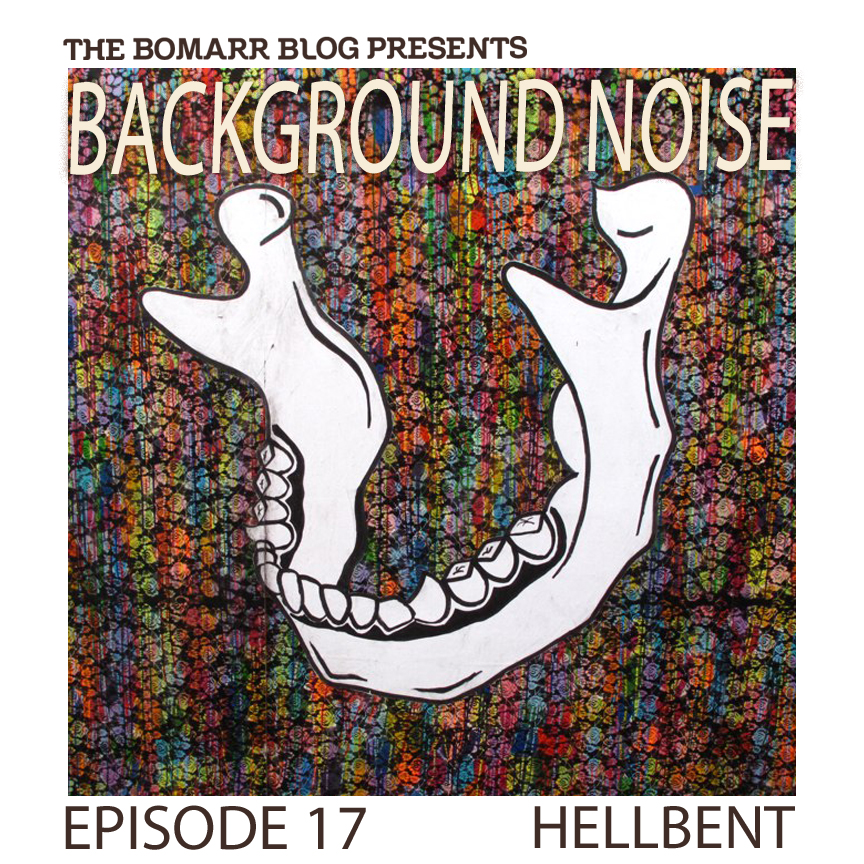 If ever there were a perfect candidate for the Background Noise podcast series, it would be Brooklyn's Hellbent. An avid music fan himself, he jumped on the opportunity to be able to put a soundtrack to his creative output. Rightfully so, since he has an entire series of his work, (two, actually) called Mix Tape and Mix Tape (Side 2), where all of the pieces in the series are named after songs he was listening to when he made them.
A little more backstory on this from Hellbent himself:
The series began as I began collaging the tape that I used to mask off parts of pieces I was putting on the street. I would use the over spray of patterns and colors I was getting on tape and started to arrange them in my sketch book. From one of those sketches I did it in paint for first time on a mural I executed in LA. From there I began working with a purely abstract style, this was about 2.5 years ago. I call the works in paint the mix tape series as it was inspired first from tape pieces I did. I name each of these paintings after a song that I was listening to as I am finishing up work. Music was a huge influence on earliest abstractionist. Kandinsky was heavily influenced by the new compositions that were coming from composers at the turn of the century. Music is a huge influence in my life and work. So, by naming paintings after songs, it's a nod to the past (like Kandinsky and others) and to the importance of music to me. Consequently, the tape collage pieces I have dubbed the "demos" as they are the first part of music making process like the pieces themselves are the first part of my working process.
Hellbent initially caught my eye on one of my walks around Williamsburg a couple years back. I noticed a piece of his, quite a bit above eye level. The piece was bolted to a wall in all four corners, and featured just a drawing of a jaw bone, juxtaposed over an almost wallpaper-like pattern, with the word "hellbent" carved into it. I loved it so much, my initial impulse was to find a way to take it home with me. To be honest, had it been easier to take off the wall, I probably would have (not a practice I adhere to these days), but I figured that if it was bolted there, it was probably meant to stay, so I just photographed it and went on my way.
I continued to see his work around. Whether it was various stickers bearing the jawbone image, or a beautiful upside-down elephant over some bright pink and blue pattern in DUMBO, I loved it. He had a great art show at Mighty Tanaka Gallery a while back that had some of his colorful pattern pieces, as well as a stack of jawbones, and an upside-down pentagram made of flowers.
He's participated in the East Village's Centrifuge Public Art Project, which features a revolving cast of artists collectively transforming an abandoned trailer on 1st ave and 1st street, and recently transformed the facade of one of Ralph Lauren's stores near Union Square.
Hellbent is a very talented artist, and one (ahem) helluva guy. If you're in the Chicago area, go check out his Past Future Perfect show at Maxwell Colette Gallery. It's running from April 18-June 7.
What was the first concert you went to?
Joan Jett opening for Aerosmith
What was the last concert you went to?
Washed Out
What was the first album you bought?
Quite Riot-Metal Health, first tape Van Halen 1984
What was the most recent album you bought?
The Servants: Small Time
Was there one particular album that made a significant impression on you?
Walk on the Wild Side, Lou Reed. Put it in my head that I needed to move to New York at a very young age.
Who is your musical hero?
Probably Perry Farrell
How important is music to your creative process?
Music is extremely important to my process. I have to have music on when painting. Live music especially because when I see a band live I see all these paintings I want to paint. If only I could get a band to play while i was painting ….
Check out Hellbent's site here, and follow him on Instagram.
Stream Hellbent's mix below, download the file directly here, or subscribe to the Background Noise podcast on iTunes. And don't forget to like Background Noise on Facebook for updates on future episodes.
The Bomarr Blog Presents: The Background Noise Podcast Series, Episode 17: Hellbent by Bomarr on Mixcloud