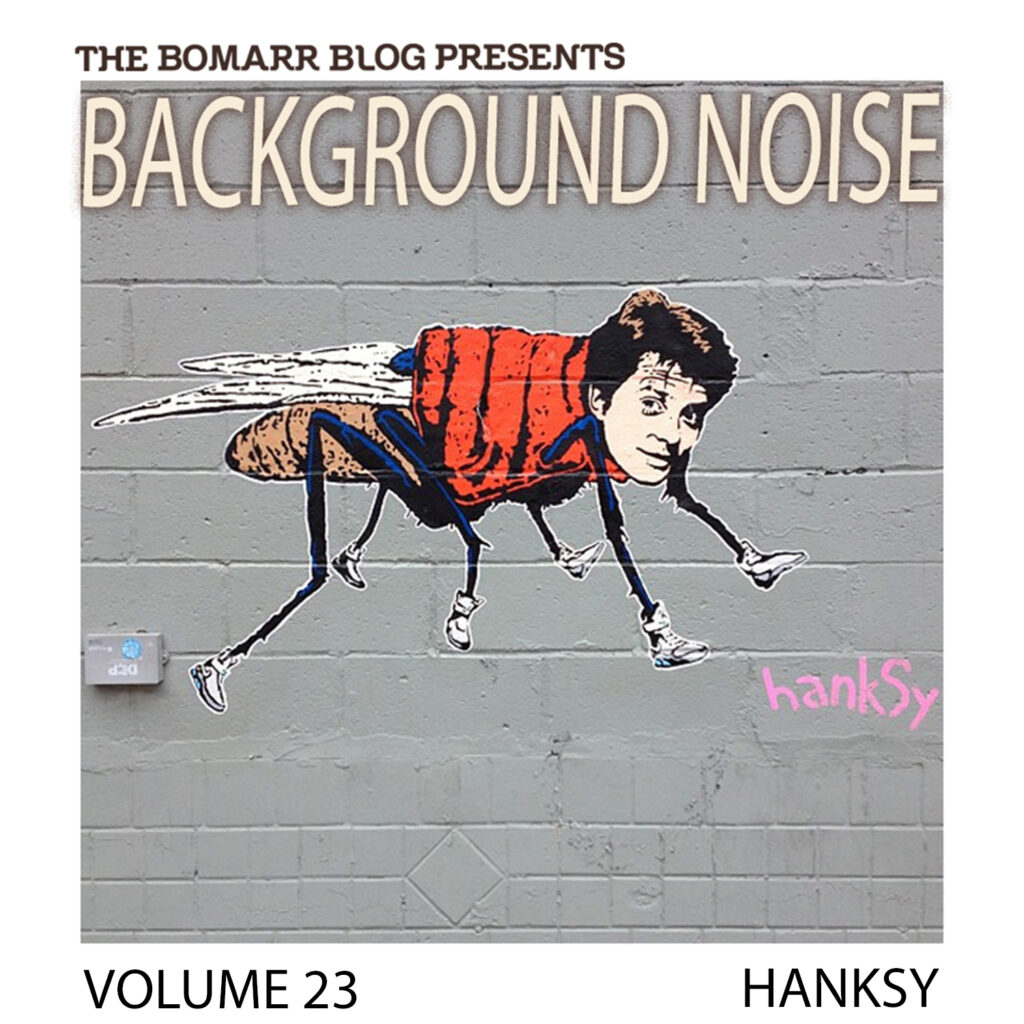 I'm a sucker for a good pun. I often make them myself, and now that I'm a dad, I can REALLY get away with them (or at least I'd like to think). While I consider myself pretty good, I have to bow and acknowledge that New York artist Hanksy is the master. Just look at the image above. Marty McFly, get it? Of course, you do. It's brilliant. And it doesn't stop there.
Hanksy first started getting attention when his Tom Hanks-themed wheat-pasted Banksy parodies started popping up around NYC and other cities. All of them feature recognizable Banksy imagery, but with the Academy Award-winning actors' face added in.
He has since moved on from the Banksy stuff and has been doing his own original pun-tastic pieces all over the country, gathering a fair amount of continued attention in the process. After all, his work constantly has the potential to go viral due to its pop culture familiarity, the tongue-in-cheek humor to it all, and the roll-your-eyes "oh god" punny-ness. Fairly recently, one of his images started making the rounds on Reddit. An image depicting rapper 50 Cent, actually, multiple 50 cents, all strung together Human Centipede-style. The name of the piece? You guessed it, "Human 50 Centipede". Another one that popped up in the Lower East Side last year featured the late James Gandolfini merged with Gandalf from Lord of the Rings for "Gandalfini". I seriously could go on forever with these. Love him or hate him, the guy has wit. See for yourself in the gallery below.
Hanksy's wit has even been acknowledged by Stephen Colbert. Last October, when Banksy conducted his "Better Out than In" on the streets of New York, Colbert called on Banksy to use a wall on the outside of the Colbert Report studio as a canvas for one of his pieces (actually, he sarcastically "forbade" Banksy from doing art on the wall). Not one to be baited, Banksy did not oblige, but Hanksy wasted no time and hopped on this opportunity. The next morning, a wheat-pasted bear with Stephen's head appeared on the wall outside the show. The name of the piece was "Colbear", and Colbert loved it. He devoted about 5-minutes on his show to talking about Hanksy.
Hanksy also curated January's 2-hour guerrilla art show "Surplus Candy" in an abandoned house in Alphabet City. An event I attended with a couple of friends, and have mentioned in numerous Background Noise blog posts, due to the fact that many of the artists I've featured in the series were also part of this one-of-a-kind show. Once again, a short video that sums up the entire event can be seen here.
He put together possibly the longest mix in the series so far. Clocking in at 1 hour 47 minutes, the mix gets started right out of the gate with Miley Cyrus and jumps right into Japanther. Operation Ivy to Pharrell Williams. It covers the whole spectrum. I'm happy to have Hanksy contribute to this series.
What was the first concert you went to?
Thanks to various huffing incidents, my childhood memory is fairly foggy. But I'm fairly certain it was one of the first Warped Tours. Rancid and Bad Religion played and I was 15 and I was super fucking stoked.

What was the last concert/show you went to?
The So So Glos at the great Shea Stadium.
First lp/tape or cd?
The first couple of cassettes I purchased with my own money was Green Day's Dookie along with the soundtrack from the movie Newsies. Seize the day, yo.
Last album you bought?
I've got a fairly good amount of friends in the music biz, so I try to cop their new releases as often as possible. Yesterday I picked up "Back in Black" by Chicago's Archie Powell and the Exports. It's great.
Is there one record that made a significant impression on you?
Energy by Operation Ivy. It's the one album I will forever return to. Again and again, it never ceases to bore me.
Who is your musical hero?
Bob Dylan.
How important do you think music is to your creative process?
Unlike some creative types who can work in silence, swimming in their own thoughts, I can't. I fucking drown without some sort of noise. For me silence can be suffocating so I make damn sure I have some playlist cued up and ready to go whenever I'm working in my studio. 
Miley Cyrus – We Can't Stop
Japanther – River Phoenix
Choking Victim – Crack Rock Steady
The Specials – Monkey Man
Johnny Cash – Folsom Prison Blues
YAWN – YumYum
The So So Glos – Lost Weekend
Less Than Jake – All My Best Friends Are Metalheads
The Hives – Dead Quote Olympics
Archie Powell & The Exports – Great Ideas In Action
SKATERS – I Wanna Dance (But I Don't Know How)
Rancid – Corazon De Oro
Bob Dylan – Girl From the North Country
The Tallest Man on Earth – Love Is All
Caveman – Old Friend
The Growlers – Someday
Operation Ivy – Knowledge
Bob Dylan – Like A Rolling Stone
Pharrell Williams – Lost Queen
BBU – The Hood (feat. GLC)
Juiceboxx – Never Fade Away
Against Me! – Reinventing Axl Rose
The Orwells – Who Needs You
Diarrhea Planet – White Girls (Student of the Blues) Pt 1
Hockey – Too Fake
New Order – Temptation
Talking Heads – Road To Nowhere
Check out Hanksy's playlist below on Spotify. Be sure to like Background Noise on Facebook for updates on future episodes. You can browse ALL the Background Noise episodes right here.