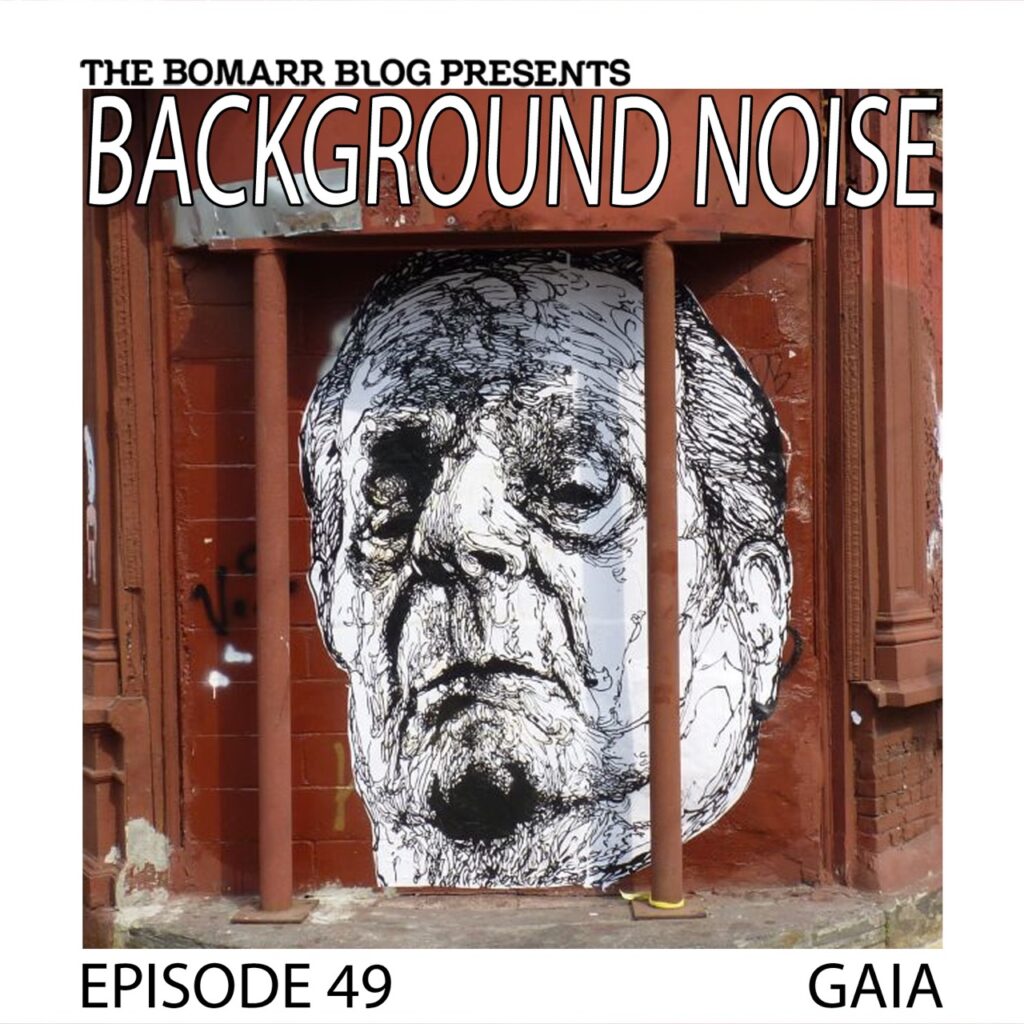 I saw Gaia in action once. Funny thing was, although I was very impressed by his work in progress, I wasn't aware that it was him at the time. I was walking south on 1st Ave in Manhattan's East Village, and saw someone painting a beautiful mural of two bulls bashing heads on the security gate of the Empellon Cocina restaurant. I made a mental note to go back at some point a few days later and see who it was. Much to my surprise, it was Gaia. A few weeks later, I found myself at that very restaurant with my wife and a friend, and noticed that not only did Gaia do the facade, he also had painted the walls behind the bar.
Gaia is a very busy man, with seemingly an endless amount of energy (I had a lot of energy in my late 20s as well). Technically, although he grew up in New York's Upper East Side, he calls Baltimore home, but from the sound of it, he rarely spends much time there. He's constantly being called to places all around the world to do his murals, which have become a hot commodity these days. He has murals in Cape Town, South Africa, has done murals at Art Basel, had a solo show at NYC's Jonathan Levine Gallery, and even curated Open Walls Baltimore, a mural festival featuring work from contemporaries such as Maya Hayuk, Swoon, Chris Stain, OverUnder and others. To be honest, I'm surprised he has time to sleep.
The work itself often depicts animal imagery, which comes from his fascination with bringing nature to urban landscapes. This animal imagery sometimes depicts animals with human hands and torsos, resulting in a very interesting juxtaposition. He tends to lean toward social and political messages as well, incorporating portraits of influential, and sometimes controversial urban developers.
He was recently asked by Atlanta's Center for Civil and Human Rights to complete a mural for its Martin Luther King Jr gallery and temporary exhibition space. He impressed them with a mural based on the Twitter #iftheygunnedmedown phenomenon. Read more about that here.
It seems as though the more murals he does, the more work he gets. The word of mouth just doesn't stop, and I don't think Gaia will ever stop either.
What was your first concert?
I dont like to go to big concerts, especially not festivals. Most memorable concert was Philip Glass performed by Bruce Levingston
Last concert?
I went to a show last night in Baltimore which has one of the best small venue/diy space scenes in the country. Saw a member of Smoke Bellow play an electronic set
First album you bought?
Mase – Harlem World
Last album you bought?
Last album I bought was Roomful of Teeth by Roomful of Teeth
Was there one album that made a significant impression on you?
The Planets Suite by Gustav Holst
Who is your musical hero?
Philip Glass
How important is music to your creative process?
As a consumer of music, and not having any musical experience since orchestra practice in high school, I am blessed to be able to enjoy the boundless nature of music without being privy to criticism. Because painting is such a contemplative, labor intensive process, I prefer repetitive music of all sorts in order to help pass the time.
Sita Ram – Alice Coltrane
Victim of a Drive By – Triple Six Mafia
Prashanti – Ravi Shankar
RIP Kevin Miller – Isaiah Rashad
A Musical Portrait of Chuck Close – Bruce Levingston
Stainless Staining Lisa Moore
Medicine Man Rip Ho – Tommy Wright III
Klepsydra – Kate Moore
Courante – Roomful of Teeth
Busta ass Niggas – Lady Bee
Hai Na – Art Blakey
Ave Maris… virgo serena, Pt. 1 – Josquin
Ave Maris… virgo serena, Pt. 2 – Josquin
Ave Maris… virgo serena, Pt. 3 – Josquin
Ave Maris… virgo serena, Pt. 4 – Josquin
Ave Maris… virgo serena, Pt. 5 – Josquin
Ave Maris… virgo serena, Pt. 6 – Josquin
Ave Maris… virgo serena, Pt. 7 – Josquin
Workers Comp – Mos Def
Check out Gaia's mix below, download it directly here, or subscribe to the Background Noise podcast on iTunes. Be sure to like Background Noise on Facebook for updates on future episodes. You can browse ALL the Background Noise episodes here. Check out Gaia's website at gaiastreetart.com
The Bomarr Blog Presents: The Background Noise Podcast Series, Episode 49: Gaia by Bomarr on Mixcloud