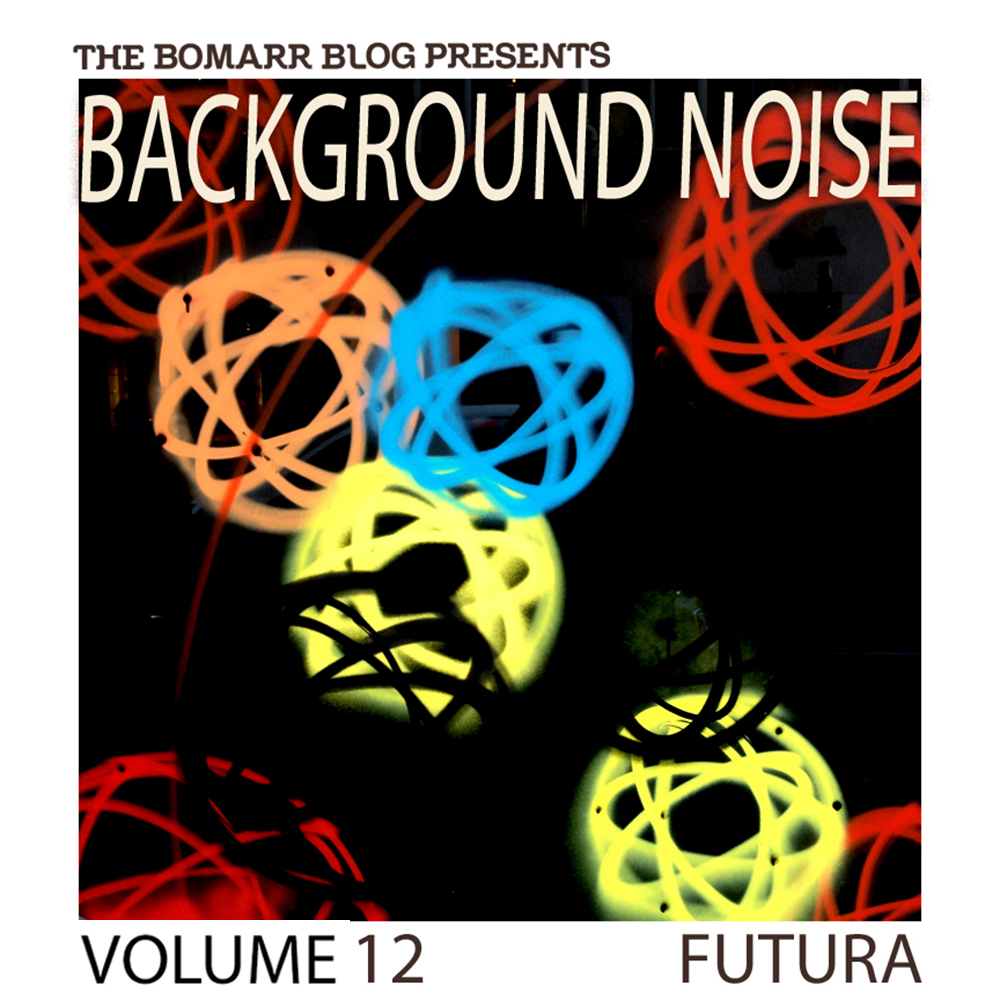 My new "Background Noise" series focuses on the music that artists listen to when they work, what music inspires them or just music they like. This week, for Volume 12, the focus is on Futura.
Futura is a legend. He's been around forever, and he's done everything. Starting out in New York in the early 70s tagging trains, and then graduating to gallery shows with the likes of Haring and Basquiat, he built a name for himself due to his unique style. He was also documented in the cult classic Style Wars film.
He's always had his hands in music in one form or another. In 1982, he released a 12″ single called "The Escapades of Futura". He was close with The Clash and worked with them often. Whether it was painting live on stage during their shows, designing the cover art for their single "This Is Radio Clash" and even recording some vocals on their song "Overpowered By Funk". He also provided artwork for numerous records on James Lavelle's Mo' Wax Records, including "Psyence Fiction", by James and DJ Shadow's group UNKLE.
I've been a fan of Futura's for years. I can honestly say that I had no idea who he was in the 80s, but in the early 90s, I believe at Lollapalooza 93, he had a booth there, and the artwork blew me away. At the time, he was sitting in a wheelchair, and for years, whenever someone would mention Futura, I'd always think to myself "Oh yeah, that handicapped artist, right?" I said it out loud to a friend once and he said "Uhhh….Futura isn't handicapped". All these years, I had thought he was, just because I saw him in a wheelchair one time. For all I know, he wasn't even hurt and was just taking a break from the blistering sun in the closest chair he could find. I still laugh at myself for thinking that for all those years.
Back in 2012, I checked out his Future Shock show over near Tribeca. It was a huge space and packed with people on opening night. It was a truly memorable show. In addition to the gigantic and very impressive pieces of work he had on display, I met Fab 5 Freddy, Gibby Haynes, had my picture taken with Kool Keith, and chatted with Wild Style director Charlie Ahearn for a while. It was great.
In the past couple of years, he's branched out, even more, doing things like designing a bottle for Hennessy and working with the NBA and Sprite to design a series of basketballs to be auctioned off to benefit the Boys and Girls Club of America.
I've never met him in person but just seeing him interact with people at that Future Shock show, and how nice he's been over email, makes me realize how great of a guy he is.
I'm truly honored to have him take part in this project. As expected, he has an extremely eclectic mix of songs on here. Very much worth a listen.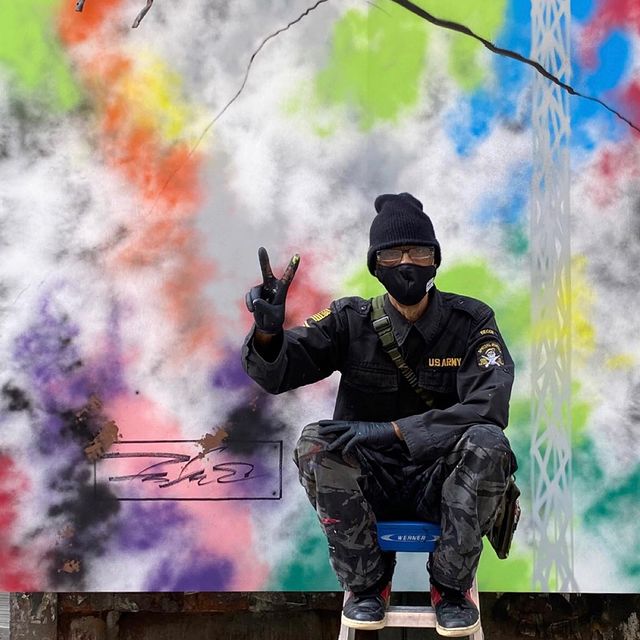 What was your first concert?
that I never saw. hahaha.
in the SUMMER of SIXTYNINE . . . when I was a radical FOURTEEN-year-old. . . I along with a large group; headed up to WOODSTOCK.
unfortunately . . . we broke down ENROUTE. cool stories told about THE MAN on the MOON and LSD.
What was the last concert/show you went to?
PUSSY RIOT at BARCLAY'S.
What was the first LP/tape or CD you bought?
JACKSON FIVE . . . ABC.
The last album you bought?
THE SOUNDTRACK from MYST.
Is there one record that made a signifiant impression on you?
THE BEATLES . . . WHITE ALBUM.
Who is your musical hero?
that's too easy . . . MR. JAMES MARSHALL (JIMI) HENDRIX.
How important do you think music is to your creative process?
not that important.
The Rain – Photek
My Red Hot Car – Squarepusher
The Recipe – Kendrick Lamar & Dr. Dre
In Space – Royksopp
Nautilus – Bob James
Sympathy For The Devil – Rolling Stones
Bodies – Sex Pistols
Question – Moody Blues
Fearless – Pink Floyd
Namaste – Beastie Boys
The Payback – James Brown
The Crystal Ship – The Doors
Chrono – Kraftwerk
Sunshine Of Your Love – Cream
Check out Futura's playlist below on Spotify. Be sure to like Background Noise on Facebook for updates on future episodes. You can browse ALL the Background Noise episodes right here.