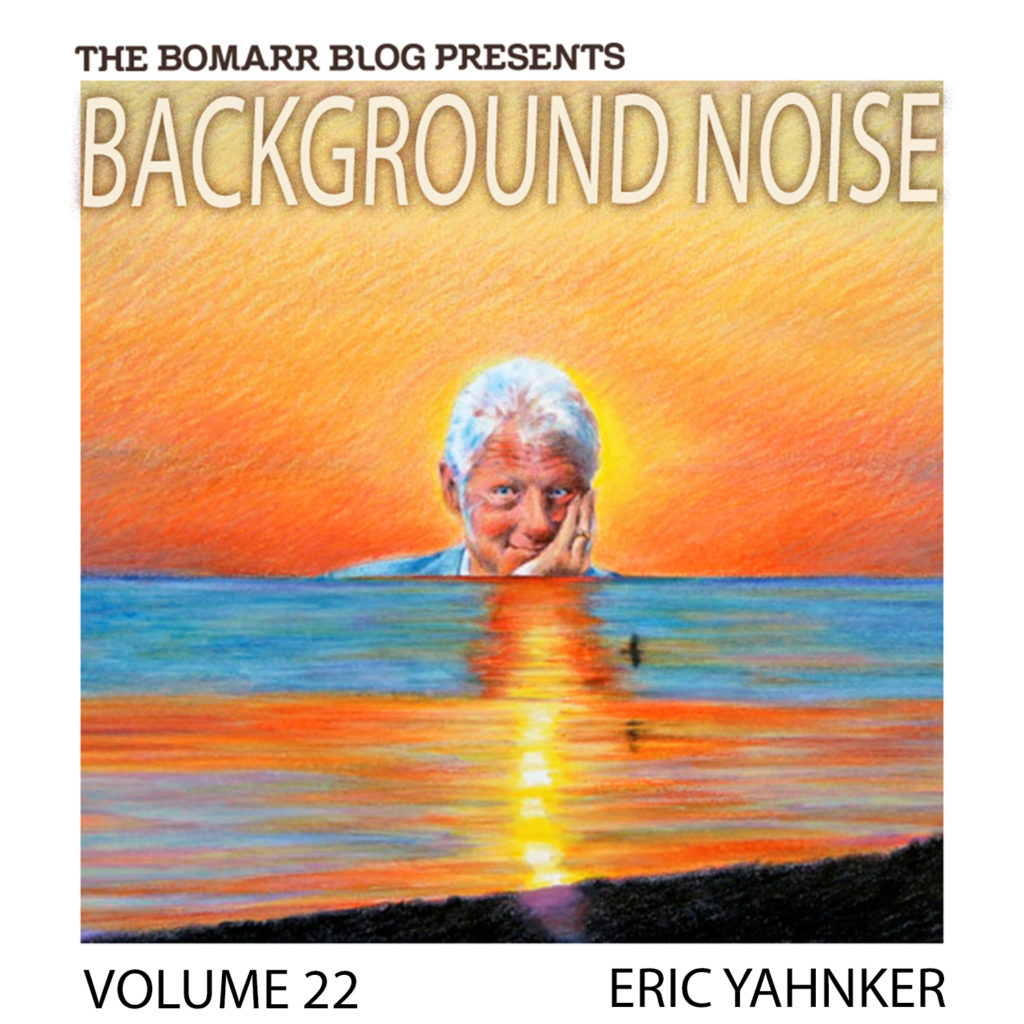 The "Background Noise" podcast series focuses on the music that artists listen to when they work, what music inspires them, or just music they like. This week, in Episode 22, the focus is California artist Eric Yahnker.
California-based artist Eric Yahnker has a knack for creating absurd, yet humorous imagery out of the most basic and unpredictable subject matter. A lot of his work has that "damn, I wish I thought of that" feel to it. For example, his "Star of David Lee Roth" piece, features a blue triangle and one of Eric's signature colored pencil and graphite drawings depicting David Lee Roth making up the rest of the Star of David. Some pieces from his brand new "Sticks and Drones" exhibit at Paradise Row in London show that Eric is on top of his current events. He has a detailed, hand-drawn portrait of Vladimir Putin with a blue Crimea-shaped tear dripping from his eye with the title "Crimea River". Or his "Wrecking Ball" piece, which depicts Barack Obama looking out the window of the Oval Office, watching Miley Cyrus swinging on a wrecking ball. It's all simple, yet amazing. I could look at his work for days.
His sense of humor comes as no surprise, considering his past experience in the comedy world. He worked on the storyboard for South Park: Bigger, Longer, Uncut, and drew and directed a series of animated bonus features for a few seasons of Seinfeld DVDs called "Seinimation", some of which can be found on YouTube.
I was absolutely fascinated to see what songs Eric would choose, and he came through with an impressive mix of smooth 60s/70s R&B. Click through the gallery below for an additional glimpse at some of his work, read the brief Q+A below, followed by Eric's mix.
What was your first concert?
The first concert I remember hitting without an adult chaperone was Lenny Kravitz feat. Slash…must've been circa 1990.
Last concert/show?
I see my buds play small local venues just about every week, but the last major show I went to was either Sade @ Staples Center or Men of Soul: feat. Jeffrey Osborne, Freddie Jackson, & Peabo Bryson @ The Hollywood Bowl.
First album, tape or cd you bought?
My first 45RPM was Stevie Wonder's "I Just Called To Say I Love You." My first cassette was Paul McCartney's "Pipes of Peace," because it had "Say, Say, Say" on it. My first CD was The Beatles "Rubber Soul."
Last album you bought?
DJ Rogers, "It's Good To Be Alive"
Was there any album that made a significant impression on you?
There were several albums throughout my formative years that blew my young mind. During some particularly sensitive periods, my parents assumed I was gay:
Beastie Boys, "License To Ill"
Guns n' Roses, "Appetite For Destruction"
George Michael, "Listen Without Prejudice"
Fiona Apple, "Tidal"
Jeff Buckley, "Grace"
Marvin Gaye, "Here, My Dear"
Maxwell, "Urban Hang Suite"
Who is your musical hero?
Quincy Jones + Michael Jackson, together.
How important do you think music is to your creative process?
Music is pretty necessary to help me zone out while I draw, but since I can't focus on two things at once, I usually have to turn it off when brainstorming or beating off.
Hung Up On Your Love – Montclairs
Come On Train – Don Thomas
You've Been Gone Too Long – Ann Sexton
This Time It's Real – Tower of Power
I Think You've Got Your Fools Mixed Up – Brenton Wood
The Chokin' Kind – Joe Simon
(It's the Way) Nature Planned It – The Four Tops
Where Are We Going? – Marvin Gaye
Baby, I'm For Real – Esther Phillips
Let Somebody Love Me – David Ruffin
Don't Make Me Over – Lyn Collins
Your Good Thing Is About to End – O.V. Wright
Wish Somebody Would Care – Irma Thomas
From His Woman to You – Barbara Mason
Love, The Time is Now – Bobby Womack
Cry To Me – Loleatta Holloway
Check out Eric's playlist below on Spotify. Be sure to like Background Noise on Facebook for updates on future episodes. You can browse ALL the Background Noise episodes right here.