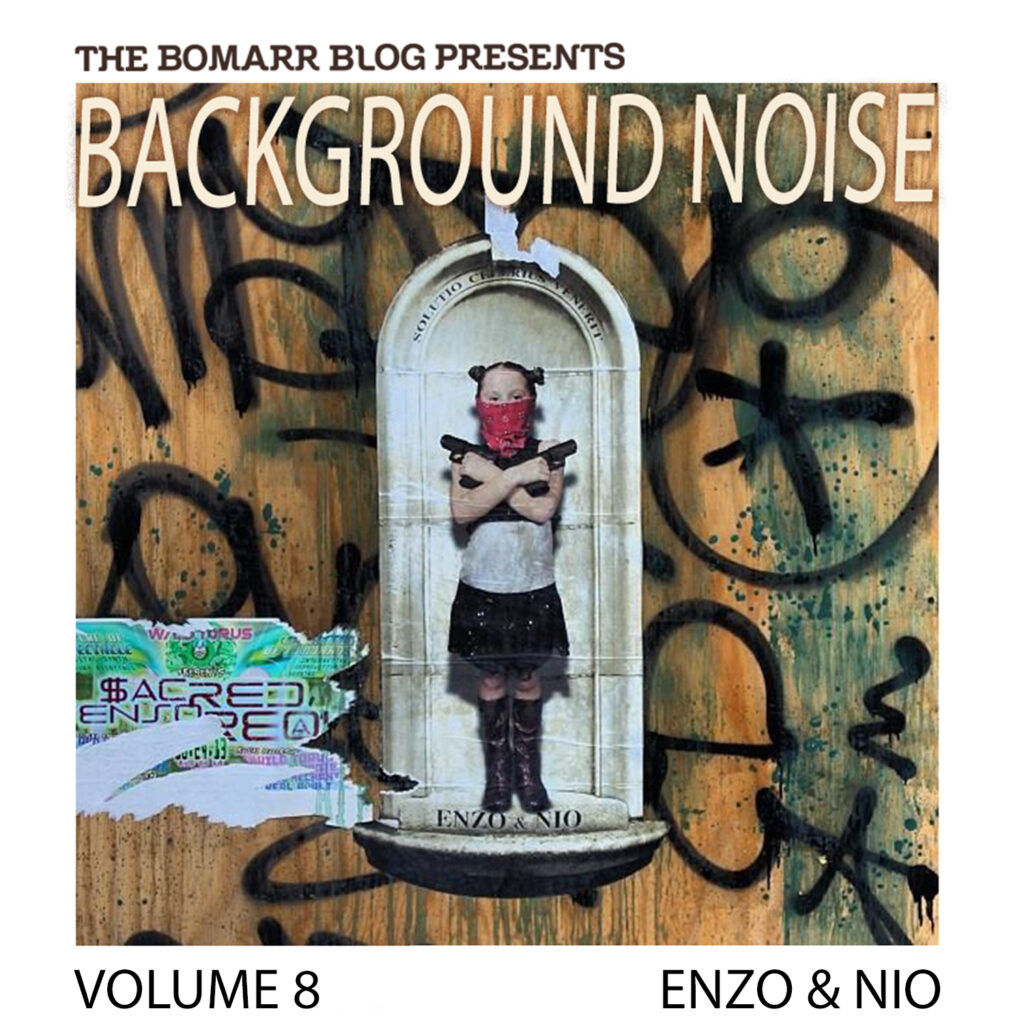 My new "Background Noise" podcast series focuses on the music that artists listen to when they work, what music inspires them, or just music they like. This week, in Volume 8 the focus is on Brooklyn street artist duo Enzo & Nio.
Enzo & Nio have been friends since they met on a tree farm in 1994. Their shared sense of humor, love of hallucinogenic drugs, and more importantly, their taste in art lead them to start collaborating in many creative ways ever since.
Lots of their work tends to lean toward the humorous, tongue-in-cheek side of things (see their "cock shark" stickers), while still making a statement. The specific statements are always left to the viewer's interpretation though, and that's how Enzo & Nio like to keep it. They rarely, if ever, talk about their work. Sometimes the work shows an obvious disdain for certain things. For example, their "Pull in case of…" series shows a standard-looking fire alarm that says things like "Pull in case of Bloomberg", "Pull in case of Facebook", etc. And then there are the various wheat pastes that feature young girls with bandanas over their faces, brandishing weapons, or holding Molotov cocktails.
I met Nio in person at a Futura art show a couple of years ago, and he told a friend and me about how he and Enzo had recently hung $100 in $1 bills from a string on the Williamsburg Bridge. Just because. It was fascinating. These guys really don't stick to just one medium when it comes to their work, which is admirable.
Music has been a big part of both of their lives, so it was only fitting for them to do one of these playlists for the series.
What was your first concert?
Enzo: My first voluntary* concert was Bo Diddley. It was also my first date which is why it sticks in my head. I was in 6th or 7th grade and my uncle chaperoned a few of my friends and our dates to the concert. I don't remember why it was Bo Diddley it makes absolutely no sense that we went to see Bo Diddley at that age. It makes more sense in a hindsight kind of way – years later I would end up playing guitar in a few blues bands (at one gig Nio was even running lights for us). As for the Bo Diddley show, I don't remember the opening acts, but I remember Bo Diddley! He was loud enough so I could feel the bass in my feet and stomach. I always dug that riff and still do.
*My parents used to drag me to their stuff.
Nio: John Cougar Mellencamp (with my parents) circa 1986-ish
Last concert/show?
E: As far as bigger concerts go I saw Furthur this past summer, I think that was the last major show of note. I like outdoor shows and something you can make a day of. Sometimes, it's kind of cool to just disconnect and groove in the sun. Shows in general? The last one was B. Dolan and Sage Francis – that is a good time! B. Dolan's new setup features a madman on the drums – they were pretty impressive – BOOM!
N: I went to the underwhelming Amnesty International concert at Barclay's Center last week.
First tape/cd/lp?
E: Wow, I had to think hard, I was young: Greatest Hits – The Jackson Five. There was a time in my life when I would have been embarrassed to admit that, but their early stuff was SOLID, I still listen to it today. Then I think it was something by Alice Cooper or Kiss. I'm rarely current with music.
N: Van Halen 1984 on cassette
Last album you bought?
E: "The Best of War" – I want to thank OverUnder for making me remember them when I listened to his "Background Noise" installment. I'm listening to them now as I write this.
N: Sage Francis- Sick To D(eat)h
Was there any particular record that made a significant impression on you?
E: Yes, a lot of particular records have made a significant impression on me for a variety of reasons, I actually started to list them all chronologically here and then saw it would be ridiculously long. As it relates to the spirit of "Background Noise" I would say that several artists/albums have influenced the spirit of my contribution to Enzo & Nio. "Film the Police" by B. Dolan and the first "Rage Against the Machine" album are ones that easily come to mind. "FUCK YOU I WON'T DO WHAT YOU TELL ME!, FUCK YOU I WON'T DO WHAT YOU TELL ME!, FUCK YOU I WON'T DO WHAT YOU TELL ME!, FUCK YOU I WON'T DO WHAT YOU TELL ME!" Yeah, something like that.
N: Bob Seger- Nine Tonight
Who is your musical hero?
E: This will sound strange because we are not from the same era but John Lennon. Not only was he a great lyricist and musician, but John Lennon always stood for something and was unafraid to voice it. He also did it during a time when it wasn't about a photo op or a meme or for self-promotion. He used his music and celebrity as a force for change to the point that he became an enemy of the U.S. Government – BECAUSE HE PROMOTED PEACE! I admire his cleverness, way with words/language, and desire to make things better – for everyone. So he was influential to me in music and more. I think he kind of lurks in a few of E&N's more socially conscious or philosophical things because of that. That said, we won't be abandoning the Cockshark anytime soon – We don't take ourselves THAT seriously.
N: Mighty Mighty Bosstones- Devil's Night Out
How important do you think music is to your creative process?
E: I am never working alone or with Nio when there isn't music playing. It's a mindful addition to our creative work environment. We're just wrapping up two days of studio work and we made some definite decisions about the music we were listening to. Among the choices for those days were "The Talking Heads", Mike Doughty, "G. Love & Special Sauce" and some other related and unrelated artists. I can honestly say that even when we are running the streets, pasting, or just fucking around, something is playing in my head that relates to the moment/night (some Jay-Z most recently).
Looking back, music has been an integral part of my friendship with Nio from the earliest days. You could say that as street artists "Enzo & Nio" were born at a music festival. One hot summer day with a number of acts playing on stage, Nio and I along with a few friends (fueled by psilocybin) kind of staged a massive public intervention with thousands of florescent orange "HOT!" stickers.
Some things change, some things stay the same but there's always a soundtrack isn't there?
N: Music can create an inspirational moment when you least expect it, whether a lyric, or a feeling that you want to capture or create later, but in the studio, it is more background noise than something that is at the forefront of the process. Shout outs to Howard Stern, who I listen to on a daily basis more often than any sort of musical type situation.
Check out more of Enzo & Nio's work on their website.
STEINSKI – "Lesson 2 (James Brown Mix)"
Arrested Development – "Man's Final Frontier"
B Dolan feat Toki Wright, Jasiri X, Buddy Peace & Sage Francis – "Film The Police"
Rage Against the Machine – "Freedom"
Travis Barker & Yelawolf – "Push Em (feat. Skinhead Rob & Tim Armstrong)"
Basement Jaxx – "Fly Life (Cajmere Green Velvet Mix)"
Nina Simone – "Sinnerman (Felix Da Housecat's Heavenly House Mix)"
Mike Doughty – "Sunken Eyed Girl"
Adele – "Hometown Glory (High Contrast Remix)"
B. DOLAN – "Leaving NY (Buddy Peace Remix)"
John Coltrane – "Lush Life"
Check out Enzo & Nio's playlist below on Spotify. Be sure to like Background Noise on Facebook for updates on future episodes. You can browse ALL the Background Noise episodes right here.