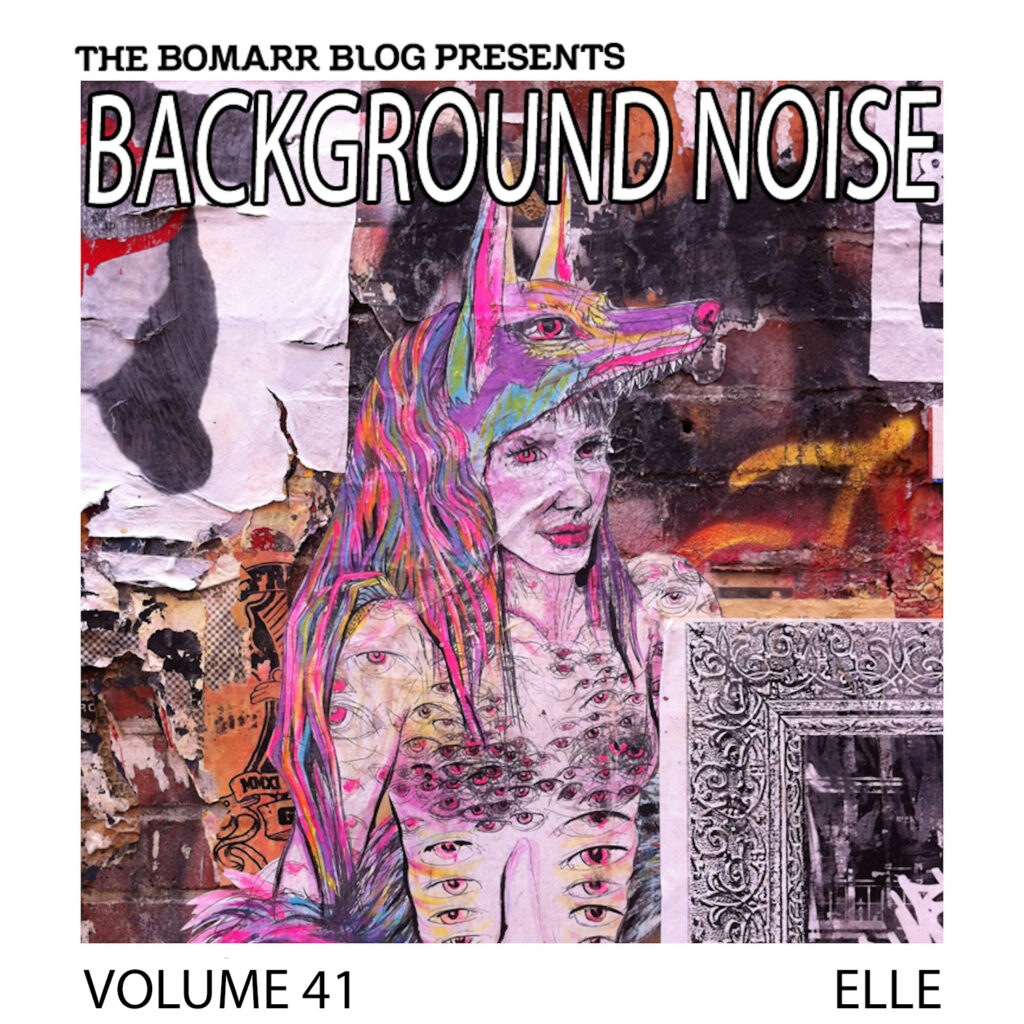 ELLE is another artist who doesn't stick to one medium when creating her art. The New Yorker has gotten lots of respect in the street art and graffiti communities over the past few years. Initially, due to some impressive and daring roller pieces high up on billboards, and more recently her bus shelter "ad takeovers". These ad takeovers are quickly becoming more common in the street art world, with keys provided to artists by the Public Ad Campaign. This allows artists to reclaim ad space by replacing advertisements with their own work, often in broad daylight without anyone noticing.
She's quite prolific. You'd be hard-pressed to walk more than a few blocks in New York City's SoHo neighborhood without seeing at least one of her wheat pastes, stickers, or tags, and once you notice them there, you'll start noticing them everywhere throughout the five boroughs.
In the past few years, she's painted murals at Miami's Art Basel and collaborated with the likes of legendary street photographer Martha Cooper, Claw Money, the London Police, Bunny M, and Shin Shin. In addition to being yet another great artist that Hanksy recruited for Surplus Candy, she's shown her work in well-known galleries alongside artists like Dain, Dee Dee, Beau, Sheryo & The Yok, and many others.
The girl has balls. Bigger balls than a lot of men out there right now.
What was your first concert?
If I remember correctly, I think it was NewFound Glory– my best friend Lili and I cut school (we were in high school at the time and she had just gotten her driver's license) and she drove us out to Marine World, where they were playing a show in the middle of the afternoon. We were pretty stoked. Haha.
Last concert/show?
My buddy Mike just took me to see the Die Antwoord concert at Irving Plaza last week. It was sick. I'm in love with Yolandi and Ninja! So hot. My girl, Jenny took me to see the Amnesty International show at Barclays a few months ago as well. It was also a ridiculously good show… the lineup included Yoko Ono, a few of the Pussy Riot girls, Lauryn Hill, Blondie, the Flaming Lips, and Madonna…it was crazy.
First album, tape, or cd you bought?
Huh… I don't remember actually– that was so long ago!!! I know the beach boys were on one of my mixed tapes somewhere back in California as a kid… Haha
Last album you bought?
Does adding a song to your Spotify playlist count?! If so, it would probably be Diplo's- Set it Off… the music video for that song is super dope- the women in the video pole dancing are such incredibly talented dancers, and so strong! I love it!
Was there any album that made a significant impression on you?
Nosaj Thing- Drift
Die Antwoord- SOS
The Knife- Deep Cuts
Fever Ray- Fever Ray
Who is your musical hero?
DJ Cat King is one of my best friends and a killer DJ. She stands for what musical performances should be. She's an entertainer, enthralling, talented, beautiful, and hard-working. I think she and Grimes are tops. The music of Fever Ray and Nosaj Thing has also had a huge impact on me.
How important do you think music is to your creative process?
Music is incredibly powerful and greatly influences my creative process. I always wished I was one of those people that saw color when they heard music. Although I don't have that amazing talent, I do think that what I'm creating is intrinsically tied to what I'm listening to at the time. Maybe once or twice a year I discover an album or an artist that I can't stop listening to and it becomes the soundtrack to my life. I'll listen to that album or artist on repeat nonstop for a few months. I associate periods of artwork and places that I live and travel to with the music that I was listening to at that time.
Gigamesh – Redlight (Goldroom Remix)
Fatima Al Qadiri – Hip Hop Spa
Sia – Chandelier
Gold Panda – You
Elliot Goldenthal – The Floating Bed
Lila Down – Benediction and Dream
The Cure – Just Like Heaven
AWOLNATION – Sail
NU – Man-O-To (Edit)
Wax Tailor – Que Sera
Diplo feat Lazerdisk Party Sex – Set it Off
Warm Ghost – Myths on Rotting Ships
Lorde – Team
Faces + xxyyxx – Talk
Giraffage + xxyyxx – Even Though
FKA twigs – Two Weeks
Die Antwoord – Enter the Ninja
New Young Pony Club – Ice Cream
The Knife – Silent Shout
The Knife – Heartbeats
Fever Ray – When I Grow Up
Nosaj Thing – Fog
Nosaj Thing – Quest
Jhene Aiko – The Worst
Flying Lotus – Camel
The Cure – Lullaby
Passion Pit – Take a Walk
Nicolas Jaar – Mi Mujer
Check out ELLE's playlist below on Spotify. Be sure to like Background Noise on Facebook for updates on future episodes. You can browse ALL the Background Noise episodes right here.