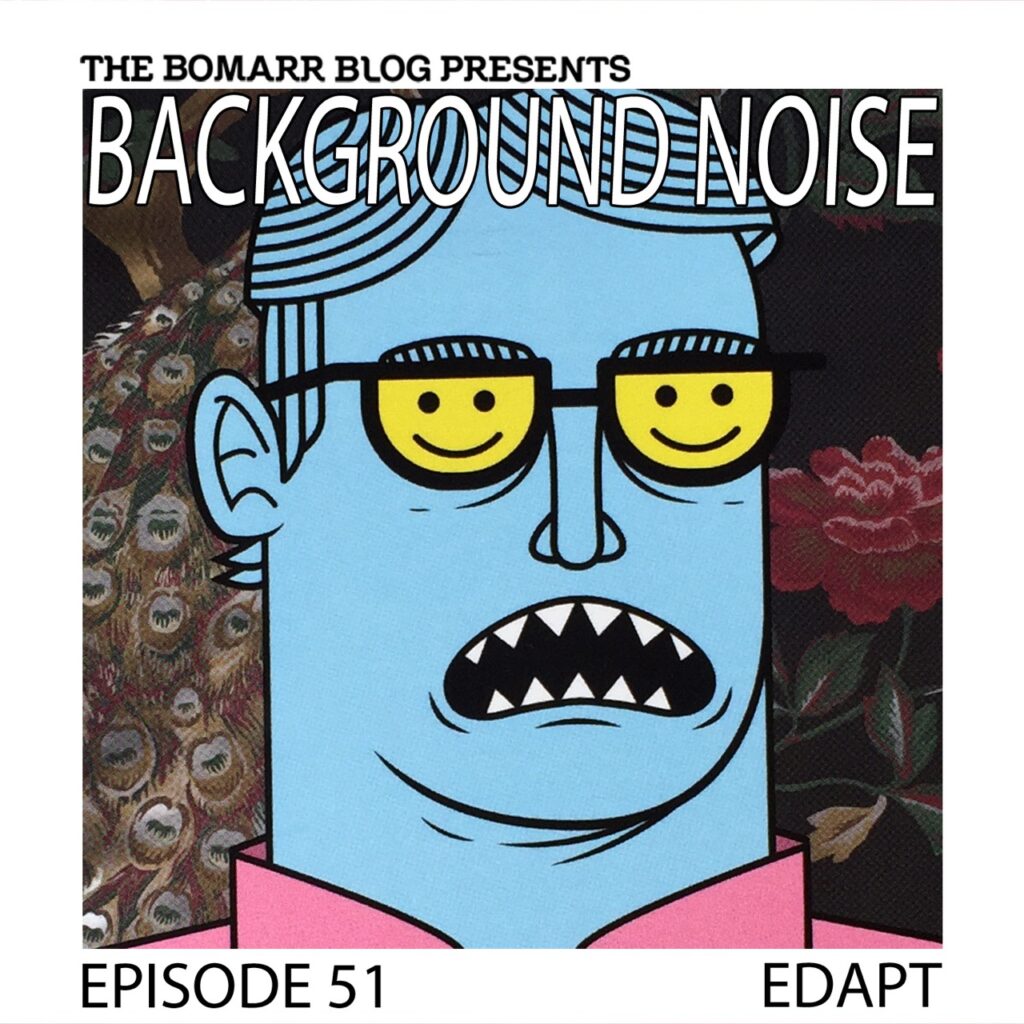 Alongside his partners in crime, CB23, Foxxface and Tony Depew, Edapt has started to make a name for himself in the New York street art scene. He often participates in Free Art Fridays, an art giveaway that primarily happens on, but is not limited to, the first Friday of each month. Artists place a piece of their art somewhere in public, photograph it, and post it to Instagram with the hashtags #fafny and #fafnyc. Fans of the artists, or just people looking to discover new artists, will look up the hashtags on Twitter, attempt to decipher where the piece was placed, and then rush as fast as they can to retrieve it before another art lover can get to it. It's really quite a brilliant phenomenon, and I'm sure Edapt and his friends have definitely made some new fans in the process of participating in this.
As far as information about Edapt goes, it's extremely limited. Like most street artists, he chooses to remain anonymous, but his sticker, wheat paste and bolt up collaborations with Clint Mario, Tony Depew and the rest of his friends, need no backstory. They're just fascinating pieces of work. Often colorful, and often devilish with a taste of silliness, it's a style that's all his own.
What was your first concert?
I went to a Matchbox 20 concert for a friend's birthday. The first show I remember buying tickets for myself was Deftones on their White Pony tour.
Last concert/show
Dr. Dog at Music Hall of Williamsburg on the first night of their run in NYC.
First album, tape or cd you bought?
I'm pretty sure it was Presidents of the United States of America from a Blockbuster Music at the mall. I still think that holds up as a good power pop album.
Last album you bought?
I buy records pretty often, so I'm not sure what the last one was. But my sister just gave me Ty Segall – Manipulator for Christmas, so that's the most recent addition.
Was there any album that made a significant impression on you?
Highly Refined Pirates by Minus the Bear was pretty huge for me. I was listening to almost exclusively punk and ska at the time, and that record sounded so new to me. It definitely changed my musical perspective a bit.
Who is your musical hero?
Ted Leo. I've seen Ted Leo and The Pharmacists live more times than I can count. Talented, principled, funny.
How important do you think music is to your creative process?
Extremely. I would say I have music on while drawing, painting, whatever 99% of the time. When I am over in Bushwick working with CB23 and Foxxface, someone will always throw some new jams on the stereo. At home, my wife and I have a constantly growing vinyl collection, and we will put an album on and both sink in to our work. As a visual artist, I think music is great for transporting you in to a different brain space, presenting a new aesthetic reality compared to where you were just minutes earlier. That probably sounds pretentious, but it's true.
David Bowie – D.J.
The Three Degrees – Collage
El Guincho – Palmitos Park
Black Moth Super Rainbow – Forever Heavy
Dr. Dog – Where'd All The Time Go
Deerhunter – Revival
Ty Segall – Feel
Minus the Bear – Monkey!!! Knife!!! Fight!!!
Dillinger Four – Maximum Piss & Vinegar
The Dismemberment Plan – The City
The Olivia Tremor Control – Define a Transparent Dream
Beach Boys – I Just Wasn't Made for These Times
Jonathan Richman – That Summer Feeling
The Congos – Fisherman
Check out Edapt's mix below, download it directly here, or subscribe to the Background Noise podcast on iTunes. Be sure to like Background Noise on Facebook for updates on future episodes. You can browse ALL the Background Noise episodes here. Check out Edapt's website, and follow him on Instagram.
The Bomarr Blog Presents: The Background Noise Podcast Series, Episode 51: Edapt by Bomarr on Mixcloud