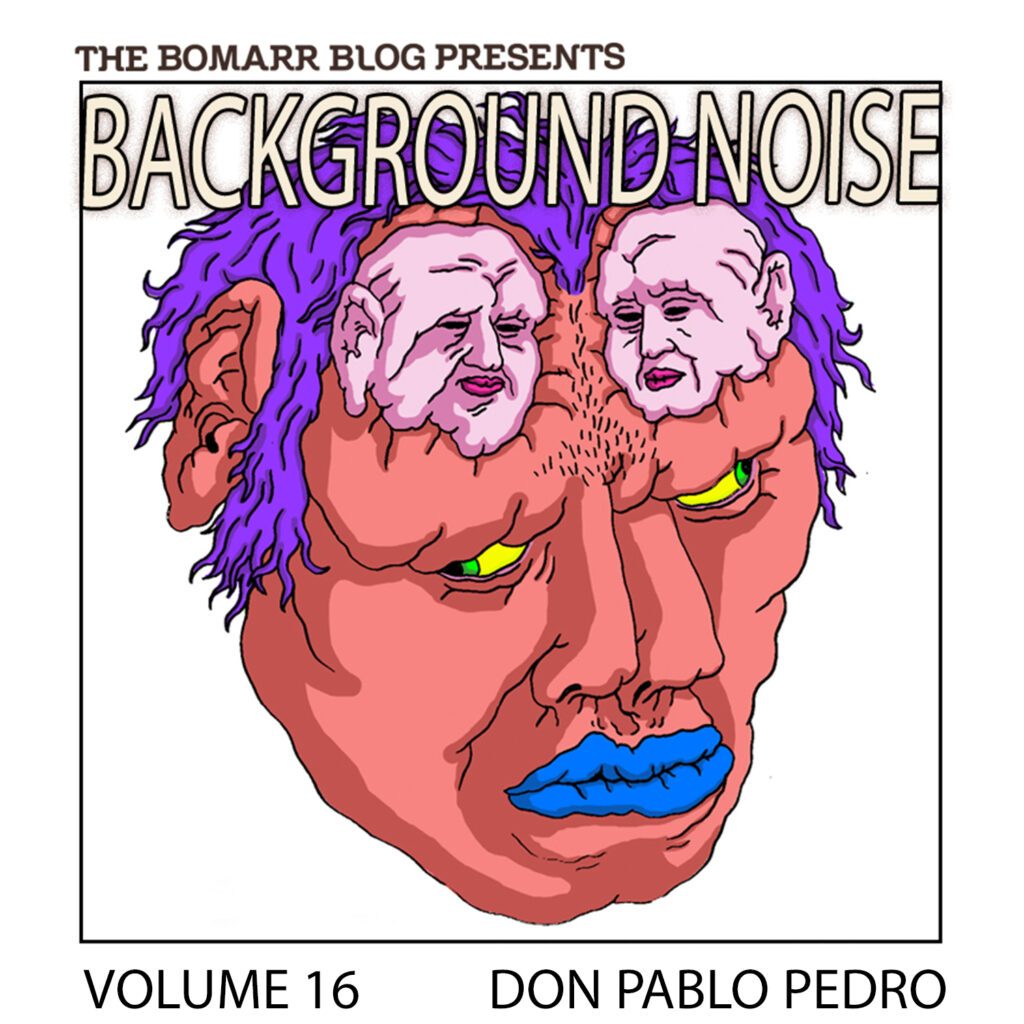 I'll be honest, it's been pretty hard to find any information about Brooklyn's Don Pablo Pedro anywhere. The only thing I really found was a mysterious bio that reads:
There once was a beautiful nymph, an amazing creature with five heads and three vaginas. She was seduced by a magnificent satyr, a satyr who was revered as the greatest painter in the small port town in which both beings hid. The nymph bore two sons from this union, although both were extremely unusual. The first son was born with a lavish beard that reached down to the tips of his toes, and had a mysterious eye which resided on his single testicle. The second son was born with a pussy for a face, and had an arm in place of his penis. In an epic battle not long after birth, the long bearded boy killed and raped his mutilated brother. This bearded son lives on today, as Don Pablo Pedro.
After you've seen Don Pablo's art, it seems that this bio is fairly fitting, considering the imagery he comes up with for his pieces.
Don Pablo is sort of in a style all his own. The only artist I could remotely compare him to is Alan Aldridge, the artist responsible for Elton John's Captain Fantastic LP cover, an album that I studied frequently when I would steal the record from my dad when I was younger. That may have even been what drew me to Don Pablo's work in the first place. I'm a sucker for the weird, so when I saw his colorful, grotesque, and sexually-charged artwork, I was drawn in.
He often displays his painted work on muslin scrolls and is often selling miniature versions of these scrolls, printed from an inkjet printer onto muslin for only $20 via his website. He does some digital illustration (pictured above in the main podcast image), and he's a talented sculptor as well. He's displayed his work in many galleries, from Pandemic Gallery to English Kills Gallery. His work is absolutely fascinating, and you should keep an eye on this guy.
The music he sent me for this podcast was perfect for the day I was piecing it together. An early spring day when the sun was just starting to finally peek out of the clouds here in New York after a long, cold winter. His musical choices, from The Beach Boys to Elvis, David Bowie to The Kinks' "Sunny Afternoon" were successful in bringing a smile to my face and they really put me in a good mood. It's fascinating to me that such happy music yields such twisted visual results, but in a way, it sort of makes sense.
What was your first concert?
Jimmy Buffett
Last concert/show you went to?
Snow Wite and No Parents
First album/tape or cd?
Bone Thugs and Harmony
Last album you bought?
Beach Boys
Is there any one album that made a significant impression on you?
Joni Mitchel's Blue
Who is your musical hero?
Jimmy Buffett
Gram Parsons – "Six Days on the Road"
Bruce Springsteen – "Dancing in the Dark"
The Beach Boys – "Kokomo"
Belle and Sebastian – "The Boy with the Arab Strap"
Bob Dylan – "Positively Fourth Street"
David Bowie – "Life on Mars"
Elvis Presley – "Bossa Nova Baby"
Iggy Pop – "Lust For Life"
The Kinks – "Sunny Afternoon"
Van Morrison – "It's All Over Now, Baby Blue"
Jimmy Buffett – "Margaritaville"
Postal Service – "Recycled Air"
Check out Don Pablo's playlist below on Spotify. Be sure to like Background Noise on Facebook for updates on future episodes. You can browse ALL the Background Noise episodes right here.