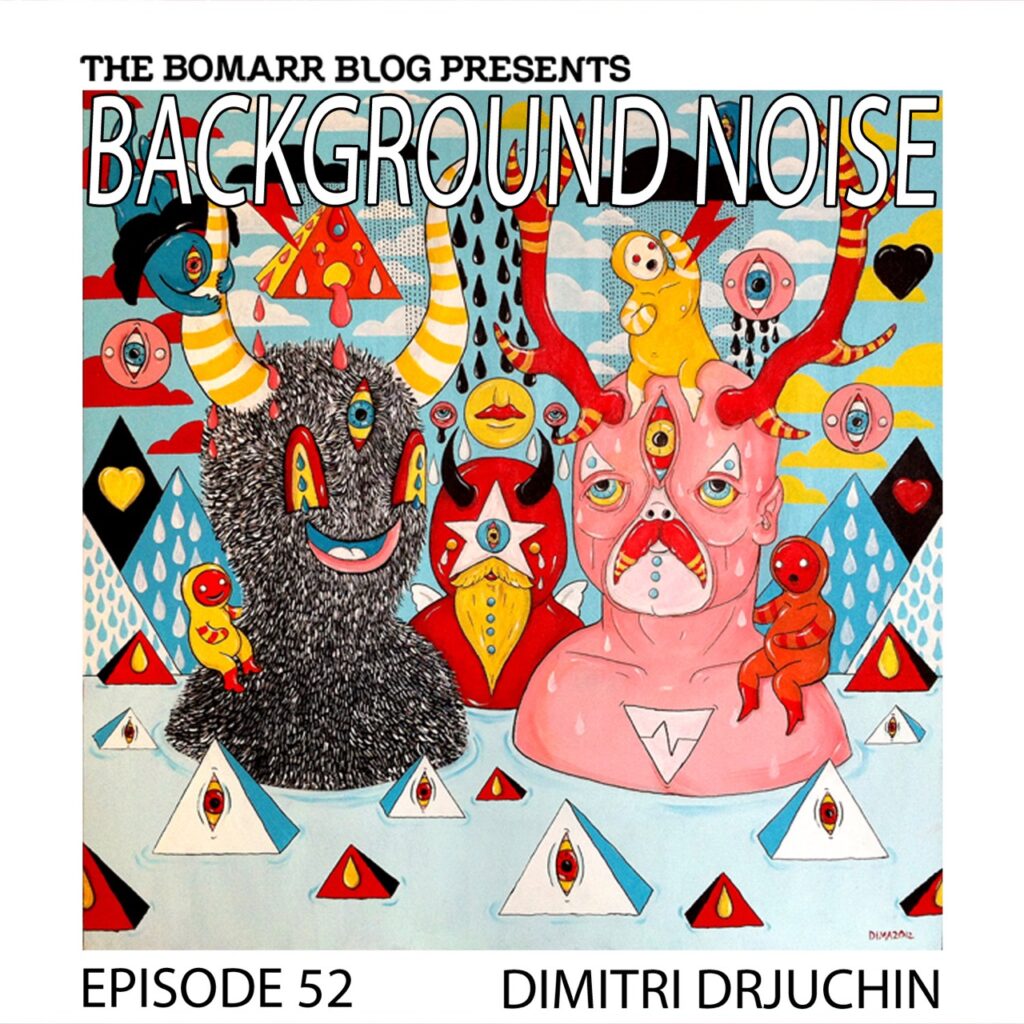 "Tom Selleck Saved My Baby," "Down With the Reptilian Agenda," "Fuck You, I'm Batman," "Carl Sagan Is An Asshole." These are all phrases I would see frequently on stickers during my walks in downtown Manhattan a few years ago. There was nothing on the stickers denoting who made them, but they all had a similar aesthetic to them that hinted they were done by the same person.
I was introduced to Dimitri (sometimes known as Dima) at a mutual friend's art show at a small pizza place on the Lower East Side. The details of our conversation were hazy, because I'd been at a bar with a friend before swinging by the art show, but I remembered finding out that he was the guy responsible for all of these great stickers and being really happy to meet him. We talked about music briefly, and he mentioned to me that he played in a band as well. The band, Brooklyn's Corrupt Autopilot, has been putting out great records of lo-fi garagey rock since at the very least, 2010. Dimitri has also done the amazing artwork for all of their releases. He's a man of many hats.
In addition to doing artwork for his own band, he's been getting a great deal of attention for the artwork he's done for other bands. Most notably, he's done album covers for Marc Maron, Father John Misty, Reggie Watts and Eugene Mirman, He's a hot commodity these days, for sure. And all of this is just the tip of the iceberg. You can see LOTS more of his work, including concert posters, doodles, links to his music, and more over at his website.
What was your first concert?
1993 – Pantera at Roseland Ballroom in NYC. It was amazing and terrifying. I was 13. I still have the ticket stub.
Last concert/show?
The last concert I saw was Zola Jesus in San Francisco.
First album, tape or cd you bought?
Marky Mark and The Funky Bunch – Music for The People on cassette. I was 11. No judgments. It was music for the people.
Last album you bought?
Neil Young – At The Beach
Was there any album that made a significant impression on you?
Pink Floyd The Wall had a long lasting impression on me. It's the album I've longest consistently listened to. My dad used to play it a lot when I was young. It used to creep me out (maybe it was also cuz I saw the movie at way too young age). But it has stuck with me to this day. I still love it and listen to it. My favorite rock opera.
Who is your musical hero?
I've had a few different ones at different points, but J Mascis has been a pretty constant one.
How important do you think music is to your creative process?
Pretty big I'd say. I love listening to music while I'm painting, I make it a big part of the process. Painting time is also "let's listen to records time." It's a great way to experience music. I like that I listen to the whole album rather than listen to a random play list or internet radio. It's become my favorite way to take music in.
Neil Young – Vampire Blues
Zola Jesus – Go (Black Sea)
Woods – With Light and With Love
Michael Jackson – Wanna Be Startin Something
Beck – Blackhole
St Vincent – Prince Johnny
Gruff Rhys – Year of the Dog
The Hate My Day Jobs – Say It To My Face
Prince – 1999
Fuzz – Haze Maze
Archie Bronson Outfit – Love To Pin You Down
Harry Nilsson – Jup Into the Fire
The Julie Ruin – Ha Ha Ha
Check out Dimitri's mix below, download it directly here, or subscribe to the Background Noise podcast on iTunes. Be sure to like Background Noise on Facebook for updates on future episodes. You can browse ALL the Background Noise episodes here.
The Bomarr Blog Presents: The Background Noise Podcast Series, Episode 52: Dimitri Drjuchin by Bomarr on Mixcloud