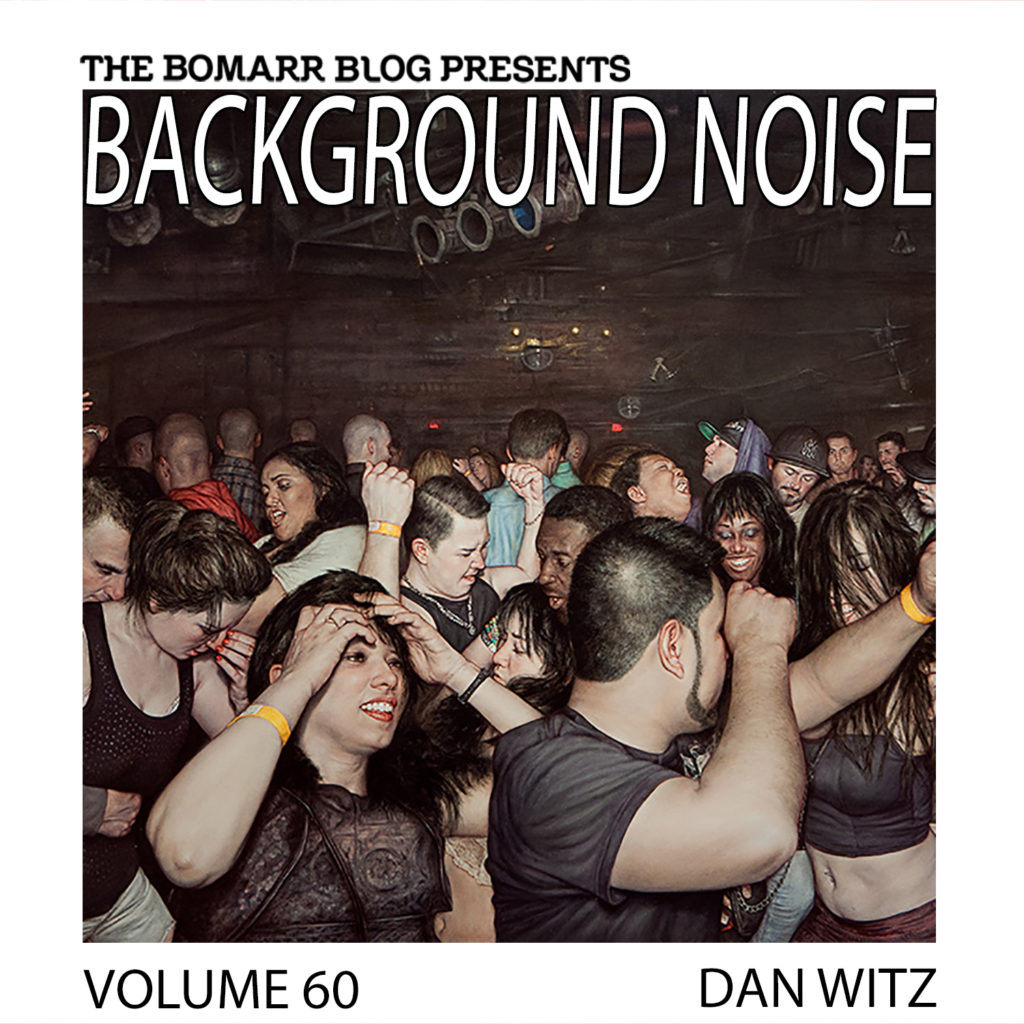 Brooklyn artist Dan Witz has being doing street art for many years now. He gained recognition over the years for his realistic-looking street pieces. These pieces usually depict something peering out, or even hiding behind a metal grate, glass, what-have-you. They're often so subtle that it would be very easy to just walk right by one without noticing, but when you DO notice, your jaw drops.
Lately, it's been Witz's series of insanely realistic mosh pit paintings that have everyone talking. Even seeing these paintings a few feet away from you, you'd swear that they were photos, captured in the sweaty mosh pits of hardcore shows. It's Dan's exceptional attention to detail that really blows people away. Whether it's veins bulging from someone's forehead, or the tiniest hairs on someone's arm, he captures it, and captures it well.
Dan had played in bands growing up, and has always naturally been drawn to music, so it was no surprise that he was willing to compile a list of songs he listens to in the studio.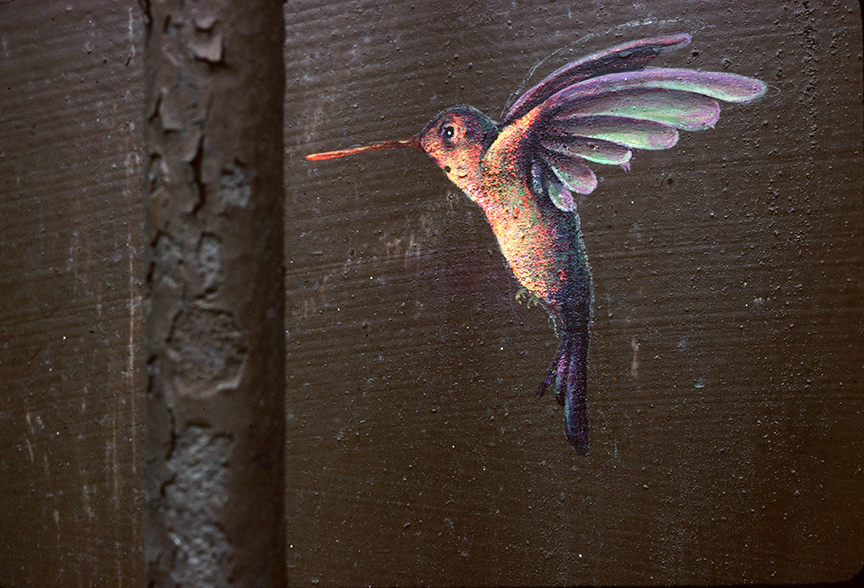 What was your first concert?
I was kind of a stoner in high school and don't remember much. But if I had to guess, I'd say my first big name concert was probably something like The Grateful Dead. Me and my friends saw pretty much every big rock act that came through Chicago in the mid 70s…or so I'm told.
Last concert/show?
My wife and I just saw the singer/songwriter Laura Marling near where we live in Brooklyn. Mostly I go to hardcore shows, so the contrast was pretty alarming at first. But I have to say it was totally amazing. This woman should be better known. Well worth getting a babysitter for (my highest rating).
First album, tape or cd you bought?
This one I know: Pink Floyd: Dark Side of the Moon.
Last album you bought?
I belong to a (paid) download service, so I haven't actually physically bought a whole album in years. Maybe Yankee Hotel Foxtrot by Wilco?
Was there any album that made a significant impression on you?
Yes…SO many…starting with Dark Side of the Moon—then London Calling, ok…I tried, but it's impossible: the list keeps expanding faster than I can type.
Driving today with my wife, a cut from one of my recent favorites came up on Shuffle: Pop 7 by Wolfgang Voigt's minimal ambient project, Gas. The moment the song came on, we froze: spellbound, we just sat there in awe and let it wash over us. There's a strange hypnotic power to this music: whenever it comes on I become transfixed, immobilized, it's hard for me to focus on anything else. Gas is minimal and challenging, even for me, but it's always ultimately profound and is a reliable reminder for me of what I'd want my own art to do to people.
After the song was over, my wife said she was really tripping out on watching the trees speed by, like the music was guiding her deeper and deeper into the forest. (No, we weren't stoned.) We looked up Voigt on Wikipedia:
Voigt cites his youthful LSD experiences in the Königsforst, a German forest situated near his hometown of Köln, as the inspiration behind his work under the name Gas. He has claimed that the intention of the project is to "bring the forest to the disco, or vice versa".

Who is your musical hero?
Right now, Wolfgang Voigt.
How important do you think music is to your creative process?
Crucial. Music has definitely had more influence on my conceptual thinking than any visual art I can think of.
As far as how I use music while actually painting, I keep it on pretty much all the time. It drowns out the incessant roof brain chatter—my unquiet mind. And while working, it's always helpful to have someone murmuring in my ear, reminding me to keep fighting the good fight, or to, "Breathe, breathe in the air. Don't be afraid to care…" *
I'll always love that song.
*(c Pink Floyd: Waters, Gilmour, Wright)
Gas – Pop 7
Pub – Lunch
Gas – Gas 1
Pub – Summer
Planetary Assault Systems – Undertow (Original Mix)
Gas – Zauberberg 3
Gas – Pop 4
Gas – Gas 5
Pub – Kamikazi
Seefeel – Minky Starshine
Check out Dan's playlist below on Spotify. Be sure to like Background Noise on Facebook for updates on future episodes. You can browse ALL the Background Noise episodes right here.