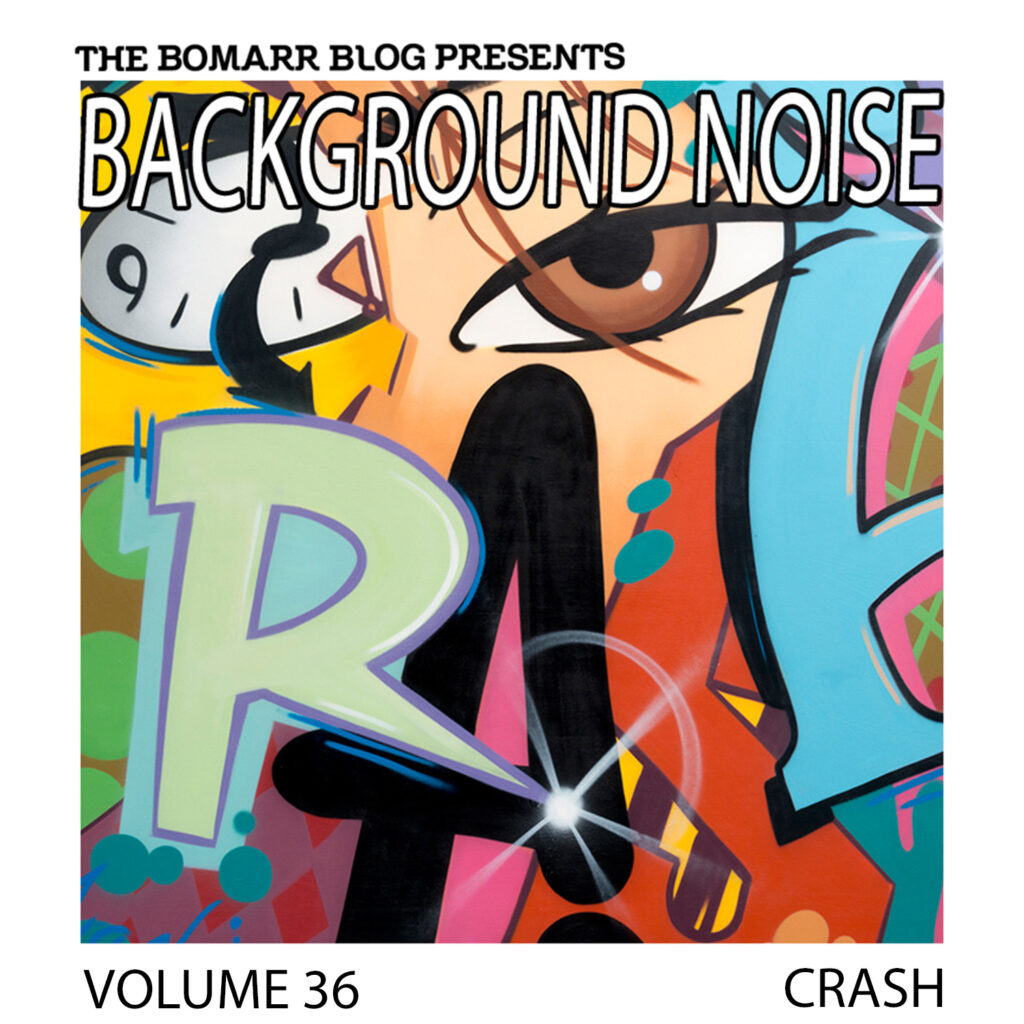 Bronx-born John Matos started writing graffiti as a teen, getting the name Crash after crashing the computer in his school during a computer programming class. He's recognized as one of the first subway graffiti writers to take things from the subway system to the galleries.
Many of his paintings look like vibrant collages. Ripped, cut, and pieced together pieces of pop art. In a meta sort of way, his art in itself has become part of pop culture. Matos has designed 5 "Crashocaster" guitars for Eric Clapton, which led to him designing 50 graffiti-themed guitars for Fender, and a line of custom-painted Telecasters with matching Fender amps. John Mayer has been seen playing one of Matos's famous guitars as well. It doesn't stop there though, he's designed luggage for Tumi, a Ferrari art car, a custom iPhone case, and like Keith Haring and Mel Ramos before him, was asked by Lucky Strike to do a specially commissioned painting for them (he ended up doing a few).
He's one of many lucky artists to have done the historic Bowery Wall on Houston in New York City, and this past summer, had an excellent exhibition of his work called "Broken English" at Chelsea's well-known Jonathan Levine Gallery.
He's a legend to some and a very prolific artist who shows no trace of slowing down any time soon.
What was your first concert?
My very first concert was a street block/event way back in 1968 by a local band that combined Latin and rock.  I was a little kid and watched the entire event from my parent's window which looked over the event…I still remember how amazing the drummer was.  Alas, I do not remember who the band was, but I remember them playing Little Anthony and the Imperials' "Tears On My Pillow".
Last concert?
The last concert I saw was the Crossroads Concert which was held at Madison Square Garden and featured all these amazing guitar players…
First album you ever bought?
The first album I ever bought was a Stylistics album, from about 1973…
What was the last album you bought?
The last album/CD that I've bought…that's still happening…I'm still buying, but I guess the latest is Clapton's JJ Cale Tribute CD, "They call me the Breeze".
Was there one album that made a significant impression on you?
I think the one or 2 albums that made an impression on me were either Beatles Albums St. Pepper's Lonely Hearts Club Band or Magical Mystery Tour.
Who is your musical hero?
Musical Hero…oh wow, a loaded question…well, Eric Clapton, Stevie Ray Vaughn, Stevie Wonder, Joe Sample, Steve Gadd…so many artists, so little time…
How important is music to your creative process?
Music is of the utmost importance to me…no music, no painting, simple…!
1. Teddy Pendergrass "Love TKO"
2. Elton John – "This Train Don't Stop There Anymore"
3. Chaka Khan – "I Feel For You"
4. Alicia Keys – "If I Was Your Woman / Walk On By"
5. Youssou N'Dour and Neneh Cherry – "7 Seconds"
6. Toto – "Georgy Porgy"
7. Average White Band – "Work To Do"
8. Jonny Lang – "Thankful"
9. Hezekiah Walker and LFC – "You're All I Need"
10. Lenny Kravitz – "I Belong To You"
11. Eric Clapton – "Inside of Me"
12. Rose Royce – "Love Don't Live Here Anymore"
13. Mary J Blige and U2 – "One"
14. Thin Lizzy – "The Boys Are Back In Town" 
Check out Crash's playlist below on Spotify. Be sure to like Background Noise on Facebook for updates on future episodes. You can browse ALL the Background Noise episodes right here.