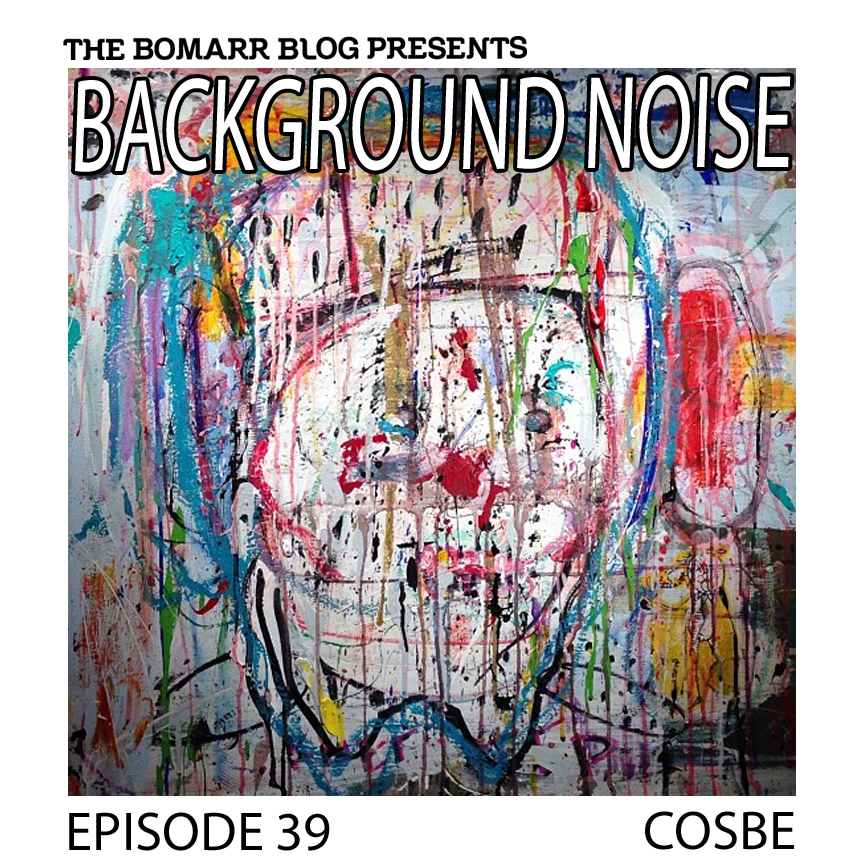 It has to be a little tough going by the name Cosbe right now, with the original, sweater-wearing pudding popper in the news so much. "Haha shit's been kinda fucked lately with the OOG getting those charges," he says.
Overall, I doubt he pays much attention to all that business, or would even have time to if he wanted to. He spends most of his time wrapped up in creating mind-melting art out of his Brooklyn studio. Whether he's creating paintings using whatever he can get his hands on, or plastering up stickers throughout the city, he's always busy.
Cosbe (who has sometimes referred to himself as Kosbe, or Kosby) started doing graffiti in Chicago about 20 years ago, honing his chops on the street with fellow writer Drel, eventually transitioning to his first studio, which was provided by his mom, a huge supporter of his artistic interests. After relocating to New York, he continued getting his name up throughout the city with paint, chalk and his wild, and sometimes random stickers. His stickers were what initially caught my eye when I'd see them on my block, and then I started seeing some of his chalk drawings on dumpsters and what not, which were interesting because if it rained that night, they'd be gone the next day. I've always had a thing for temporary art. It wasn't until a while later that I realized he did these paintings that he does. I saw some of his work at Hanksy's "Surplus Candy", and then saw a piece of his in a group show at Woodward Gallery on the Lower East Side which really blew me away. This particular piece is the one featured in the main podcast image up top here. It was so colorful and chaotic. There was so much going on. I loved it. I've been following him ever since.
He's compiled an extremely eclectic mix of music for his episode, and I've been enjoying it quite a bit as I've been stitching it all together. Check it out down below.
What was your first concert?
My first concert was a Common Sense, Artifacts, Organized Confusion, Boogiemonsters show at Congress Theatre in Chicago. (link)
If you are into early 90's hip-hop you can imagine that was a pretty heavy line up for my first show.
Common Sense had just dropped the Resurrection album so Chicago was really hyped on him and he was the hometown hero at the time.
When Common came on stage everyone went nuts and rushed the stage. He finished his first song and then as he started to go into the second he stopped the DJ and called out a couple of knuckleheads in the front row who were grabbing the mic cord while he was trying to rap. as he went into it again all I heard was the song abruptly stop and the sound of the mic as it smacked into someones face! Hahah! Next thing you knew punches were getting thrown and some people just started getting stomped out! All of the group's posses from backstage ran out on stage and the whole thing kind of turned into a malay! I remember seeing a couple of people being pulled out with Timberland marks on their faces hahaha! That's some Chicago shit right there! The Fire Warden ended up tossing everyone out. Just pure, grimey hip hop from the start and that was only my first hip hop concert.
I also used to go to a lot of underground Chicago gettohouse parties, those were the shit too. Everyone would be jacking in the middle and then breaking on the sides. Respect to all the original Chicago Breaking Crews. JAM Masters Crew. Decepticons. Brickheadz. Molemen.
Uh-Oooh! (https://www.youtube.com/watch?v=wJofQq710Wk)
Then I got into Raves. I think my first Chicago Rave was Psychosis in 1993.
It was 5 bucks and you got a tab of acid. It was amazing. Changed my life. I was hooked on that scene after that. It was like go to some basement hip hop party and smoke blunts with a buncha dudes or do acid and E and hang out with a buncha cute raver girls? No brainer! lol.
Last concert/show?
I'm not sure, I think it was a SMIF -N- WESSUN show. I was drunk with my artist friend The Sucklord and I think we just walked into the concert randomly from off the street. I always liked Nervous Records, especially the underground techno stuff! I was a raver in my past for a minute too! untz untz untz!!!
First album you bought?
I think it was a twofer: Beastie Boys Licenesed To ILL and Nirvana Nevermind. On cassette!
Last album you bought?
The internet changed the way I find music for the last ten years or so. Now I just listen to whatever the fuck pops up on my radar. If I like it then I'll listen to it. Nothing like getting old man. I remember being much more selective about my music, but now Im old and I just listen to whatever comes up on the radio. Listening to that top 40 shit and I'm like yea, yea, yea I guess I can tolerate this for a while. Hahaha. I don't even know what the kids are listening to these days? What's cool now?
I do really miss record stores. I miss buying an album and not being sure if I would like it or not, or even buying something based just off the album art.
Was there one record that made a significant impression on you?
Bizarre Ride, Brooklyn Zoo, Ready to Die, The Purple Tape. I remember smoking my first bong in a basement with some gangster kids from my neighborhood and someone put that Raekwon album on. Changed my life. That and Dr. Octagonecologyst, Kool Keith on some trip hop shit with Q-bert. Blew my mind. Temple of Boom, Jealous One's Envy. Then I got into hardcore rave shit and underground Chicago House Jack shit like Plastikman, Delta 9, Frankie Bones, Terry Mullen, Drop Bass Network, Liquid Sky, drugs, E, fun shit. Raver shit. Burning Man. Chicago. Soul. Jazz. Juking, Jacking. Whatever.
Who is your musical hero?
Anyone who currently makes the serious effort to be a musician in anyway. I respect anyone who takes a serious stab at it. Especially now. It's not like before when you'd get a record deal and be able to chill off that money for a while. Now it seems to be all about touring, selling band merch, and streaming your album online and hoping iTunes gives you a fucking cut of that 99 cents! I don't pretend to know what that's like but I have to say it seems like anyone who is willing to get into the music biz nowadays and go up on stage and put their heart really into it, well that's pretty heroic. A hero can be someone who does anything creative they regardless of what they get from it. I respect anyone who fucking pushes it hustles and keeps it real original and innovative.
How important is music to your creative process?
I have to have something on while I'm doing anything creative. I'm listening to music right now. Sometimes I'll have an album on repeat for weeks and just listen to it over and over while I'm working on a certain drawing or project. If it's something that is helping me get into the creative mood of what I'm working on, or to convey a feeling in my work then I'll probably be playing it over and over. I know my wife loves that! Haha I love you baby.
I think one thing I enjoy the most is driving my car somewhere far and listening to music. I think that's my favorite thing to do — when I'm on the road, on an empty highway when no one else seems to be around and I'm in middle of nowhere like some desolate road. That's probably one of the best feelings in the world for me. Just driving somewhere playing music I enjoy. I'm sort of hyper inside and love to go to different places and travel and I think that maybe that frenetic energy sometimes translates into my artwork. My art communicates like a frenetic energy of how I can't stay still and need to move. Maybe that will chance but for now I'm on like a Fear and Loathing style. Like we can't stop here! This is Bat Country!
RIP Hunter S. Thompson.
Thank You Matt and thank you to everyone who takes the time to read this interview and listen to this playlist. I hope you enjoy my 1990's/Modern Mixtape style. I love it. Let's go!
Song: Enter Sandman / Artist: Motorhead
Song: Everybody's Free (To Wear Sunscreen)/ Artist: Quindon Tarver
Song: Hot Nigga/ Artist: Bobby Shmurda
Song: Am I Demon/ Artist: Danzig
Song: She's Lost Control/ Artist: Joy Division
Song: So What'Cha Want/ Artist: Beastie Boys
Song: Attitude/ Artist: Bad Brains
Song: Could You Be Loved/ Artist: Bob Marley
Song: Back in Baby's Arms/ Artist: Patsy Cline
Song: Closer/ Artist: Nine Inch Nails
Song: Clifford's Mustache/ Artist: D-Styles
Song: Jealous Guy/ Artist: Roxy Music
Song: Dr Hell No and The Praying Mantus/ Artist: El-P
Song: Fantasy/ Artist: Dye
Song: SHINE/ Artist: Antipop Consortium
Song: Part 6/ Artist: Henry Miller
Song: NY is Killing me/ Artist: Gil Scott Heron & Jamie xx
Song: The Man Who Sold The World/ Artist: Nirvana
Song: Rabbit In Your Headlights/ Artist: Unkle Thom Yorke
Song: Shimmy Shimmy Ya/ Artist: Ol' Dirty Bastard
Song: Old Man/ Artist: Neil Young
Song: Dragula/ Artist: Rob Zombie
Song: Don't Let Me Be Misunderstood/ Artist: The Animals
Song: Every Breath You Take/ Artist: The Police
Song: Birth To Death/ Artist: Ravi Shankar
Song: Ohm/ Artist: Saul William
Song: Natural Peace/ Artist: Sleep Sounds of Nature
Song: A Horse With No Name/ Artist: America
Song: Amen- Live in Chicago/ Artist: Curtis Mayfield
Song: Coupe / Artist: Future
Check out Cosbe's mix below, download it directly here, or subscribe to the Background Noise podcast on iTunes. Be sure to like Background Noise on Facebook for updates on future episodes. You can browse ALL the Background Noise episodes here. Check out Cosbe on Instagram and Tumblr.
The Bomarr Blog Presents: Background Noise Podcast Series, Episode 39: Cosbe by Bomarr on Mixcloud