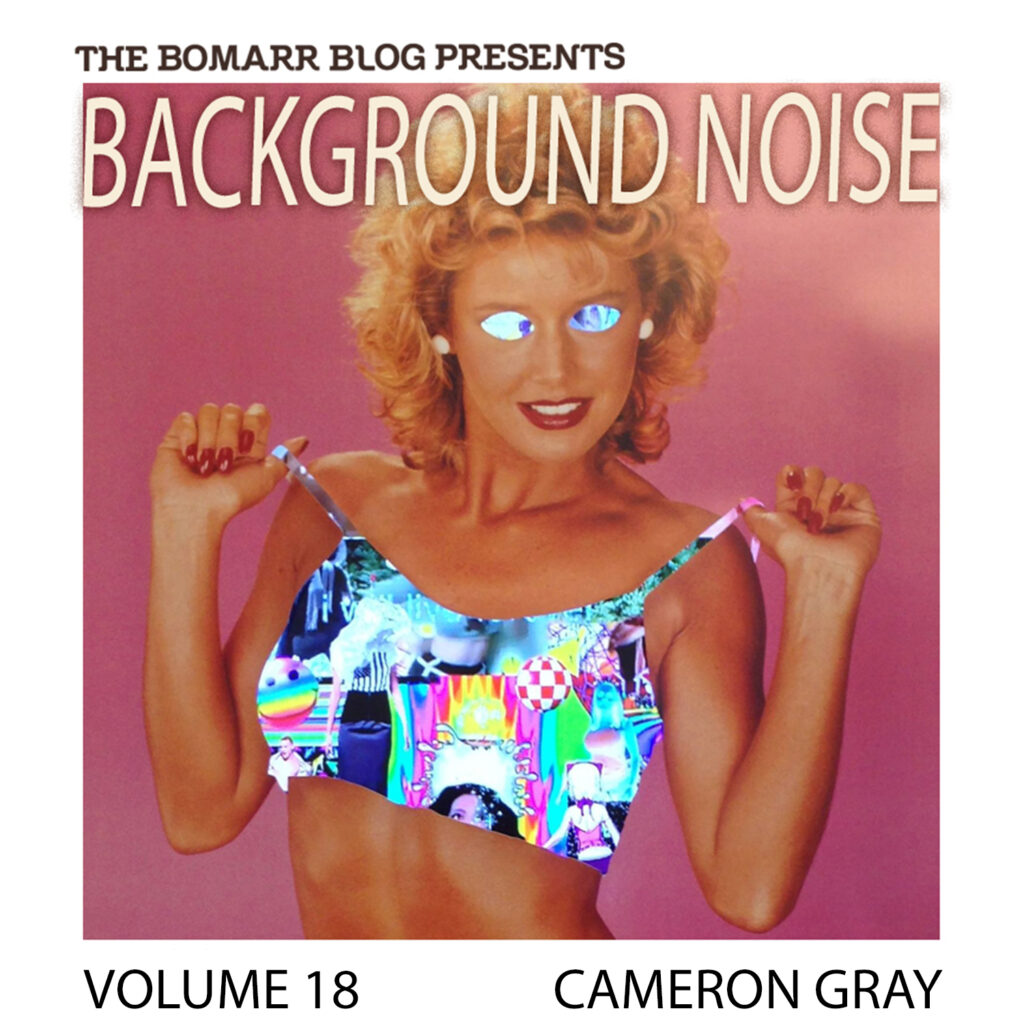 Cameron Gray created my favorite art exhibit of 2013. Hands down. Seriously, this man is insane in the most amazing and perfect way. I actually wasn't even familiar with his work as of this time last year, but my friend Ricardo, one of the folks behind the great art site Empty Kingdom, tagged me on Instagram to show me a video featuring Cameron's work. It was a shot of one of Cameron's pieces, similar to the one above. The video showed one of those classic 80s posters that would feature hot blonde bombshells like Heather Locklear or Kathy Smith, but where the bikini top and face were, now stood some absolutely nuts video collage work, moving around erratically, while a slowed-down version of "Girls Just Wanna Have Fun" played in the background. It was sensory overload. Very much like being on drugs without actually being on drugs. I was in love instantly, and that was just within the first 2 minutes of walking through the door of his "Birth of a Legend" show at Mike Weiss Gallery in Chelsea.
Also given Cameron's treatment were posters of Andre The Giant, and John Wayne. The latter, displayed in "Ice Cream For John Wayne", features the gunslinging actor with ice cream cones in each of his eyes. All of this was directly across from a 7-foot installation featuring 27 video monitors and DVD players displaying 3,000 digitally collaged images like nothing I'd ever seen before.
And finally, the back room….a black-lit psychedelic wonderland filled with dayglo insanity, more digital collages, a blue cherub-like boy, and a gigantic smiley face with life-size turkeys for eyes. It was so incredibly surreal, I could have stayed there all day taking it all in.
I became completely fascinated with this guy, and really wanted to get into his brain. It made my day when he agreed to put together a mix for the series. I still only feel like I've scratched the surface of what this guy is all about. I believe there are many layers.
Check out some more shots of the show here, and a video of the show here.
What was your first concert?
U2 in Oakland. 1986. I wasn't into live music then. I thought it was better to listen to the recorded music without any "mistakes". I was a dumb kid.
Last concert/show?
Fancy Plastic Space People in downtown LA. The lead singer is my occasional studio assistant and she's amazing. Shout out to Nora Keyes!
First album you bought?
Haha, that would be the Bee Gees, Saturday Night Fever. Cassette tape. Wow. The same year I got my Alva skateboard. 
Last album you bought?
Gonjasufi, A Sufi and a Killer. I get introduced to a lot of music from the amazing artists who work with me at my studio. They're my link to the music world right now.
Was there one record that made a huge impression on you?
Led Zeppelin hit me hard. Oh wait, Metallica, Master of Puppets, that was a big one for me. I spent a week or two just listening to that all day and night long, over and over and over. That's the way I usually consume music that I love. I binge on it.  
Who is your musical hero?
My Dad. He was a classical guitar player who traveled and gigged a lot when I was young. He's amazing. He specialized in classical music but could play anything. I have a lot of sweet memories of him playing for our family. It was better than any TV show or anything on the radio. I am pretty sure my lack of musical talent is a bitter pill for him to swallow, god knows he tried to teach me. Love you, Dad!
Band of Horses – "Boat To Row"
Beach House – "Zebra"
Boom Bip & Dose One – "The Bird Catcher"
Boom Bip & Dose One – "Dead Man's Teal"
DJ Chrispy – "Cockney Dream"
Gonjasufi – "She Gone"
The Temper Trap – "Sweet Disposition"
Kid Cudi – "Pursuit of Happiness"
Modern Lovers – "I'm Straight"
Palace Music – "Work Hard, Play Hard"
Tyler, The Creator – "Yonkers"
Check out Cameron's playlist below on Spotify. Be sure to like Background Noise on Facebook for updates on future episodes. You can browse ALL the Background Noise episodes right here.